Seravalli: Why Blake Wheeler was my No. 1 for Hart
TSN Senior Hockey Reporter Frank Seravalli explains his reasons for voting Winnipeg Jets forward Blake Wheeler as the NHL's best overall player in the Professional Hockey Writers' Association mid-season awards.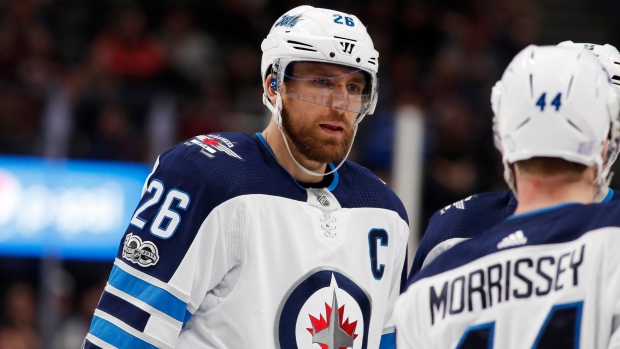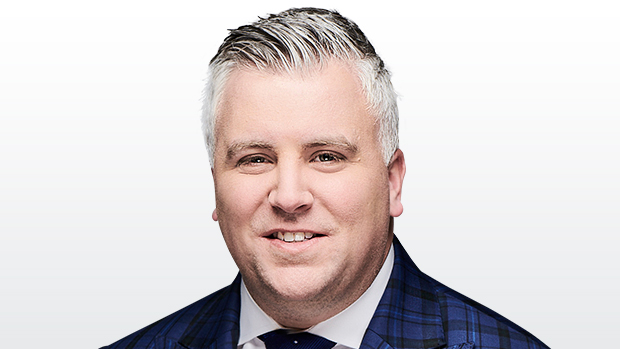 TAMPA, Fla. — One side effect of voting for the Hart Trophy can be an overdose of complexity.
Are you voting for the NHL's best player or the player most valuable to his team? It's an annual rite of mind-bending torture.
This year, when the Professional Hockey Writers' Association revived mid-season awards voting for the first time since the 1960s, I tried to make it a little simpler.
Winnipeg Jets forward Blake Wheeler was my No. 1 choice for the Hart.
It wasn't because Wheeler is necessarily the Jets' most valuable player – you could make the argument that is netminder Connor Hellebuyck, considering goaltending is a big reason why Winnipeg missed the playoffs the last three years.
Instead, I believe Wheeler has been the NHL's best overall player this season.
In the spirit of full transparency, my five selections for the Hart Trophy were Wheeler, followed by Colorado's Nathan MacKinnon, Tampa Bay's Nikita Kucherov, Boston's Brad Marchand and Edmonton's Connor McDavid.
Kucherov took home the PHWA half-season Hart, while MacKinnon and John Tavares were the other two finalists.
Wheeler, 31, finished fifth in voting. He received two other first-place votes and appeared on approximately 40 per cent of the ballots.
Somehow, Wheeler remains one of the NHL's best-kept secrets, even though he has the fourth-most points in the league over the last three seasons.
Maybe it's the fact that he plays in Winnipeg. How else to explain why this weekend will be Wheeler's first All-Star Game appearance?
The Jets entered the break in first place in the Central Division thanks in no small part to Wheeler, who has 15 more points than his next closest teammate.
"Blake Wheeler has forced people to notice him this season," Jets coach Paul Maurice said over the phone on Thursday. "I would say that he's been playing at this level for two years now, but he doesn't get a lot of the attention that other stars around the league get. We're a small-market team, we do our thing. That happens. But everything that he does, I just think to myself: 'This guy is elite.'
"You know, a lot of coaches talk and they pump their guy's tires. I'm not doing that. This is just the truth. I haven't been around very many men like Blake Wheeler."
At the break, Wheeler is tied for 10th in points with Connor McDavid at 54. He has 14 goals and 40 assists, on pace for a career-high 66 assists and 89 points.
Wheeler is second in the NHL in first assists with 29. He is fifth in primary points (goals plus primary assists) behind only Kucherov, Tavares, MacKinnon and Phil Kessel.
There is no doubt Wheeler's numbers are impressive. The strength of his candidacy has been his consistency. But what swayed my vote is the last month of action, as Wheeler practically carried the Jets once his partner in crime and point-per-game producer Mark Scheifele went down on Dec. 27.
The Jets are 8-2-2 in those 12 games without Scheifele and Wheeler has 12 points.
He did that while moving from right wing to centre to fill the void Scheifele left in the lineup. Wheeler didn't miss a beat – and that was after driving play from the wing for the first 38 games of the season, which is difficult to do in today's NHL.
"A lot of the players who are good at moving back and forth get a lot of reps at it. They do it all season," Maurice said. "I think Blake played two games at centre for us last season. That was it. His play at centre has exceeded my expectations, but it didn't surprise me, if that makes any sense."
Maurice said he thinks Wheeler transitioned to centre easily because of the work he put in with Scheifele over the years.
"I think as a winger he just had an awareness and appreciation for what he needed a centre to do, and he did that," Maurice said. "Him and Scheifele worked on that chemistry so well."
There aren't many players in the NHL who have played with linemates as consistently young as Wheeler has. He entered the break with 19-year-old Patrik Laine and 20-year-old Jack Roslovic as linemates. Aside from Scheifele, his other two common linemates are a pair of 21-year-olds in Nik Ehlers and Kyle Connor.
Maurice mentioned Wheeler in the same breath as two Hall of Fame captains he also coached – Ron Francis and Mats Sundin – in terms of leadership and play.
"Blake won't end up with the same career numbers as those guys, but he has been special," Maurice said. "In some ways, he just got the 'C' thrown at him, but he has managed it well. He does everything you want in a captain. He leads by example. He isn't a cheerleader. But he can be critical without winding up the room."
So, if Wheeler wasn't the Jets' MVP in the first half, Maurice would argue he is right there.
"He has been an incredible man and athlete to watch," Maurice said. "He sets the tone and pace for everything that we do on the ice and in the room. His great strength is his consistency. He finds a way to dial it up every night during a long season."
FRANK SERAVALLI'S MIDSEASON BALLOT:
Hart Trophy
1. Blake Wheeler
2. Nathan MacKinnon
3. Nikita Kucherov
4. Brad Marchand
5. Connor McDavid
Norris Trophy
1. Victor Hedman
2. P.K. Subban
3. Drew Doughty
4. Alex Pietrangelo
5. John Klingberg
Selke Trophy
1. Patrice Bergeron
2. Sean Couturier
3. Mikael Backlund
4. Anze Kopitar
5. Aleksander Barkov
Calder Trophy
1. Mathew Barzal
2. Brock Boeser
3. Charlie McAvoy
4. Clayton Keller
5. Mikhail Sergachev
Lady Byng Trophy
1. William Karlsson
2. Mark Stone
3. Marc-Edouard Vlasic
4. Colton Parayko
5. Josh Bailey
Vezina Trophy
1. Andrei Vasilevskiy
2. Connor Hellebuyck
3. Tuukka Rask
4. Mike Smith
5. Henrik Lundqvist
Jack Adams Award
1. Gerard Gallant
2. Bruce Cassidy
3. Peter Laviolette
4. Jared Bednar
5. Paul Maurice
GM of the Year Award
1. Steve Yzerman
2. David Poile
3. George McPhee
4. Ray Shero
5. Kevin Cheveldayoff
Rod Langway Award
1. Mark Giordano
2. Josh Manson
3. P.K. Subban
4. Marc-Eduoard Vlasic
5. Tyler Myers
Comeback Player of the Year Award
1. Steven Stamkos
2. Claude Giroux
3. Mike Smith
4. Anze Kopitar
5. Jakub Voracek

Contact Frank Seravalli on Twitter: @frank_seravalli