Several Ravens, Jags kneel during anthem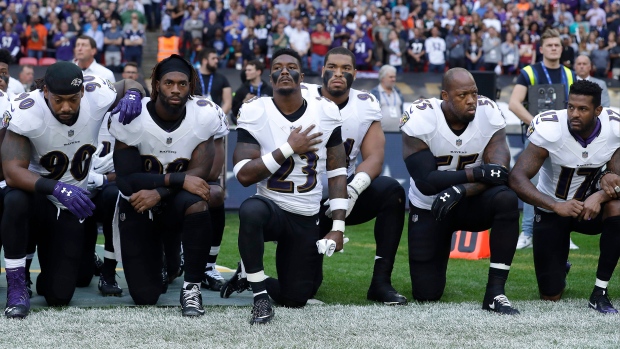 The National Football League's slate of games kicked off at Wembley Stadium in London on Sunday morning with several members, nearly two dozen, of the Baltimore Ravens and Jacksonville Jaguars kneeling during the American national anthem.
Among those kneeling were C.J Mosley, Terrell Suggs and Mike Wallace of the Ravens, as well as the Jags' Leonard Fournette, Dante Fowler and Calais Campbell.
The silent protest comes on the heels of President Donald Trump's remarks on Friday night at a rally in Alabama, his rescinding of an invitation to the Golden State Warriors to visit the White House and a pair of tweets written early on Sunday morning.
"Wouldn't you love to see one of these NFL owners, when somebody disrespects our flag, to say, 'Get that son of a bitch off the field right now. He is fired. He's fired,'" Trump said on Friday at a rally for Republican Senator Luther Strange of players who have not stood for the national anthem during games.
On Sunday, Trump took to Twitter to reiterate his stance.
"If NFL fans refuse to go to games until players stop disrespecting our Flag & Country, you will see change take place fast. Fire or suspend!" Trump wrote.
"...NFL attendance and ratings are WAY DOWN. Boring games yes, but many stay away because they love our contry. League should back U.S.," he continued.
During the anthem as some players took a knee, Ravens coach John Harbaugh and Jaguars owner Shad Khan - who donated $1 million to the Trump campaign - linked arms and stood with other players on the sidelines. The players then stood for the playing of God Save the Queen.
Similar protests are expected throughout the NFL later on Sunday.