Shapovalov falls to Djokovic at Australian Open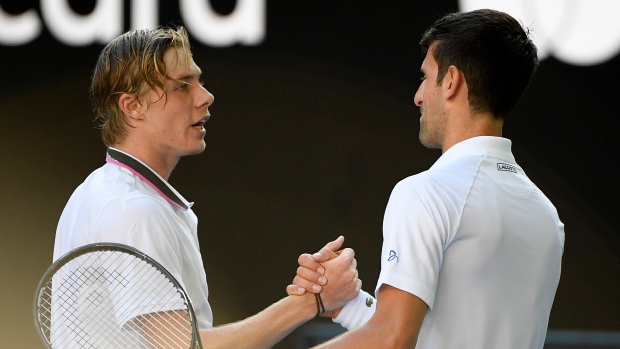 MELBOURNE, Australia — Canadian Denis Shapovalov was ousted by six-time champion Novak Djokovic in four sets.
Shapovalov, the 19-year-old from Richmond Hill, Ont., showed flashes of his skill against the world No. 1 and even came back to steal the third set despite trailing 4-2, but in the end the veteran was too much to overcome.
The 31-year-old Djokovic downed the 27th-ranked Canadian 6-4, 6-4, (6) 6-7, 6-0 in 2 hours, 22 minutes.
"It was a little bit difficult for me in terms of it's not every day I'm playing a match against a top guy like this on a stage like that," Shapovalov said. "Definitely I was a little bit nervous, a little bit tight on everything, just hesitating a little bit."
The jitters went away eventually and he ended up taking a set from Djokovic.
"That's when I kind of loosened up and started playing my tennis, I just started really just enjoying myself," Shapovalov said "I told myself, 'Look, you're already down two sets, so just have fun out there'. That's where I felt like I really started to play my game and really showed what I can do."
—With files from The Associated Press