Shapovalov looks to upset Tsonga at second straight major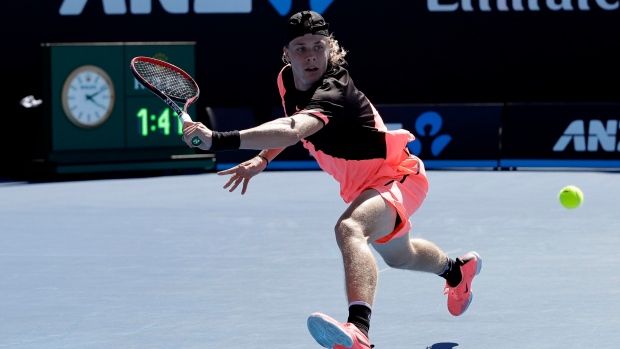 Canada's Denis Shapovalov rose to fame last summer with a run to the semi-final at the Rogers Cup and berth into the Round of 16 at the US Open.
Shapovalov is looking to continue his rise up the ATP Rankings at the Australian Open, but faces an uphill battle in the Round of 64 against Jo-Wilfried Tsonga.
Watch the match LIVE on TSN5 at approximately 8:30pm et/5:30pm pt.
Shapovalov, who beat Stefanos Tsitsipas in straight sets in the first round, is the lone Canadian remaining in the men's tournament.
The 18-year-old has faced Tsonga, ranked 15th in the world, once before ­– last August in the second round the US Open. Shapovalov stunned the Frenchman in three sets 6-4, 6-4, 7-6(3). He said after the victory he believed the match served as proof his success just weeks earlier in Quebec was not a fluke.
"I think every win that I've been going through, it's been securing anyone's doubts or even my own doubts, whether or not I belong," Shapovalov said on Aug. 30. "I belong with these guys, playing these high-level tournaments.
"So this win, it's definitely another confidence boost. It shows that Montreal wasn't a fluke week. To do it back-to-back, it's not easy. I've had to go through qualifying, which is also stacked with super tough players."
The Richmond Hill, Ont., native said after his first-round win he would welcome another matchup with Tsonga, who beat qualifier Kevin King later that day.
"It would be an honour to play him again," Shapovalov said.
Shapovalov's first-round victory evened his record at 2-2 on the year. He began the season with a first-round loss to Kyle Edmund, who he beat the US Open last year, in Brisbane and went 1-1 at the ASB Classic in Auckland, falling to Juan Martin del Potro in the Round of 16.
Tsonga is playing in his first tournament since November 2017 after dealing with a wrist injury, which forced to withdraw from the Qatar Open in late December.
Now ranked 50th in the world, Shapovalov became the youngest player in history to reach a Masters 1000 event semi-final in Montreal last summer.