Shark Tales: From Cow Palace to Cup Final
The statute of limitations has long since expired, so here are five Shark Tales which help illuminate the humble beginnings of one of hockey's most likable franchises, from TSN Senior Hockey Reporter Frank Seravalli.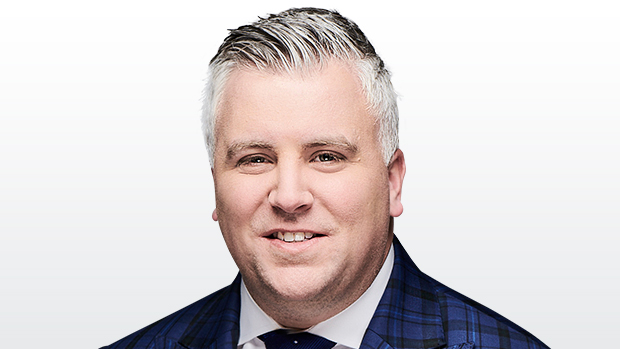 SAN JOSE, Calif. - The San Jose Sharks arrived at the Oakland airport for the first-ever East Coast road trip in franchise history and weren't allowed to board their plane.
The date was Oct. 22, 1991. Their chartered flight was scheduled to leave at 9 a.m. to Hartford, but there was a mechanical issue.
Legend has it that the team's pilot didn't have quite enough experience for certification on that type of plane, so he was practicing touch-and-go landings at the field and blew a tire.
A one-hour delay turned into two. Then three. Then six. The entire Sharks traveling party was cooped up in the lounge. Forward Craig Coxe was bilked out of his entire 15-day per diem in short order in a card game.
The delay raged on. Eight hours into the ordeal the Sharks finally boarded their flight - but the ramp workers couldn't figure out how to push the plane out to the runway. A fed-up Dennis Hull, the team's inaugural color commentator, allegedly disembarked the plane to give the rampers a piece of his mind.
Finally, around 8 o'clock, after an 11-hour delay, the Sharks took off.
They landed in Hartford just after 5 o'clock in the morning. But as they collected their luggage and equipment, the Sharks noticed one large problem.
"Somebody forgot to tell the bus company we'd be late," said Dan Rusanowsky, the team's only radio voice since 1991. "They just assumed we weren't showing up. To quote Jim Carr from 'Slap Shot,' it was a real carnival-like atmosphere."
The Sharks rolled into their hotel adjacent Hartford Civic Center at quarter to six, with a game against the Whalers awaiting later that night. It wasn't exactly a recipe for success. They were shut out 3-0 that night by Kay Whitmore and lost all seven games on that swing by a combined score of 38-11.
The San Jose Sharks were "Major League" on ice. They lost 129 of their first 164 games over their first two seasons, but no team had more fun doing it, with an expansion roster stocked by players with a new lease on life or others who would've never gotten a shot elsewhere.
"We were the island of misfits," said original Shark Paul Fenton.
"Just to have the opportunity to compete for the Stanley Cup at this time of year is a great thrill for me. Is it ironic that it's against San Jose? Probably. But I'm not a picky guy."
That lovable group of losers captured the hearts of the Bay Area, paving the way for another collection of goofballs led by Brent Burns and Joe Thornton to push the Sharks to the brink of their first Stanley Cup.
From Cow Palace to Cup Final, Saturday night in the Shark Tank was 25 years in the making.
Whenever something went wrong in the salad days, then-captain and now GM Doug Wilson used to joke "that's Chapter 12" or "there's Chapter 14" in a book of hilarious Sharks follies. It was never written.
But the statute of limitations has long since expired, so here are five Shark Tales which help illuminate the humble beginnings of one of hockey's most likable franchises:
Chapter 1: The Cow Palace
When the NHL hastily awarded George Gund an expansion franchise in 1990, the Sharks had no place to play. San Jose Arena, now known as SAP Center, was still two years away from opening.
So, the Sharks shacked up at the Cow Palace, an 11,089-seat building south of San Francisco that was deemed not worthy of NHL hockey some 25 years earlier when the California Golden Seals applied to play there.
It was a temporary home the NHL would never allow in expansion today. Even the way the Sharks were formed, through a dispersion draft of the Minnesota North Stars, wouldn't fly.
The historic arena was originally called the California State Livestock Pavilion, and once processed American soldiers shipping off to the Pacific Theater during World War II. But it was known for hosting the Grand National Rodeo, agricultural fairs and the circus - a fact that would not slip past your olfactory senses.
"You would walk through the door and every time you would smell cow (dung), so you'd check your shoes, even though you knew there'd be nothing on them," Fenton said. "It was just a makeshift place."
Aside from the smell, the Cow Palace roof leaked. It was one of the last few arenas in NHL history which could not accommodate regulation-sized ice. And there was a crazy Zamboni driver who thought it was a good idea to leave the net moorings sticking out of the ice while he shaved it.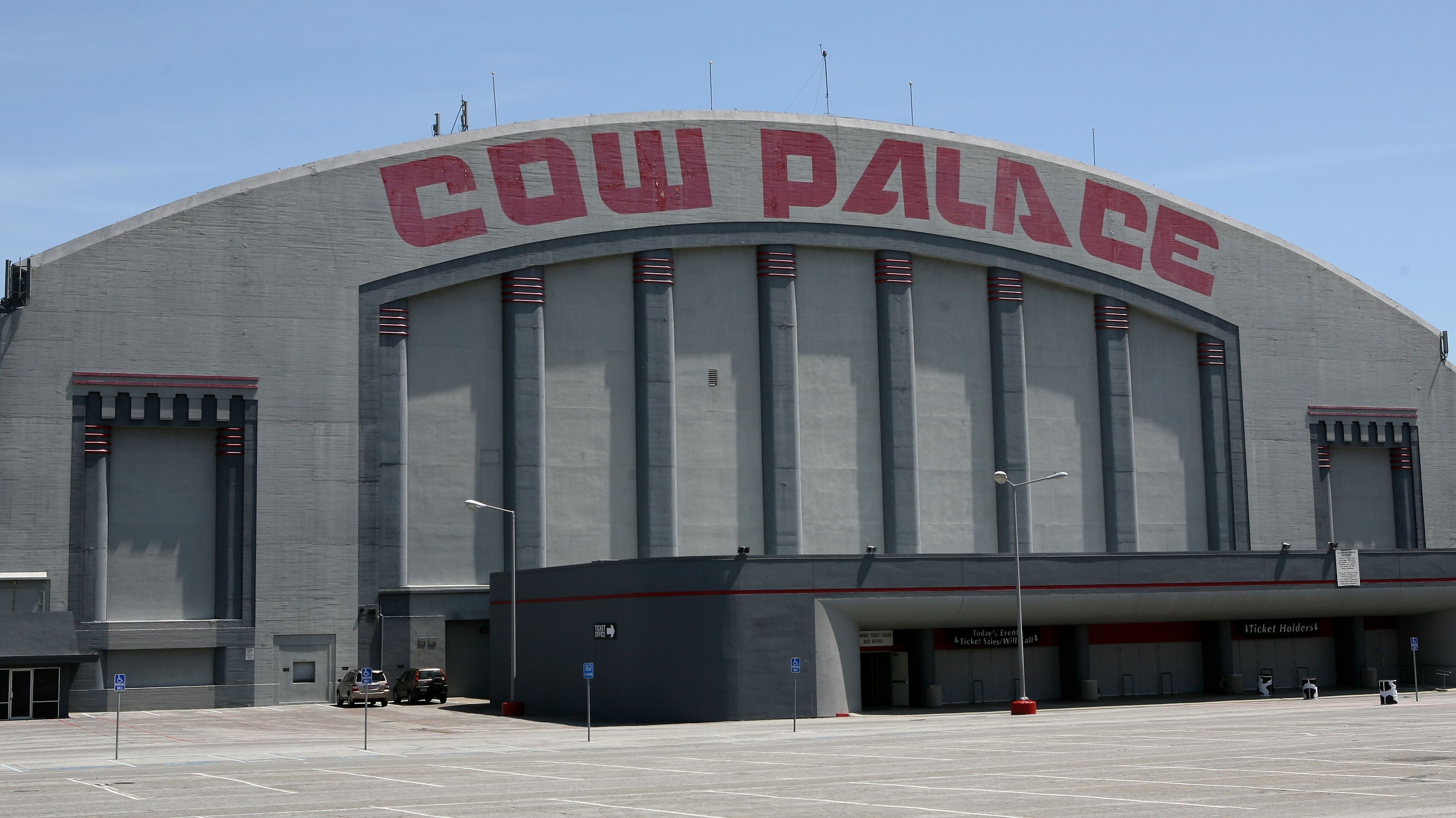 "He said it helped him line up the ice, or something," Rusanowsky recalled. "That worked out fine until a game against Montreal in January, when he ran one over and it split the ice, creating a huge gash that caused a 55-minute delay to start the game."
To keep the crowd entertained, a couple decided to get married on the ice. Fans screamed "Don't doooooo it!" and "You'll regret it!" as the two said "I do."
Then there were the steps. Upon leaving the ice, Sharks players had to trudge up two flights of steps in skates, part of nearly a 200-foot jaunt to get to the dressing room. In the old Chicago Stadium, players also had to walk up steps to get to the ice from the locker room, but the Cow Palace didn't have nearly the same type of character as the Madhouse on Madison.
Somehow, the Sharks sold out every game in the building, with fans bound in teal.
"I don't even think our facilities were up to junior-level standards then," said original Shark Kelly Kisio. "Thankfully, we were only there a couple years."
Opponents sometimes couldn't last a couple days. The Cow Palace was located in a rough neighbourhood then, an uninviting part of Daly City. It was the type of place you didn't want to hang around late at night.
"One time, we were playing against the Buffalo Sabres and the whole team came out of their locker room missing wallets and watches and clothes," said original Shark Rob Zettler. "They were robbed in the middle of the game. You couldn't make that up if you tried. It wasn't the greatest security."
Chapter 2: The Missing Link
On the ice, the Sharks had one of the greatest security guards of all-time in forward Link Gaetz - a brawler who was far and away the most popular player in early Sharks franchise history.
"We would walk out of the rink and he'd have a pack of 25 kids following him around," Fenton said.
Gaetz, pronounced Gates, was 23 then but acted more like a teenager, according to teammates. He was drafted in the second round (40th overall) by the Minnesota North Stars in 1988 to protect Mike Modano. Gaetz was a 6-foot-3, 240-pound mountain of a man, someone who took on Bob Probert in his prime and feared no one.
"The craziest part about Link Gaetz was that he could actually play. He had the hardest shot on the team and he could skate when he cared," Zettler said. "He could just never get his act together."
Gaetz was beyond entertaining. Kisio called him a "larger-than-life individual."
"He showed up after Christmas break that first year with cuts and bruises all over his face, like he'd just been in a war. But we hadn't played in five days," Kisio remembered. "He told us he fell off a bike. We were all like 'Yeah, OK.' A couple weeks later, we landed in Vancouver and cop cars immediately surrounded the plane as we got to the gate."
One Sharks player quipped: "Link, your ride's here," and the whole plane laughed.
But it was like a scene out of a movie. The back door to the plane opened up, an RCMP officer boarded and commandeered the PA system.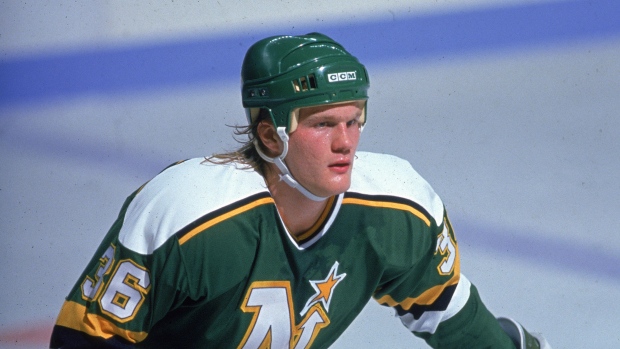 "Link Gaetz: Back of the plane, please."
"He was wanted for a bar fight from Christmas back in Vancouver, he damaged a bunch of property," Kisio said. "We all just kind of shrugged. It was Link being Link. He was an interesting guy."
He also loved being around kids.
"Probably because he was a kid at heart," Fenton said. "I used to bring my oldest son, P.J., (later drafted by the Sharks in 2005) to the rink in those days. Link would be sitting on the floor playing mini-sticks with him before practice. I'd have to say to him, 'Put your stuff on, it's time to practice' and he wouldn't listen. I'd have to tell him over and over again. My son was in kindergarten but it's like I was talking to both of them. I think he was so attracted to kids because he really was just a kid at heart."
Gaetz racked up 326 penalty minutes that season in just 48 games. He also scored six goals and added six assists. Sadly, Gaetz never played in the NHL again after being ejected from the passenger seat of a car during a horrific accident in San Jose on April 2, 1992. Gaetz nearly died. One of the first people at his bedside was his roommate, Wilson, who remained there for days.
Gaetz, now 47, dropped off the radar after that in a downward spiral fueled by substance abuse. Teammates have no clue where to find him, haven't heard from him in decades. He was last seen fighting his way through the Quebec Sr. Hockey League in 2007 at 270 pounds, the subject of a bizarre ESPN story.
Teammates never knew where to draw the line with Gaetz. Coaches told goaltenders to allow him to score in practice for fear he got upset. Former NHL goalie John Blue found out the hard way in Kalamazoo one year when he dove out of the crease and took out Gaetz going for a loose puck.
"Link challenged him to a fight," Zettler said. "Blue answered the bell, he took off his gloves and his helmet. Link did the same. They're squaring off and we all thought it'd be this fair-and-square fight. Then Link picked up Blue's blocker and just started beating him with it. His face was a bloody mess after that."
Chapter 3: The Garbage Cup
The Sharks were a bloody mess on the ice for those first two years. Their 11 wins and 71 losses in 1992-93 both remain an NHL record, two in a long list of dubious ones in league annals.
San Jose fell out of the gate with a 1-14-0 mark to start the first year, too, including a 13-game losing streak.
"Every game was an adventure," Fenton said. "The funny thing was we didn't ever go into a game feeling like we weren't going to win. We weren't beaten down, it's just the way it was. We played a lot of young guys."
That second season was particularly painful. The Sharks had a skid of 1-30-1 at one point, part of three different losing streaks of at least 13 games that year.
"If you weren't laughing, you were crying," Zettler said.
One loss in Calgary stood out. They had dropped 15 games in a row at that juncture on Feb. 10, 1993, and coach George Kingston gave a particularly long pre-game speech. Players eyes were glazing over in the dressing room, some original Sharks said.
The Sharks went out and scored the game's first goal at the Saddledome, leaving Kingston feeling good about his long-winded motivational speech.
Then Calgary scored 13 unanswered goals, the last coming when Neil Wilkinson embarrassingly tried to kick the puck after losing his stick. He animatedly stepped on the puck, with it squirting right out in the crease for the whipped cream on top.
Arturs Irbe made the start in net. After allowing four goals, Kingston instructed assistant coach Drew Remenda to notify Jeff Hackett that he'd be starting the second period.
"(Bleep) that," Hackett replied to a roar of laughter from teammates.
Hackett was victimized for five goals, with Irbe returning to allow the last four. Final score: 13-1. Flames forward Theo Fleury set an NHL record that stands to this day as a plus-nine; goaltender Jeff Reese set a still-standing record with three assists.
"It was the first time I've ever heard a coach say that a goaltender was a threat in both the offensive and defensive end, like Dave King said about Jeff Reese that night," Rusanowsky said.
After a 6-0 shellacking in Edmonton two nights later, the Sharks somehow got off the schneid in Winnipeg. The captain Wilson went down with a knee injury, actually marking the last game of his NHL career, and his absence seemed ominous. But the Sharks somehow squeaked out a 3-2 win.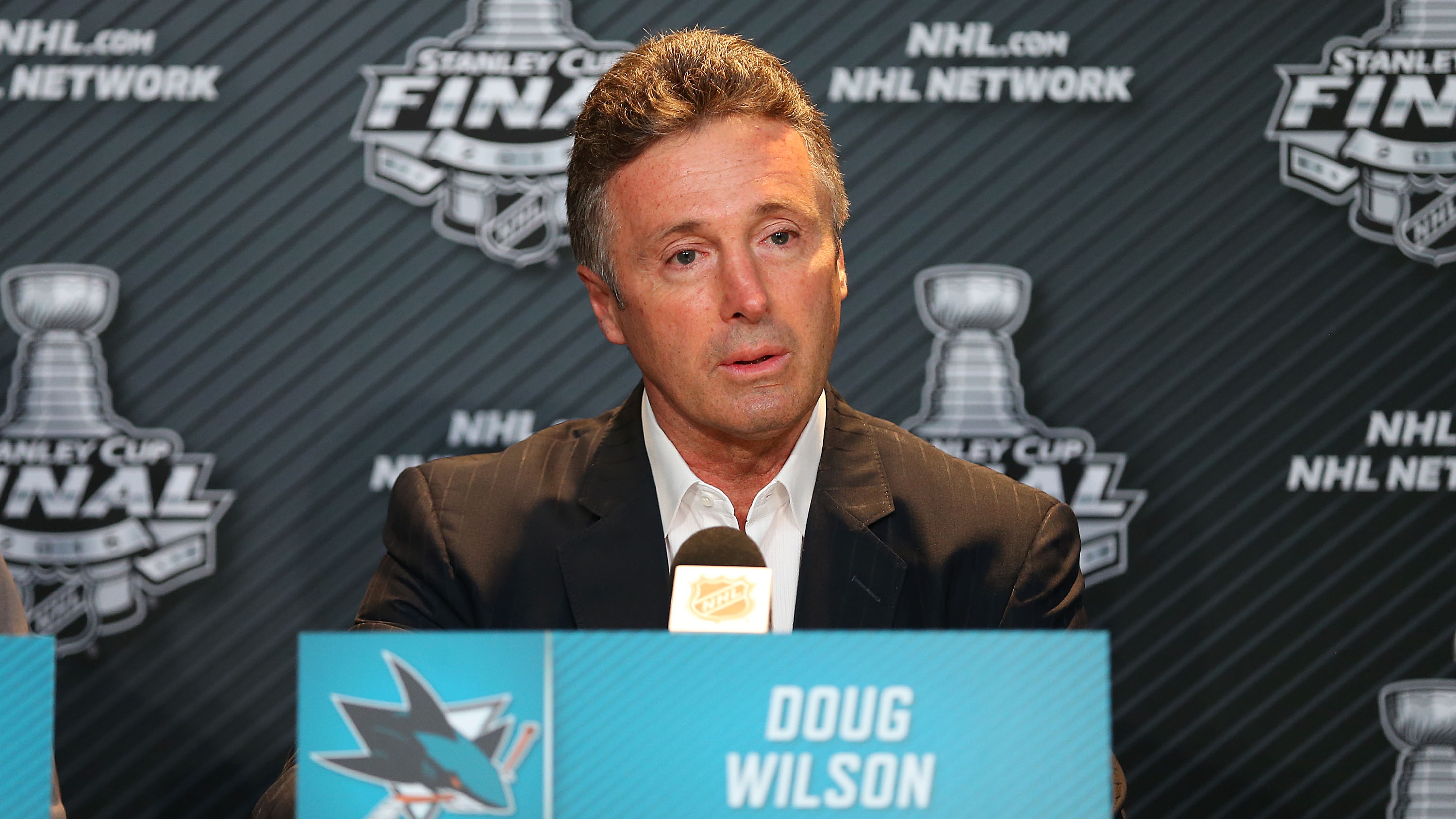 The 17-game losing streak, also an NHL record, was over.
"We passed a garbage can around the locker room in the old Winnipeg Arena, raising it above our heads like it was the Stanley Cup, everybody was howling" Kisio recalled. "We were like the Bad News Bears coming together."
Chapter 4: The Long Ride Home
The 1991-92 Sharks nearly received a merciful end to their inaugural season when the NHL's players decided to enact the first strike in the 75-year history of the league. The vote was an overwhelming 560-4, with players unhappy over the split of trading card revenue and division of playoff bonuses.
San Jose was 17-55-5; only three games remained on the schedule. They weren't concerned in the least over playoff bonuses.
After Day 10 of the strike, when the players' bargaining committee said they made their "final offer," many of the Sharks began to make their way home. They thought the NHL would simply cancel the final three games of the season.
"It didn't look like it was going to end," Fenton said. "We walked out to make a point. Our families were at home, so we decided to drive cross-country."
Fenton and fellow Massachusetts native Mike Sullivan, now the Penguins' head coach, packed up their cars and began the three-day journey home.
"This was pre-cell phone, so Mike and I would time out our stops based on the radio," Fenton said. "I can still see Mike towing his boat across the country in my rearview mirror. I think we stayed the first night somewhere in the mid-west."
Sullivan and Fenton weren't actively communicating with other players during the trip, so they had no idea that as they were getting closer and closer to home, their strike was nearing a conclusion.
"Being one of the first Sharks was an honour and a privilege. It's something you never forget. I think all of us original Sharks are watching and silently rooting."
"I pulled into my driveway around 7 o'clock in the morning just as my kids were walking out the door to school," Fenton said. "I walked in and kissed my wife and she said 'Well, it's great that you're home, but your flight to Edmonton leaves in two hours.' The strike had ended."
Teammates remember Sullivan as a "serious" guy, someone attentive to every detail. Sullivan broke in with the Sharks and played 171 games in teal, later stopping in Calgary, Boston and Phoenix.
"He had this presence about him, he just carried some weight with his words," Zettler said. "He was actually a lot of fun, too. We always had a lot of laughs with him. He was also the fastest skater on our team. It goes to show you how he coaches."
It isn't tough to imagine the Sullivan may not have gotten a shot in the NHL without the addition of the Sharks in 1991. He wasn't a highly touted pick out of Boston University, a fourth-round selection of the New York Rangers. He spent the previous season with the IHL's San Diego Gulls, then played the first 10 games of the Sharks' first year in IHL Kansas City.
Would Sullivan have made a 709-game NHL career without the NHL expanding? Maybe. Would he have ended up an NHL head coach in 2003 without that playing career? Maybe not.
"To play against the Sharks, it seems like an eternity ago that I was playing for them," Sullivan said last week. "Doug Wilson was our captain. I'm sure he feels the same way. Just to have the opportunity to compete for the Stanley Cup at this time of year is a great thrill for me. Is it ironic that it's against San Jose? Probably. But I'm not a picky guy. I would play against anybody."
Chapter 5: The Legacy
Leaving the Chicago Blackhawks in 1991, Doug Wilson had a choice. He won a Norris Trophy with the Blackhawks in 1982, but his time was running short in Chicago. They presented him with two options: a trade to the Pittsburgh Penguins, of all teams, or a trip to destination unknown in San Jose.
"He'll never tell anyone this story publicly, but he wanted to come to San Jose because he wanted to help build something," one Sharks insider said.
What Wilson, now 58, helped build was an "island of misfits" into a group of hockey lifers. It is staggering the number of players from that first year team still involved in the game.
Sullivan is squaring off against the Sharks now in his second NHL head coaching stint. Wilson, who was the Sharks' first captain and All-Star, is the third-longest serving GM. Fenton is the longtime assistant GM under David Poile in Nashville - and he hired Dean Evason for his first head coaching gig with the AHL's Milwaukee Admirals.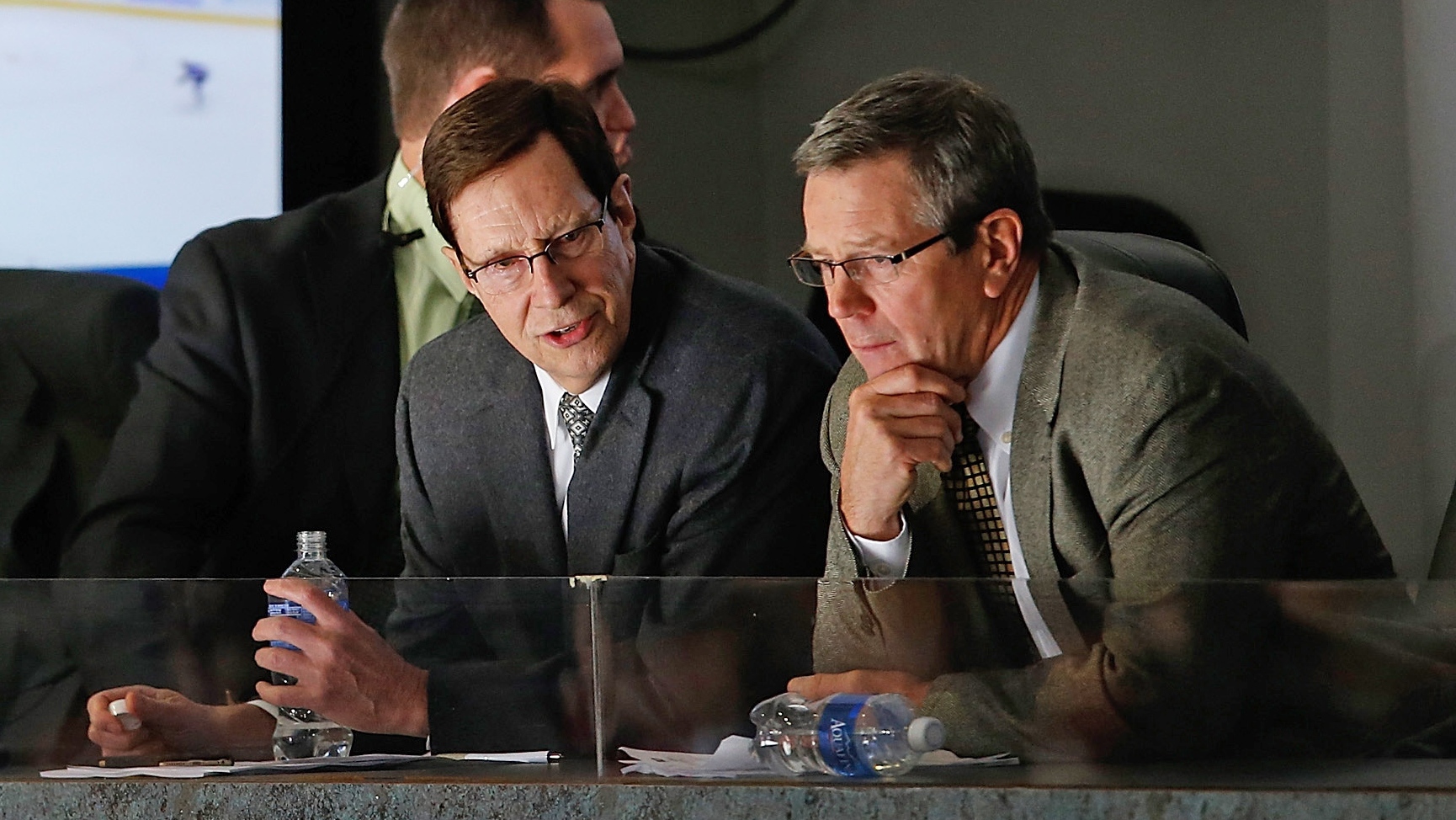 Kisio is president of hockey operations for the WHL's Calgary Hitmen. Brian Lawton is a commentator on NHL Network after serving as both an agent and GM. Remenda is a broadcast voice of the Edmonton Oilers. Wade Flaherty is goaltending coach of the Winnipeg Jets.
And Zettler just finished the season coaching the AHL's Syracuse Crunch, carrying with him little lessons from San Jose along the way.
"We're all so far removed from playing there, but I think we all have a soft spot for San Jose," Zettler said. "Being one of the first Sharks was an honour and a privilege. It's something you never forget. I think all of us original Sharks are watching and silently rooting."
Contact Frank Seravalli on Twitter: @frank_seravalli