Sharks' Torres suspended 41 games
Frank Seravalli, TSN Senior Hockey Reporter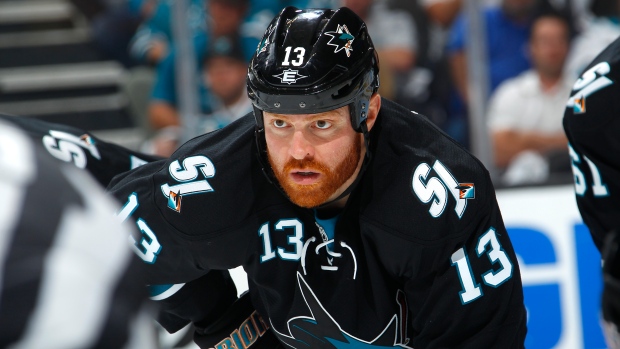 San Jose Sharks forward Raffi Torres will not be playing hockey again until mid-January - if he is ever to see NHL ice again at all.
Torres was suspended 41 games - or half the 2015-16 season - by the NHL on Monday after an illegal hit to the head of Anaheim forward Jakob Silfverberg in Saturday's exhibition game.
It is the most severe punishment from the NHL for on-ice discipline in nearly eight years, a move that is sure to catch the attention of players around the league. Overall, it is the second-longest in modern NHL history, behind only Marty McSorley's one-year suspension in 2000 for hammering Vancouver's Donald Brashear over the head with his stick and a lifetime ban to Boston's Billy Coutu in 1927 for attacking a referee.
The NHL's last suspension of this severity was a 25-game suspension for Islanders forward Chris Simon for skate-stomping Pittsburgh's Jarkko Ruutu on Dec. 19, 2007.
Torres, 33, may appeal his suspension to NHL commissioner Gary Bettman. This is Torres's ninth career suspension or fine for an illegal check to the head, according to the NHL.
Torres previously appealed his 25-game suspension from an April 17, 2012 playoff game in which he illegally checked Marian Hossa in the head. His sentence was reduced to 21 games. He served 13 games in the playoffs before the sentence was reduced in the summer. He served another eight at the beginning of the lockout-shortened 2012-13 season.
Somehow, the Sharks traded a third-round pick to get Torres on April 3, 2013.
His record wasn't exactly clean with the Sharks, either, earning a suspension for the remainder of the second round of the 2013 playoffs for a head shot on the Kings' Jarret Stoll. The Sharks then signed him to a three-year contract extension.
Torres is earning $2.125 million this season, the final year of his deal. He will forfeit $440,860.29 in salary to the Players' Emergency Assistance Fund. It is not half of his entire salary, since NHL players' salaries are divided by 186 days this season, with a practice day being worth an equal amount as a game day.
By not being suspended in the last 18 months, the determination for a "repeat offender" for monetary forfeiture, Torres saved himself approximately $621,639.71 in salary.
Whether the Sharks, or any other NHL team, will take a chance on Torres remains to be seen. He would be first eligible to return on Jan. 14, 2006, against the Oilers in San Jose. Torres was a first-round pick of the Islanders (No. 5 overall) in 2000.
Simon played just 10 more NHL games after his 25-game suspension, forced to play out his career in Russia. McSorley never played again.
RAFFI'S RAP SHEET
| Date | Team | Infraction | Punishment | Salary lost |
| --- | --- | --- | --- | --- |
| Oct. 3, 2015 | Sharks | Illegal check to head | 41 games | $440,860.29 |
| May 14, 2013 | Sharks | Illegal check to head | 6 playoff games | n/a |
| April 17, 2012 | Coyotes | Late charge to head | 21 games* | $170,731.68 |
| Dec. 31, 2011 | Coyotes | Charging | 2 games | $42,682.93 |
| Dec. 29, 2011 | Coyotes | Elbowing | Fine | $2,500.00 |
| April 7, 2011 | Canucks | Elbowing | 2 games + 2 playoff games | $10,810.81 |
| TOTAL | | | 66 games + 8 playoff games | $667,585.71 |
* Denotes reduced from 25 games to 21 games following appeal.