Shaw's declining shooting percentage raises question marks
The Montreal Canadiens' big gamble on the blueline this summer wasn't the only wager they made when they traded P.K. Subban for Shea Weber. As Travis Yost examines, the Habs went big on winger Andrew Shaw, acquiring him from the Blackhawks for a pair of second-round picks then extending him on a six-year deal worth $23.4 million.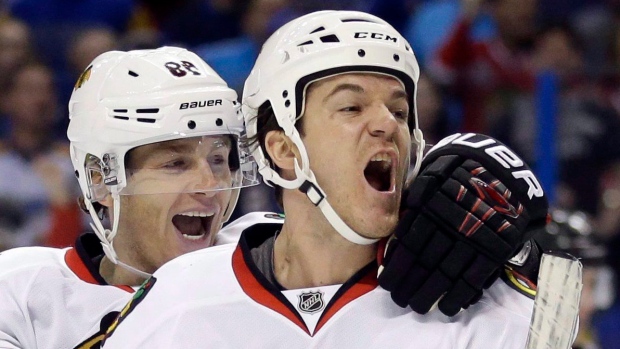 Due to the sheer magnitude of the deal, almost all of the attention surrounding the Montreal Canadiens this summer has focused on the P.K. Subban for Shea Weber swap.
But their big gamble on the blueline wasn't the only wager they made. Lest we forget, the Canadiens went big on winger Andrew Shaw, acquiring him from the Blackhawks for a pair of second-round picks then extending him on a six-year deal worth $23.4 million.
The Shaw acquisition came with the usual explanation for a player with his sort of background. In the press release following the extension, Bergevin cited – among other things – Shaw's two-way capabilities, grit, and Stanley Cup-winning pedigree. Combine the quotes with the financial commitments, and I think it's fair to say Montreal's front office believes Shaw will be a big contributor at both ends of the ice.
There are some interesting questions, though, about where Shaw's game is headed in the offensive zone. Shaw, if you remember, was a reasonably productive scorer in his early years with Chicago. His first season with the Blackhawks saw an impressive 27-goal pro-rated pace, but since then, he's fairly consistently bounced around the 15-20 goal mark.
Shaw's underlying offensive metrics are really curious, though. One could look at his career stats and point out that his offensive game has stagnated over time, and that increased dedication to his play in the defensive zone could be to blame. But that's not entirely true, because his individual generation metrics have consistently moved north since entering the league (data via Corsica).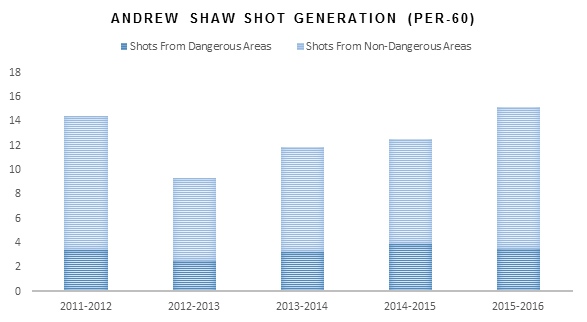 This is exactly the type of growth you'd want to see in a player, particularly a player who is (a) entering the prime of his career; and (b) like it or not, by way of his contractual commitment, will have to chip in offensively to satisfy the size of his contract. Shaw has seen his scoring chance numbers grow slightly since the 2012-13 season, and his non-scoring chance numbers grow by a slightly larger margin in the same window. He's generating the requisite number of shots from dangerous areas, and he's generating more shots on a per-60 basis. On pure volume, Shaw should be a decent offensive threat on most nights.
But Shaw really hasn't been that type of player for some time now. Despite the shot volume in Chicago, his goal-scoring rates have stayed flat. In that same four-year window, where his shot volume grew year-over-year, Shaw's scored at rates comparable to Jason Chimera, Chris Higgins, and Dwight King – none of whom would be considered average-or-better goal scorers in today's NHL.
So, how do we explain the scoring? Pretty simple. His shooting percentage has fallen like a rock since his debut season, below the league average and rapidly towards the NHL's 'Mendoza Line'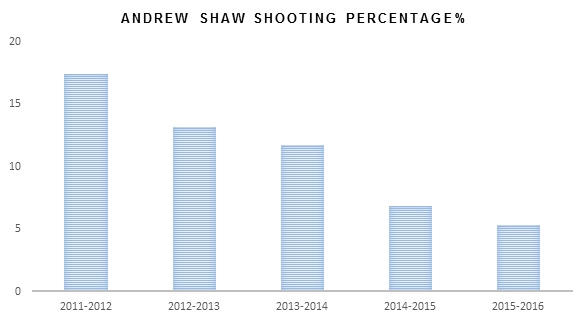 The average shooting percentage at 5-on-5 is a shade under 8 per cent, which is worth keeping in mind. It was never realistic to assume that Shaw could sustain the type of lofty conversion rates he posted in the first couple of years of his career. But, at the same time, we have now gone through 157 games of 5-on-5 hockey where Shaw's scored on just 6 per cent of his shots.
It's worth mentioning that this kind of drop-off just isn't seen very often around the league. Of all of the active players in the league, Shaw's just one of four regular players who has seen his shooting percentage decline in four consecutive years. (Oddly enough, new teammate David Desharnais is another.)
So, what gives? Is Shaw getting tremendously unlucky, or has Shaw experienced a legitimate degradation in his shooting prowess? That answer, at least from my vantage point, is indeterminable. One thing I thing we can conclusively rule out is quality of teammate impact. Before you go there, consider Shaw's most frequent teammates just last season. In order: Jonathan Toews, Niklas Hjalmarsson, Duncan Keith, and Marian Hossa.
This is what makes Montreal's bet on Shaw so fascinating. Assuming that Shaw acts as a steady presence for Montreal in the defensive third, you really would only need him to 20 goals or so in the offensive zone to satisfy his contract. And yet, I'm not entirely sure what to expect from him in that department. He remains active and attacking in front of opposing netminders, but the guy can't buy a goal relative to what we would expect from a top-six scorer.
It's something to keep in mind as we continue to inch closer to puck drop on the 2016-17 season.