Shazier has 'spinal stabilization surgery'
TSN with Canadian Press files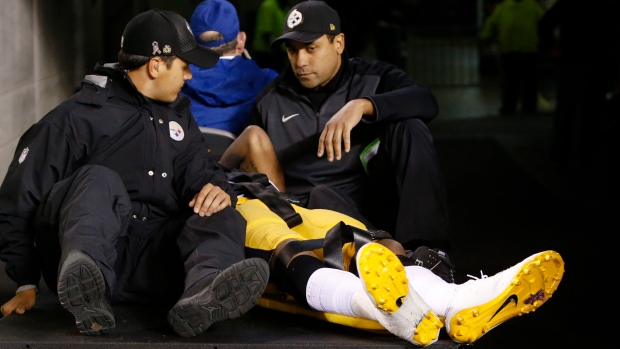 Pittsburgh Steelers linebacker Ryan Shazier underwent spinal stabilization surgery on Wednesday night, the team announced Thursday.
The team released a brief statement on Thursday on behalf of team doctors and University of Pittsburgh Medical Center Neurosurgeons announcing the surgery was to address his spinal injury.
Shazier suffered a back injury during Pittsburgh's 23-20 win over the Bengals on Monday night. Shazier lowered his shoulder and tackled receiver Josh Malone in the first quarter. He landed on his chest, reached for the middle of his back, and then rolled over. Shazier lifted his arms, flexing his right hand and calling for help, but otherwise did not appear to move much.
He was removed from the field on a backboard and a cart, and then taken to a hospital for tests. He was transferred to UPMC from Cincinnati on Wednesday.
The Steelers said Monday Shazier would not need surgery at that time.
The Pro Bowl linebacker leads the Steelers in tackles and has three interceptions.
"Ryan is one of the biggest players on this defence," linebacker Vince Williams said. "When we need a big play, he's one of the guys we look to. It's going to be tough."