Silent summer puts Sens in precarious position
It looks like Ottawa's plan for 2018-19 is to keep Karlsson, Stone and Duchene for as long as possible – to make sure they don't bottom out in the standings – and then move one, two or all three of them around the trade deadline, Ian Mendes writes.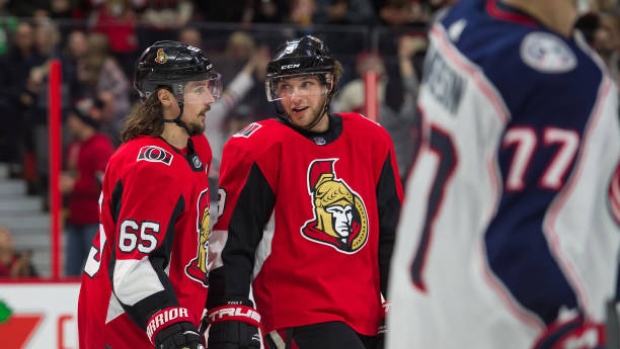 The calendar his flipped to September – although you would never know it in Ottawa.
The city is trapped in yet another heat wave, with temperatures pushing 40 degrees Celsius with the humidity on Wednesday. There is a thick, heavy air enveloping the entire city, which serves as a perfect metaphor for the state of the Ottawa Senators.
The club has been unable to turn down the temperature on a number of controversies swirling over the past few months. Six months ago, it seemed like a foregone conclusion that the Senators would undergo significant changes in the summer.
But as training camp opens next week, it has been pretty much the status quo for a team that finished 30th overall in the league last season. The entire coaching staff is returning and there hasn't been a major roster shakeup. Fans hoping for announcements about a third jersey or reduced parking prices have been left in the dark.
A cone of silence has surrounded the organization. General manager Pierre Dorion hasn't spoken publicly in two months. It has been more than six months since owner Eugene Melnyk penned a letter to season ticket holders in which he pointedly said the club was headed towards a rebuild.
"The kind of change required to reclaim our standing needs a change in approach, requires difficult decisions and a commitment to a plan," Melnyk wrote to fans on March 1.
As it stands in September, Senators fans have no better understanding of that plan than they did when Melnyk penned those words. The franchise vowed to change its approach, but instead Sens fans have been quarantined in a vacuum of information.
So in the absence of tangible, concrete action from the organization, it's time for us to guess what the plan is for the 2018-19 Ottawa Senators.
This year's edition of the Senators enters the campaign in the most awkward spot of any team in the cap era. Not only does the club have its three best players – Erik Karlsson, Mark Stone and Matt Duchene – entering the final year of their contracts before unrestricted free agency, they also don't own a first-round pick for 2019.
Sure, some teams have let their players enter the final year of their contracts without an extension in place. And yes, many teams have surrendered a first-round pick for a future NHL draft. But never before has this perfect storm emerged, where a team has three superstars headed to unrestricted free agency AND they don't own their next first-round selection.
It would have been a lot easier to start the process of a rebuild if the Senators hadn't surrendered that pick to Colorado in the Duchene trade. The team could have sold off assets this summer to officially start the process of bottoming out, knowing that a high pick would be the reward for suffering through another dreadful season.
But now the Sens are caught in the most precarious of positions, and by not trading any of their major assets for prospects this summer they've shed some light on their thinking for the upcoming season.
It stands to reason that the Senators plan for 2018-19 is to keep Karlsson, Stone and Duchene for as long as possible – to make sure they don't bottom out in the standings – and then move one, two or all three of them around the trade deadline.
This also leaves the door open to re-signing one, two or all three of these players, although with each passing day it feels more and more like that is a distant possibility.
If we go under the premise that the Senators can't afford to give Colorado the first-overall pick in next year's draft, then conventional wisdom says their best chance to compete would include having their best three players in the lineup.
Having each of these players entering the final year of their respective deals means they will all be highly motivated to hit unrestricted free agency with as much leverage as possible. The best way to do that is to have a monster season – especially when you might be auditioning for 30 other NHL teams.
By keeping these players on the roster for roughly two-thirds of the season, the Senators could hope that their talent helps them rise above teams like Detroit, Montreal, Vancouver and Arizona and out of the running for Jack Hughes and the No. 1 pick.
That's not to mention the fact that another key piece for the Senators, Ryan Dzingel, is also set to become an unrestricted free agent next summer. Dzingel may not have the cache of the other three stars, but he did tie for the team lead with 23 goals last season and seems to be trending upwards. If Ottawa can't hammer out a contract extension with him, he could be another chip to play around the trade deadline.
Of course, there is inherent risk in letting players walk into the final year of their contracts. A major injury could completely erode their value on the trade market. But given the awkward spot the Senators are in right now, this appears to be their best strategy.
The only thing that could throw a wrinkle into this plan is if the club and/or Karlsson determine their situation is untenable when training camp opens next week. But we've seen other mega-stars like Steven Stamkos and John Tavares go into the final year of their contracts and be able to handle the constant line of questioning from the media, so there's no reason to think Karlsson couldn't do the same.
For his part, Karlsson is a media-savvy, thick-skinned individual who doesn't seem to fit the bill of a player who would be bothered by some uncertainty surrounding his future. He dealt with the line of questioning for the latter half of last season, giving him a preview of what to expect when training camp opens next week.
So, as it stands now, we should expect Karlsson to be there when training camp opens next week. And we should also probably anticipate him being in the Sens' lineup on opening night.
Based on their language and actions in the spring, the Senators have made it fairly clear they want to kick-start a rebuild. Logic dictates you can't do that when you don't own your own first-round pick for next season. The best way for Dorion to acquire some draft capital is to move his mega-star assets.
And the best time to do that is around the trade deadline – not the beginning of training camp.