Simmonds rides humbling road to All-Star Game MVP honours
"Just don't make yourself look like an idiot," Philadelphia Flyers forward Wayne Simmonds told himself before his first NHL All-Star Game. Safe to say: mission accomplished.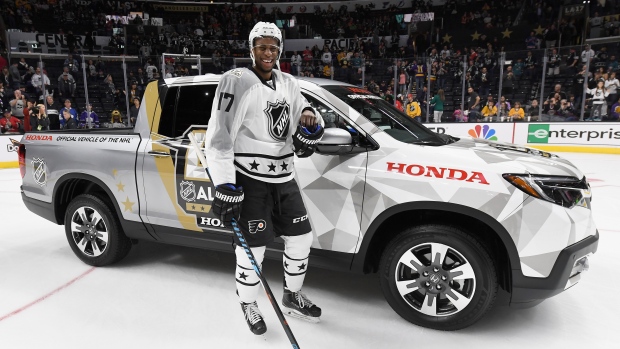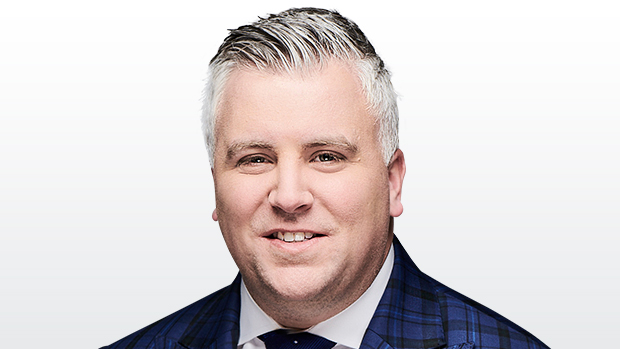 LOS ANGELES — Sharing the ice with Sidney Crosby and Alex Ovechkin, Philadelphia Flyers forward Wayne Simmonds said he gave himself a little advice before his first All-Star appearance.
"Just don't make yourself look like an idiot," Simmonds said.
Safe to say: mission accomplished.
With all the star power packed into Staples Center, it was Simmonds - perhaps one of the most unheralded All-Stars - who ended up grinning with the oversized car key after being named most valuable player of the 62nd NHL All-Star Game.
Simmonds scored three times, including the game-winner, as the Metropolitan Division knocked off the Atlantic and Pacific stars in the 3-on-3 mini tournament for the $1 million prize.
In a weekend where Chris Pronger crushed Justin Bieber, P.K. Subban sang with Snoop Dogg, Bobby Orr tugged on Brent Burns' beard and Connor McDavid, Auston Matthews and Patrik Laine represented the newest generation of stars, Simmonds' coming out party put a bow on the NHL's centennial celebration.
Without John Scott, the shine already seemed to fade from last year's popular 3-on-3 format, the only saving grace being the $91,000 per player cut to the victors - which created a frenzied final few minutes.
But Simmonds' road back to Los Angeles, where he began his career with the Kings, is every bit as storybook as Scott's tale from one year ago. There just won't be a movie made about this one.
"Weird," Simmonds said, when asked what it felt like to hear his name as MVP. "They asked me how does being an All-Star sound and I said weird. It's awesome. I don't even know if I realize what's going on right now."
Leave it to an NHLer who is substance over style to steal the show amid Hollywood's facade of glitz and glamour.
Simmonds, 28, grew up in blue-collar Scarborough, Ont., where his mother, Wanda, used to take him to Heron Park Arena every September to sift through piles of hand-me-down equipment. If he was lucky, he got to go to a local Hockey Guys store to buy "better quality" second-hand gear. The only thing Simmonds wore new was a neckguard, because Wanda Simmonds heard the horror stories of throats being slashed by skate blades.
"I can remember being so broke that Wayne would break a stick on the ice and my husband (Cyril) would be so upset because we couldn't afford to replace that hockey stick," Wanda Simmonds said in a 2011 interview. "And I'm not talking about those rich-kid sticks, the composites; I'm talking about the $25 wooden ones."
Money was always tight. As a 15-year-old, Simmonds played Midget AA hockey in the Toronto area - not because he didn't make the AAA team, but because his family couldn't afford it. That's why Simonds was twice passed over in the OHL priority draft.
A persuasive Mike Futa, then the GM of the Owen Sound Attack, convinced Simmonds to try the junior route, foregoing a verbal commitment to low-level Bowling Green University in the NCAA.
Futa was hired by the Kings in 2007 as director of amateur scouting. He pushed to draft Simmonds in the second round of the NHL draft one month later and the fearless kid from Scarborough punched his way through Terry Murray's training camp and into the NHL as an 18-year-old. He hasn't left.
Simmonds said step one after winning the truck as part of his MVP spoils will be to remove the humongous Honda All-Star decals. Step two will be to give it to a family member, maybe his mom, a fitting way to say thank you for all the rides to the rink while juggling her career as a social worker.
"Maybe somebody needs a car like that," Simmonds said. "I don't need it. It's a nice luxury to have, but who knows what I do with it."
A shocking 2011 trade from Los Angeles to Philadelphia - with Simmonds and Brayden Schenn part of a package in exchange for Mike Richards - set Simmonds on a new career trajectory. Coach Peter Laviolette turned Simmonds into one of the NHL's best net-front players and four seasons of at least 28 goals have followed.
His coach on Sunday, Wayne Gretzky, clapped and cheered when Simmonds scored the Metropolitan's first goal. Simmonds called it one of the best days of his life.
All-Star weekend was surreal, Simmonds said - his first-ever time seeing the Maple Leafs live and in person was when he faced them for the first time at Air Canada Centre.
Imagine that for one second.
Some were surprised to see Simmonds even selected. With only one representative from the Flyers chosen, Claude Giroux and Jakub Voracek have more name cache.
Yet, it is Simmonds who is third in the NHL in goals (44) since Jan. 1, 2016, ahead of names like Patrick Kane, Vladimir Tarasenko, John Tavares and Nikita Kucherov.
Simmonds was as deserving as anyone, truly soaking in a weekend that often produces an eye roll from the megastars who see the exhibition as a weekend of being dragged around to corporate and promotional commitments. Sunday was just Sidney Crosby's second career appearance, and first in a decade.
For Simmonds, it was a career highlight, not a chore.
"There's so many great players in our game today," Simmonds said, "to be recognized as an All-Star is pretty special to me."
When Simmonds returned to the Metropolitan's dressing room, there was a dollar bill taped to his nameplate. It read "enjoy the money," but Simmonds didn't know who put it there.
"I'll take it. That will be my lucky dollar bill now," Simmonds said, smiling. "I'll throw that in my pocket."
He has more than he ever dreamed of now.
Contact Frank Seravalli on Twitter: @frank_seravalli