Sluggish Leafs settle for a point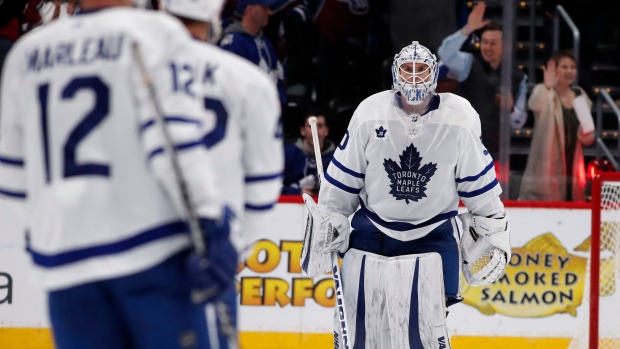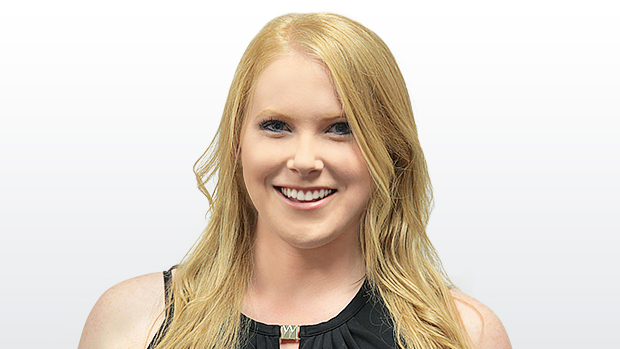 DENVER – The Toronto Maple Leafs overcame three deficits to force overtime against the Colorado Avalanche on Friday, but an interference penalty to Connor Brown doomed the Leafs in a 4-3 defeat. It was Toronto's first loss this season in OT (they lost to the Florida Panthers in a shootout Nov. 22). The Leafs move to 23-14-2 on the season.
TAKEAWAYS
Not how, but how many
Friday night marked the third time this month the Leafs were playing on consecutive nights. With no extra time available for acclimating to Denver's thin air, it was little surprise that Toronto got off to a sluggish start against the Avalanche. By the midway point of the first period the Leafs were being outshot 5-1 and their possession was at a measly 14.6 per cent. Colorado got on the board first courtesy of Nathan MacKinnon, and Toronto desperately needed a response to give them a modicum of momentum. Enter the Leafs' fourth line. Minutes after MacKinnon's goal, Matt Martin extracted the puck from a battle along the boards and pitched it to the front of the net, where it hit an Avalanche skate and went in to tie the game. That marked the 50th goal of Martin's career, coming in his 557th NHL game. After Mikko Rantanen scored to re-take the lead for Colorado in the second, another unexpected sniper emerged for Toronto – Roman Polak. The blueliner, who assisted on Martin's goal, spied an unsealed post and fired a puck on Semyon Varlamov from beside the net that slipped past him and in. It was the first multi-point game Polak has produced since Feb. 2, 2016. The Leafs' depth has been their strength all season, and secondary scoring gave Toronto a chance to contend against one of the more average teams in the league. It's what allowed James van Riemsdyk to tie the game 3-3 with 1:55 left and their goalie pulled to force overtime and secure at least a point for Toronto. In the fourth frame, Connor Brown was called for interference on MacKinnon, opening the door for J.T. Compher to put the game away for Colorado. Leafs coach Mike Babcock said after the game that he didn't like the call going against Brown in that situation, especially considering how much hadn't been called throughout the night. But drawing that penalty was hardly the highlight of MacKinnon's night against the Leafs.
Big shoes to fill
Despite ending the first period in a 1-1 tie, the Leafs felt the loss of Nazem Kadri in a big way. Kadri has been an almost underrated shutdown centre this season and Colorado's top line of Gabriel Landeskog, MacKinnon and Rantanen feasted on Auston Matthews' line. By midway through the game, Matthews, William Nylander and Zach Hyman all had 30 per cent possession or less, and were chasing more than they were making plays. The skill of MacKinnon's group makes them dangerous all over the ice, and blown assignments by the Leafs let them roll around the offensive zone too often. MacKinnon was left wide open on two of Colorado's goals that he set up, and on his own goal MacKinnon was able to get behind the Leafs defence and hop on a rebound. While Toronto wouldn't have been able to dictate last change on the road, just like when Matthews was out with an injury, the absence of Kadri makes Toronto an easier team for opponents to match up against; the Avalanche's top line made their presence felt early and often. MacKinnon especially was fantastic; the Leafs were a step behind him all night, trying more to contain than actually stop him. The Nova Scotia native finished plus-3 with five shots on goal. Matthews also put five shots on net, but finished minus-1 with zero points and 40 per cent possession. In a puzzling move, the 20-year-old also wasn't deployed when the Leafs had six attackers on in the third period searching for an equalizer, or at the beginning of the overtime period.
Welcome back, Picks
When Curtis McElhinney was felled during Thursday's morning skate by a lower-body injury, Toronto immediately tapped Calvin Pickard on an emergency recall to step in and make the start on Friday against his former team. Pickard learned of the situation on Thursday, and didn't arrive in Denver until 1 a.m. on the day of the game, all along knowing there was a good chance he'd be starting. Since being acquired via trade from the Vegas Golden Knights in October, Pickard has played the entire season with the AHL's Toronto Marlies, posting a 10-5-0 record with a 2.20 goals-against average and .919 save percentage. The 25-year-old was rocky out of the gate, struggling with rebound control and with tracking pucks through traffic. On Colorado's game-opening goal, Landeskog sent a 100-foot shot on Pickard that hopped into him and back out, where a waiting MacKinnon pounced and pocketed his 16th of the season. In the second period, things didn't get much better. Pickard made a good read on an Avalanche two-on-one for the initial stop, but had there been a player waiting back door, he could have scored on the rebound yet again. Then Mikko Rantanen scored from point-blank range to give the Avalanche a 2-1 lead halfway through the game. After that, though, Pickard settled down. He made a pair of nice stops from in tight by attacking the puck rather than sitting back and his confidence seemed to rise because of it. But Pickard was back to his old habits on Alexander Kerfoot's go-ahead goal in the third, sitting back in his net and getting beat high blocker. Having travelled from Toronto the day before and not getting a practice before his first NHL start of the season, some rust on Pickard was expected. But, ultimately, the Leafs needed more key saves than what he was able to provide. Pickard finished with 24 saves for a .857 save percentage.
In and out
Martin Marincin lost his battle for a roster spot with the Leafs in training camp, but on Friday he made his return to NHL ice in place of Connor Carrick. Marincin was recalled in mid-December from the Marlies, where he's spent the entire year thus far, when Nikita Zaitsev went down with a lower-body injury. Marincin posted two goals and five assists in 18 AHL contests before re-joining the Leafs, and was lauded by his AHL teammates as an unheralded difference-maker on their backend. Babcock had said last week that Marincin was "dying" to get back in, and that opportunity presented itself as Carrick has struggled, along with defence partner Jake Gardiner, in Toronto's last two contests. Carrick was on the ice for two of the Arizona Coyotes' three even-strength goals on Thursday and took two penalties. The Leafs' defensive game hasn't been their strong suit lately overall – they've given up 14 goals in their last four games alone. Marincin isn't flashy, but he offered the Leafs a solid game and an option to use on the penalty kill with short-handed workhorse Zaitsev missing. Marincin finished even with no points or shots, while playing 2:39 of his 17:55 in ice time short-handed. This is the second time this season Carrick has seen his spot taken by another player – first it was Polak in late November. Whether Marincin did enough to keep Carrick from returning in Toronto's next game on Sunday remains to be seen, but it doesn't bode well for the 23-year-old if he gets pushed out again.
Next game
The Leafs will cap off 2017 with a stop in Sin City to take on the Golden Knights. Puck drop is at 3 p.m. on Sunday. ​