Small changes bringing big results for Taylor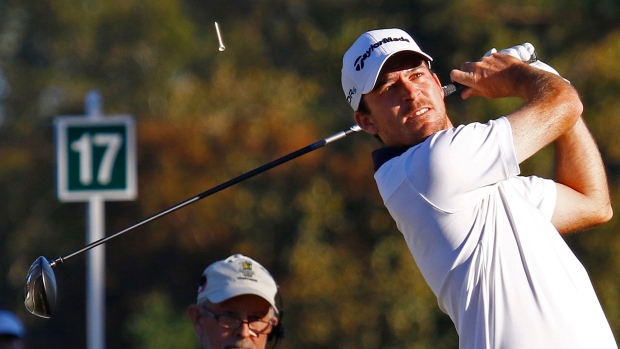 If you ask Nick Taylor what's resulted in his fine play of late, he'll tell you it's a new driver that he put in his bag, along with some work he's doing with a new mental coach, as well as, on some guidance from coach Ralph Bauer, better communication with his caddie, and moreover, he's adopting a new putting grip and just some experience of playing on the PGA Tour.
In other words it's the sum of the parts of a lot of hard work that's now starting to pay dividends for the Abbottsford, B.C. product.
Taylor posted his fourth top-10 finish of the season on Sunday with a tie for ninth at the Greenbrier Classic; the best of four Canadians to finish inside the top-20. Truthfully, there was some disappointment that he wasn't able to get in the mix to win the event down the final few holes and that he missed out on a spot in the Open Championship, given to the top four finishers not otherwise qualified, but a day removed from his finish, he was still pleased.
"Sunday my first thought was to try and get in contention and win it," Taylor admitted. "If I did that, the Open spot would take care of itself. I was in a good enough spot with 10 holes to go, but didn't make a few putts and had a bad break on 16, but other than that it was a good week."
There have been more and more good weeks for Taylor this year. He's made the cut in six of his last seven starts and logged three top-10s in that span. He has already earned more money than he did in either of his first two years on tour, and he sits 70th on the FedEx Cup points list, assuring himself of a spot in the playoffs.
"Everything's been pretty good lately," he said, reflecting on his recent play. "Just everything has started picking up."
Many of the recent alterations came out of some frustration. Although he felt he was hitting the ball well, his scores weren't translating. He said some of that was poor alignment and some of it was bad decision-making on the course.
To correct those, he worked with caddie Jeff Willett to help him pick targets before each shot, and he enlisted the help of Scottsdale, Arizona-based mental coach Howard Falco.
He also went from an M1 driver to the M2 model, which spins the ball a little more. The decision was to sacrifice distance (about five yards on the average drive) for accuracy. Playing from the fairway has always been one of the B.C. golfer's strengths. It worked last week as he finished tied for third in driving accuracy.
Taylor, of course, jumped onto the PGA Tour with a splash, winning in his fourth start as a full time member. Even with that victory under his belt, he knew that he needed to make improvements to his game in order to stay on the toughest golf circuit in the world. So he enlisted the help of Canadian swing coach Ralph Bauer and went to work on making improvements in his swing.
"He felt like he didn't quite have the game to have the career he wanted to have so we made a bunch of changes and they took some time," stated Bauer.
Part of Taylor's overhaul was to give him more arrows in his quiver. Although he was the world's top-ranked amateur and had won at just about every level, he was a bit one-dimensional. He and Bauer formulated a plan to change that, giving him a swing that would move the ball both ways.
"That's been the biggest improvement in his ball-striking," Bauer said. "Now he has a reliable fade and a reliable draw. "He's really set himself up as a very solid tour player."
The maturity aspect of Taylor's game is also evident. A brilliantly smart individual, he's learned the ropes of life on the PGA Tour and feels more comfortable with every week, both on and off the greens.
"My game is definitely getting to a spot where I feel confident with every aspect of it," Taylor added. "I know what I have to work on and I'm definitely getting more efficient in getting prepared and knowing what to do with that. Being my third year out here, knowing the courses is definitely a huge help, too."
Taylor was disappointed with not earning a spot in the Open but he'll have one last chance this week at the John Deere Classic. If he doesn't make it this year, Taylor believes he'll get there one day. He has enough conviction in his game to realize that he's just starting to show what he can do.