Smith and Coyotes start strong, hold off Maple Leafs
Mike Smith stopped 28 shots, Sam Gagner scored in his second straight game and the Arizona Coyotes held off the Toronto Maple Leafs 3-2 Tuesday night. Arizona scored six goals in its last game and kept its offensive surge rolling, going up 3-0 by early second period against Toronto goalie James Reimer.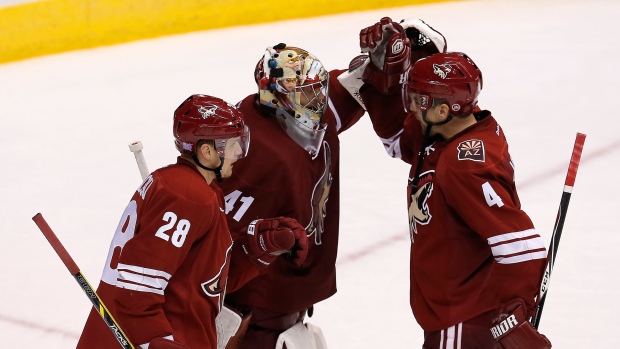 GLENDALE, Ariz. - Arizona's struggling penalty kill allowed Toronto to nearly rally from a three-goal deficit.
One big kill and the goal that came right after gave the Coyotes the cushion they needed for their second winning streak of the season.
Mike Smith stopped 28 shots and Sam Gagner scored 30 seconds after Arizona killed off a long two-man advantage, lifting the Coyotes to a 3-2 win over the Toronto Maple Leafs Tuesday night.
"A little dangerous situation when it's 5-on-3 like that," Coyotes centre Antoine Vermette said. "But I think we managed the situation well and it gave us confidence."
Arizona scored six goals in its last game and kept its offensive surge rolling, going up 3-0 by early second period against Toronto goalie James Reimer. Gagne scored in his second straight game in the first and Martin Erat added a goal later in the period. Vermette scored in the second period, giving him four points in two games.
Though the goal by Gagne wasn't the game-winner, it was a huge momentum moment for the Coyotes, right after they killed off a two-man advantage by Toronto that lasted 1:06.
"You gain momentum if you kill a 5-on-3 like that off," Smith said. "We did a heck of a job to keep them off the board there, for the most part."
The Coyotes needed it.
Though the penalty kill came up big in the first period, the Maple Leafs rallied against it to pull within 3-2.
And they did it against Arizona's penalty kill unit, which was 27th in the NHL, entering the game at 74.3 per cent.
Dion Paneuf scored with a man advantage in the second period and Cody Franson added another late in the third to give the Maple Leafs a chance.
They couldn't finish it off. They were unable to get anything else against Smith, who's allowed seven goals in three starts after giving up six goals three times his first six games
Phil Kessel had a pair of assists for the Maple Leafs and Reimer stopped 30 shots after facing 47 against Chicago his last start.
"Turtle start. It was slower than slow," Maple Leafs coach Randy Carlyle said. "No explanation for that other than it seemed we were in neutral and they were in third gear. We were chasing and we finally got our legs under us as the hockey game went on."
Arizona broke out of its season-long offensive funk on Sunday, equally its goal total of the five previous games combined in a 6-5 road win over Washington that ended a three-game losing streak.
The Coyotes picked up right where they left off.
Gagner appeared to get a boost playing on a line with Lauri Korpikoski and Mikkel Boedker against Washington, scoring his first goal with the Coyotes.
Korpikoski set him up again in the first period against Toronto, stealing a pass from Jake Gardiner behind the goal and feeding it out front to Gagner, who beat Reimer with a one-timer.
Erat made it 2-0 late in the period, circling from behind the net for a backhanded shot that caromed off Toronto defenceman Stephane Robidas past Reimer.
Vermette scored early in the second period when he missed a shot wide, came up with the puck again and sneaked in a wraparound before Reimer could get to the post.
Arizona was good in its own end at the start, holding Toronto to three shots on goal in the first period, none in the final 12 1-2 minutes.
"We didn't get off to the start that we wanted to," Toronto left wing James van Riemsdyk said. "They were sharper, played their game plan a little more effectively and we were too loose with the puck."
When the Maple Leafs finally turned up the pressure Smith made some big saves, including one on his back to stop Tyler Bozak.
Toronto broke through on a power play early in the second period when Phaneuf beat Mike Smith from above the left circle on a power play.
Franson pulled the Maple Leafs within one with 6:07 left, beating Smith with a one-timer after a nifty pass by van Riemsdyk.
The Coyotes held on, winning two straight games for just the second time this season.
"It was big for us to win a game at home and hopefully get going in the right direction," Coyotes captain Shane Doan said.
Notes: With his goal against Washington on Sunday, Arizona's Tobias Rieder became the first German-born player to score in his NHL debut since Marco Sturm did it for San Jose on Oct. 4, 1997. ... Toronto (3-1) lost for the first time on Tuesday this season. ... The Coyotes and Maple Leafs will meet again in Toronto on Jan. 29.