Smith-Pelly racially taunted by Chicago fans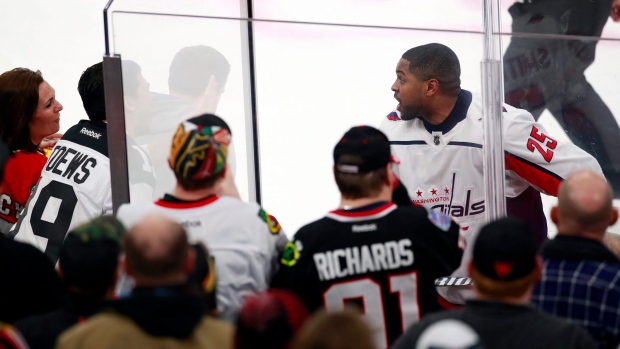 CHICAGO — A visiting black player was taunted by four male fans shouting "basketball, basketball, basketball" Saturday night during the Chicago Blackhawks' game against the Washington Capitals.
Washington's Devante Smith-Pelly was serving a major penalty for fighting Chicago's Connor Murphy when the fans taunted him in the penalty box. An off-ice official sitting next to him notified building security, and the fans were ejected.
"We were made aware of an incident at tonight's game involving a small group of attendees who made harmful comments directed at Washington Capitals player Devante Smith-Pelly," the Blackhawks said in a statement. "The fans were immediately removed and we apologize to Smith-Pelly and the Washington Capitals organization. We are committed to providing an inclusive environment for everyone who attends out games and these actions will never be tolerated."
Smith-Pelly wasn't available for comment. Coach Barry Trotz said the player was "a little upset."
"There's absolutely no place in the game of hockey or our country for racism," Trotz said. "I think it's disgusting."
The 25-year-old Smith-Pelly is in his first season with the Capitals. He also has played for Anaheim, Montreal and New Jersey.
The NHL released a statement on Sunday morning condemning the incident.
"Last night in Chicago, individuals directed racial taunts and abuse at Washington Capitals player Devante Smith-Pelly," NHL commissioner Gary Bettman said in the statement. "The National Hockey League condemns this unacceptable and reprehensible behavior. The League fully supports the actions taken by the United Center and the Blackhawks to eject the offenders and would expect the same response to any similarly unacceptable behavior at any of our arenas.
"While this incident was isolated in nature, no player, coach, official or fan should ever have to endure such abuse at one of our games. The League will take steps to have our clubs remind all stakeholders that they are entitled to enjoy a positive environment - free from unacceptable, inappropriate, disruptive, inconsiderate or unruly behaviors or actions and may not engage in conduct deemed detrimental to that experience."
The Capitals released a statement of their own later on Sunday.
"The Washington Capitals are extremely disappointed by the intolerant behavior extended toward Devante Smith-Pelly by a select group of fans during Saturday night's game against the Chicago Blackhawks at United Center," the statement read. "The Capitals organization strives to be inclusive and has zero tolerance concerning any form of racism. Such behavior is unacceptable and has no place in hockey or society. As such, it is crucial to confront such appalling conduct, and the Capitals extend their appreciation to the Blackhawks organization and United Center security for swiftly removing the fans from the game."