Whitecaps acquire striker Montero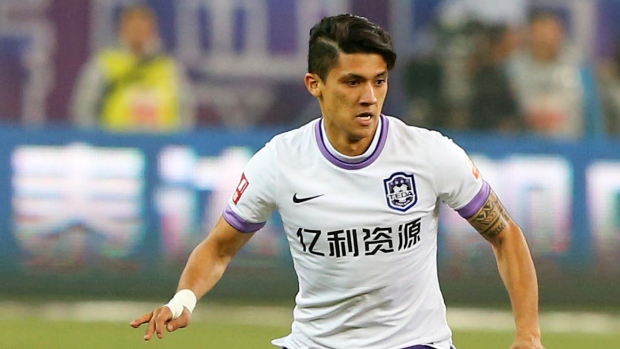 The Vancouver Whitecaps announced the acquisition of striker Fredy Montero on a one-year loan from Chinese Super League club Tianjin Teda.
The Whitecaps acquired Montero via the Major League Soccer Allocation Process after the club secured the number one spot in the Allocation Ranking Order from Minnesota United FC in exchange for $100,000 in General Allocation Money in 2018, $125,000 in Targeted Allocation Money in 2018, and an international roster spot through 2017.
The 29-year-old returns to the MLS after a successful stint with the Seattle Sounders. From 2009 to 2012, Montero scored 60 goals and 42 assists in 160 matches, making him the team's all-team leading scorer. The three-time MLS All-Star then spent time with Colombian Primera A side Millonarios FC in 2013 before transferring to the Portuguese Primeira Liga where he played for Sporting Clube de Portugal and Sporting CP. He most recently played in the Chinese Super League, scoring nine goals and recording three assists in 29 league appearances.
"It's a great signing for us and we're delighted to welcome Fredy to our club," said Whitecaps FC head coach Carl Robinson. "We have worked diligently throughout the offseason to strengthen the forward areas and today we have managed to add a very good striker in Fredy. He has proven throughout his career to be an elite attacking player and consistent goalscorer, and he is already familiar with the league and environment. We look forward to seeing him on the pitch wearing the Blue and White."
A native of Barranquilla, Colombia, Montero began his professional career in 2005 with Deportivo Cali in his home country. Montero will officially join the Whitecaps' roster pending receipt of his international transfer certificate, Canadian work permit and visa.
'I'm really excited, so happy, and feel blessed," added Montero. "I was looking forward to once again playing in Major League Soccer and I am so thankful to Whitecaps FC for giving me this opportunity. I can't wait to step onto the field, in front of the great Vancouver supporters, and start scoring goals."