Solo talks about future, fight for equal pay
Hope Solo says she hopes that someday she can return to the U.S. women's national team, but in the meantime she vows to keep fighting for equal pay for the players.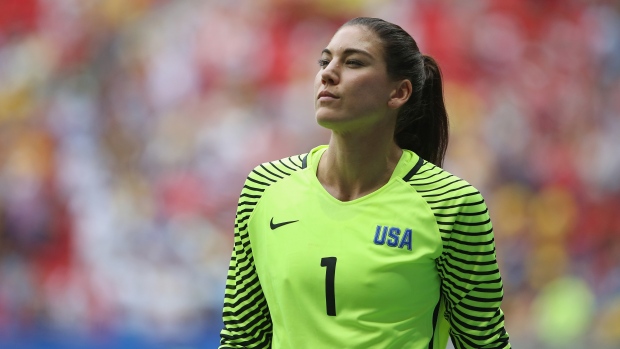 Hope Solo says she hopes that someday she can return to the U.S. women's national team, but in the meantime she vows to keep fighting for equal pay for the players.
Solo was handed a six-month suspension and her contract with U.S. Soccer was terminated following the Rio Olympics, after she called Sweden's team "cowards" for their defensive style of play against the Americans in the quarterfinals.
"Let's be honest, it's not my decision if I return to the national team," she said. "I find it an honour and a privilege to represent our country at the highest level in a sport that I love, in a position that I love. And I would do almost anything to play at that level once again. I say almost, because at this point in time I believe our fight for equality is much bigger than being on the national team again."
Solo is not eligible for reinstatement to the team until February. She said it's up to the U.S. Soccer Federation and coach Jill Ellis to allow her to return.
Her comments come as the team's players are negotiating a new collective bargaining agreement with U.S. Soccer. The current contract expires on Dec. 31.
Solo, a 17-year veteran of the team, is closely watching the negotiations, which have been ongoing this month. In a wide-ranging interview with The Associated Press on Thursday, she said she "hopes and prays" players don't back down.
"I think many of the players are prepared to go all the way in," she said. "When we're supposed to have a new CBA by Jan. 1, now is the time you can be scared — you can be scared of going on strike, you can be scared of losing employment and a paycheque. And I think that I have been used as an example, and my firing instilled a lot of fear in the players. And I also know fear is what has held many movements back."
That's why she's speaking out now — because she can.
"There's no turning back for me," she said. "I think with some of the player there are different intentions — because they want to play the game that they love. It's easier for me to fight and put everything into it than it is for them."
Solo's year has been nothing if not eventful.
At the start, Solo and the national team were still basking in their victory at the 2015 Women's World Cup. Solo allowed only three goals in seven games with five shutouts during the tournament — earning her a second straight Golden Glove Award.
But with the CBA due to expire, Solo and four of her teammates filed a complaint in late March with the U.S. Equal Employment Opportunity Commission alleging wage discrimination. The players maintain they make far less than their male counterparts for the national team, despite outperforming them on the international stage. A decision by the EEOC is pending.
On the field, Solo became the first goalkeeper with 100 international shutouts before the Olympics when the United States defeated South Africa 1-0 in Chicago. It also was her 150th career win. During the Rio Games she made her 200th appearance in goal for the United States, an international record.
But in the quarterfinals the defending champion U.S. women were handed their earliest-ever exit from the Olympics when Sweden advanced 4-3 on penalty kicks following a 1-1 draw.
Solo's infamous "cowards" quote came immediately following the loss. Sweden went on to play in the gold-medal match against Germany.
Solo said she spoke to Ellis and U.S. Soccer President Sunil Gulati the night of the loss, and felt that the issue was put to rest. After she returned to the United States, she said she was blindsided by the announcement about her suspension.
She said she believes U.S. Soccer wanted her off the CBA negotiations. A spokesman for USSF did not immediately respond to a request for comment on Thursday evening.
"Let's call it what is, which is a firing," she said. "It was a termination of my contract effective immediately with severance. That is a firing. It wasn't a suspension, that's what they told the media because it looked better. But I got fired. I got fired for what they say was using the word 'cowards' but in reality they got rid of an adversary in the fight for equal pay."
U.S. Soccer said at the time the action was taken after a culmination of events.
Solo has at times during her career been dogged by off-the-field controversies. Notably, a domestic violence case stemming from a 2014 altercation at a family member's home in Washington state. The case is still pending and she cannot comment on the matter.
When asked if she's had regrets, she said she wished she would have distanced herself and her marriage from people who weren't healthy in her life. "Ultimately it came at a price with my public image and that was very hurtful, and it still hurts to this day," she said.
Solo wants to keep the focus right now on her future. She said she will let history decide her legacy.
"Honestly, legacies are something people realize over time. I can't tell you what people are going to say what my legacy is. I know what I stood for," she said. "I know I never changed who I am: That I continued to fight for my teammates for better treatment, for better competition. I held everybody to higher standards and I think it made some people uncomfortable."