Sparks starts vs. Kings; Andersen day-to-day
Toronto's backup goaltender gets the call as starter Frederik Andersen is day-to-day with a knee injury.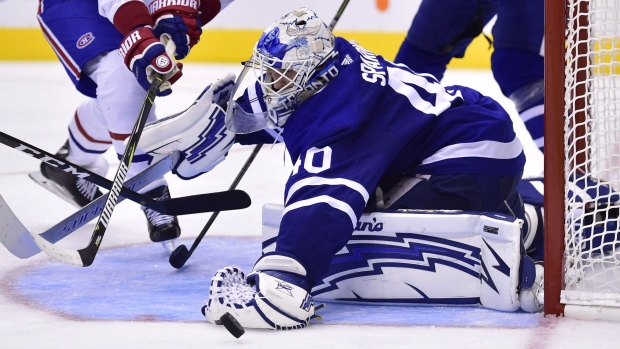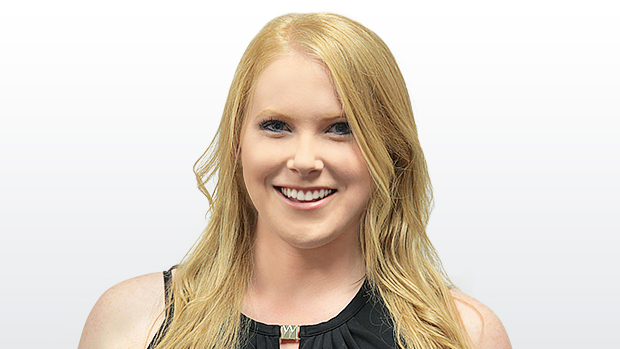 TORONTO – Maple Leafs' backup goaltender Garret Sparks will see his second start of the season Monday night against the Los Angeles Kings, but head coach Mike Babcock didn't immediately explain why he's breaking with his usual goaltending routine in the midst of a four-game win streak.
For the last two seasons, Babcock has only tapped his second goaltender when starter Frederik Andersen was hurt or the team had back-to-back games. Andersen participated fully in morning skate, but it was revealed Monday afternoon that Andersen is day-to-day with a knee injury. The team recalled goaltender Eamon McAdam from the ECHL's Newfoundland Growlers on an emergency basis to serve as the backup.
"Sparks is going tonight," was all Babcock would say on Monday morning, cutting off a follow-up question with, "Sparky is starting tonight."
Babcock had been non-committal throughout the preseason about adjusting his rotation, saying he didn't want to be pigeon-holed if one goalie emerged as giving him a better chance to win.
That didn't appear to be a factor now, though, with Andersen coming off his best start of the season in a 25-save performance to lead Toronto past the Washington Capitals 4-2 on Saturday.
While Sparks spent morning skate in the Leafs' starters net, he and Andersen broke with convention by exiting the ice together when the backup normally stays out for extra conditioning.
Sparks didn't address the issue afterwards, and when Andersen was asked about his status versus L.A. he sidestepped the question and said Babcock would fill in the blanks.
But his coach didn't. Pressed further on whether he had trouble evaluating Sparks' only start of the season, a wild 7-6 overtime win in Chicago last Sunday where Sparks registered a meager .806 save percentage, Babcock said only, "The great thing about it is you get evaluated every day in life [and] pro hockey."
A 2011 seventh-round draft choice by Toronto, Sparks beat out Curtis McElhinney and Calvin Pickard in training camp for the Leafs' backup job, his first opportunity to make the team to start a season. Both veterans were subsequently picked up off waivers, McElhinney by the Carolina Hurricanes and Pickard by the Philadelphia Flyers, severely depleting the Leafs' once-impressive goaltending depth.
At the time, Toronto's decision to part with McElhinney raised a few eyebrows, not only because he was the NHL top backup goalie in 2017-18 (11-5-1 record, .934 save percentage) but because of how well he played in Babcock's rotation, the hallmark of which has been limited reps for the second netminder.
Since 2016-17, Andersen has registered a heavy workload of 66 starts per campaign, both of which included missing time with injuries. Yet Babcock always made it clear that riding his starter to that degree was simply a preference, not reflective of how highly he thought of McElhinney. As if to underscore that point, the journeyman is off to a strong start in Carolina, posting a 3-0-0 record with .900 save percentage.
"They did unbelievable in getting Mac," Babcock said of the Hurricanes on Oct. 2, the day McElhinney was claimed. "Great person, great family, good pro, does it right every day, good goaltender. Quality man."
Sparks is still trying to reach that same level, on and off the ice. Babcock made it clear after training camp Sparks didn't win the job based on his preseason performance, but rather the 25-year-old earned his spot based on five years in the organization and last season's run as the American Hockey League's top goalie (31-9-1 record, .936 save percentage).
In the two years that elapsed between Sparks' 17-game NHL audition in 2015-16 and his opportunity now, the Elmhurst, Ill., native has made a conscious effort to become a more mature and dedicated version of himself, a commitment his teammates recognize.
"He's been in the organization for a little while and I always thought he was a talented goaltender with exceptional athleticism," Nazem Kadri said. "He's able to make great saves at timely times. He's a big guy, which is what goalies evolve into in today's NHL. I think he's going to be a great player."
Now it's up to Sparks to show it. With fewer emotions at play Monday than there against his hometown Blackhawks last week, Sparks will see his first routine start and be able to settle in without added distractions.
Maple Leafs projected lines vs. Kings:
Hyman-Tavares-Marner
Marleau-Matthews-Kapanen
Lindholm-Kadri-Brown
Leivo-Gauthier-Johnsson
Rielly-Hainsey
Gardiner-Zaitsev
Dermott-Ozhiganov
Sparks
McAdam