Speedy Leafs rout listless Kings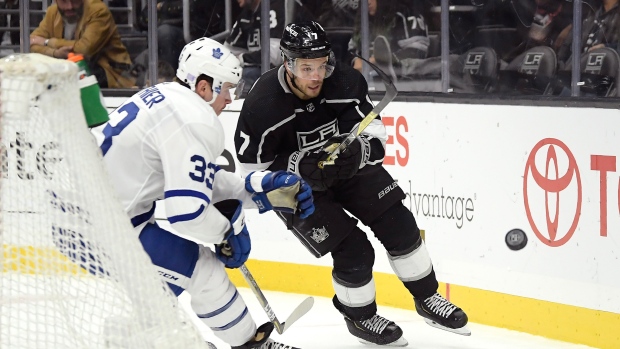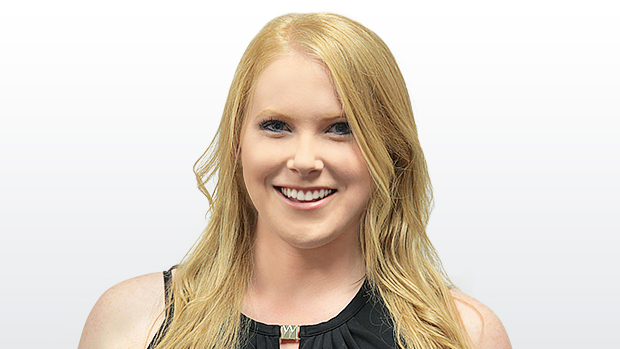 The Maple Leafs completed a season sweep of the Los Angeles Kings on Tuesday, when they downed the home team 5-1 for their fourth win in five games. Four different scorers contributed to the victory, as did impressive showings by special teams (three power-play goals) and goaltender Frederik Andersen (22 saves). Toronto moves to 12-6-0 on the season.
Takeaways
Power players
The Leafs' power play had been faltering ahead of Tuesday's game, going 3-for-28 in the six matchups that preceded it, but Toronto broke out of its three-game scoring slump with the extra man early in the first period against the Kings.
Using their blazing speed to force lazy penalties by the slow-footed Kings, Toronto drew two infractions in quick succession and scored on both ensuing power plays.
First, it was Nazem Kadri tipping home a sensational pass from Mitch Marner late in the Leafs' first man advantage chance to give Toronto a 1-0 lead. In 11 previous meetings against the Kings in his career, Kadri had registered seven assists, but zero goals until that marker on Tuesday.
On the Leafs' next power play, John Tavares deflected a Morgan Rielly point blast past Peter Budaj for his 11th goal of the season, and spotted Toronto a 2-0 lead on nine shots less than seven minutes into the opening period. Tavares would lead all Leafs with three points on the night (goal, two assists).
Kadri added another power-play marker in the second period, on a four-minute man advantage, making Tuesday the 20th two-goal game of his career. His second score also marked the first time the Leafs had notched three power-play goals this season, beating their previous best of two tallies in a game last accomplished on Oct. 11 against Detroit.
The Leafs finished the game 3-for-6 on the power play, but were consistently dangerous on their opportunities and showed a potency that had been lacking on their special teams more recently. They now own the best road power play in the NHL. To that end, the Leafs' penalty kill was also strong, finishing the night 2-for-2.
Little work, little problem for Andersen
The Kings rarely looked dangerous when testing Andersen on Tuesday, but on the few occasions they got going in the Leafs' end, Andersen was there to answer the bell. It wasn't until the second period that he was called upon to make a first series of tough saves, and Andersen handled that with good efficiency while keeping rebounds to the outside. Being forced to go long stretches without seeing a shot can be difficult for some goalies and lead to miscues on their next plays, but Andersen stayed poised and collected even with seeing only 16 shots through the first two periods (and 23 total).
The only stain on an otherwise solid performance for the netminder was a deflection goal by Adrian Kempe, precipitated by a turnover from Igor Ozhiganov. The Russia native, who is still learning English, appeared to get caught in a communication breakdown when he sent a puck from behind Andersen's net straight up the ice to Dion Phaneuf at the blueline, who blasted it back down for Kempe to tip past Andersen. The goaltender wasn't anticipating the errant pass and didn't appear to get reset before the giveaway, a blunder that robbed Andersen of his shutout bid.
The final totals – 22 saves, .957 save percentage – marked the eighth straight start for Andersen where he's given up two or fewer goals against, and third straight showing with only one goal against. He leads all NHL goalies with 10 wins on the season.
Youngsters on the rise
It wasn't an easy start to the season for Andreas Johnsson, who didn't score his first goal of the season until last Friday against New Jersey, busting a 10-game goal drought. That initial marker helped get Johnsson, playing on a line with Par Lindholm and Connor Brown, back some of his touch, which was on full display Tuesday when he pocketed his second goal in three games. The tally was set up by Johnsson's former Toronto Marlies' teammate Travis Dermott, who wisely exploited a two-on-one situation down low and fed Johnsson shortside on Budaj. That goal, the Leafs' fourth of the game, was enough to chase Budaj in favour of Cal Petersen, who was making his NHL debut.
Dermott's first few weeks of the season weren't much better than Johnsson's, but after a bout of the flu and a brief benching in late October, Dermott did the "work" coach Mike Babcock needed to see and has played significantly better ever since. The assist on Johnsson's goal was only Dermott's second point of the season, the last coming back in Toronto's season opener on Oct. 3, but he's exhibited a smarter, more sound defensive game in recent outings. That's more of what Babcock would like to see from the 22-year-old than him putting up points. Dermott ended the night with an even rating, while Johnsson had four shots on goal and a plus-1 rating.
Rielly keeps on rolling
In the midst of what's shaping up to be the best season of his six-year career, Rielly kept racking up the points in another strong showing Tuesday. After registering the first assist on Tavares' power-play goal with a seeing-eye shot through traffic, Rielly did his own scoring work early in the second with a confident top-corner pick behind Budaj to extend Toronto's lead to 3-1. That was Rielly's eighth goal of the season, which paces all NHL defenders and is one away from his career high of nine earned through 82 games during the 2015-16 campaign.
While Rielly has always been a mobile, offensive defenceman, there's even more confidence to his game this season, in the way he handles the puck and seemingly in the way he trusts his shot. Tuesday was his seventh multi-point game in 18 contests this season, which is only one shy of how many multi-point games Rielly had a season ago in 76 outings. He ended Tuesday's game plus-1, with three shots on goal.
Kapanen in need of a kick-start
On a night where seemingly all of the Leafs' major scorers were involved in securing the team's victory, either with goals or assists, Kasperi Kapanen was conspicuously absent from the scoresheet yet again. In the seven games since Auston Matthews got hurt and Kapanen was re-assigned to the Kadri line with Patrick Marleau, he has zero goals and two assists, and he's been without a point entirely in six of those seven games.
Perhaps in an effort to not only bolster the Leafs' previously lagging power play but to also ignite some offence from Kapanen, he was back on Toronto's second power-play unit Tuesday, replacing Zach Hyman. He managed a few good chances with the ample time those units saw in L.A., but couldn't earn a point out of anything. It's an unusual scoring slump for Kapanen to find himself in, after he performed so consistently well with Matthews (six goals, four assists in nine games together). And Kapanen might be feeling the pressure a little, too. He was hustling to every loose puck he could find against L.A., trying to generate breakaway chances or set up a teammate coming into the zone behind him, without any luck. Babcock often says a team's scorers need to score in order to keep their confidence up, and doing that is an important part of what Kapanen brings regularly to the Leafs.
Blue & White Trending
Tracking Leafs' trends all season long
The Leafs are undefeated this season when scoring the first goal in a game (7-0).
Next game
Toronto continues its four-game road trip in San Jose on Thursday. ​