Split in-hand, young Jets learning how to process first OT loss
Everyone got 25 more minutes than they bargained for on Sunday night as Kevin Fiala sent the home fans happy with a 5-4 win over the Winnipeg Jets in double overtime. No one asked for a refund, only more, writes TSN Senior Hockey Reporter Frank Seravalli.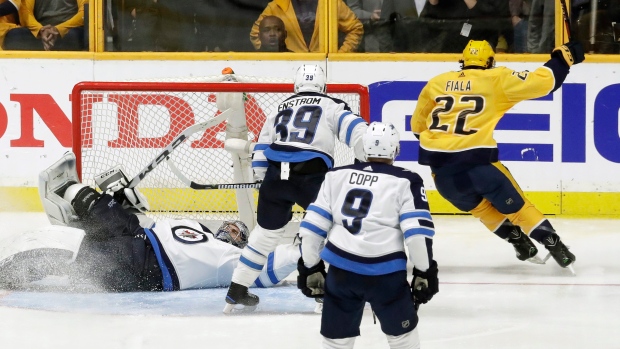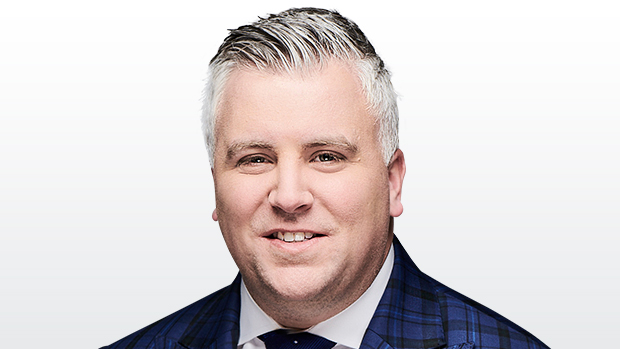 NASHVILLE, Tenn. — The best game of the 2018 Stanley Cup playoffs could have ended 11-10, Jets coach Paul Maurice said, and it would have been fair.
Everything was happening - from late-game drama to double overtime heroics, from P.K. Subban's histrionics after a slash to Dustin Byfuglien's herculean strength rag-dolling one Predator with each arm in a scrum.
The paying customers got 25 minutes more than they bargained for on Sunday night.
No one asked for refund, only more.
"If you didn't care, if you weren't from Nashville or Winnipeg, you had to like that," Predators coach Peter Laviolette said. "There was a point in the second period where it was a track meet, just up and down as fast as two teams could do."
The NHL's most anticipated second-round series certainly lived up to the billing in Game 2. It wasn't just high-event hockey, it was hold-on-to-your-butts hockey.
Two Stanley Cup heavyweights just stood back and threw 'em.
"Both teams got a feel for the line that was going to be drawn, figured out that there really wasn't going to be one, and had at 'er," Maurice said.
Thank the hockey gods this won't be a short series, after all.
No one thought the Presidents' Trophy-winning Predators would go quietly into the night anyway, least of all the Winnipeg Jets. Nashville scored early and punched back late for a hair-raising, 5-4 double overtime victory to even-up this series at one game apiece.
Kevin Fiala played the hero for Nashville, guaranteeing at least one more home date for the gold-clad faithful, who refused to sit during the entire 25:37 of bonus hockey.
A brand new best-of-five begins at Bell MTS Place on Tuesday night with a Winnipeg Whiteout in Game 3. The Jets enjoyed the NHL's best home cooking in the regular season, while their last home loss came on Feb. 27 against these Predators, who had the league's top road record.
Yes, just the sixth all-time matchup between hockey's top two regular season teams has all the makings of an epic back-and-forth slugfest, like we all envisioned.
"The game tonight looked the way we thought the series would look," Maurice said. "I think there was more speed in the game. There were more collisions … very fast, lots of excitement at both ends of the ice, great chances, some missed opportunities."
For the Jets, there is no question Game 2 was ultimately an opportunity squandered. They were one shot away from putting a skate to the throat of last year's Stanley Cup finalist and this year's favourite.
That's why the way this series goes will depend on how the young Jets process this emotion-filled loss.
This was one more playoff game, one more chapter in their story, but an important lesson to learn. It was their first overtime game, first double overtime game at that, and first taste of how a true battle-tested team responds.
"I felt like we got better in overtime. You could tell, we weren't going to lose," Predators veteran Mike Fisher said. "We've done it before, been there. Our belief system is so strong … this is really where you use it."
So, now do the Jets look at the scoreboard, see that they won a Game 1 they may well should have lost and dropped Game 2 in overtime? Or do they push it aside and see the positive in a split that they would have happily taken beforehand?
The Stanley Cup playoffs, like life, are often shaped by the lens in which you view it.
The Jets are the NHL's third-youngest team, they have used 13 players under age 25 in these playoffs. There is no real telling how they will respond.
"It's an important process for us to go through, having lost an overtime game," Maurice said. "Now we've got to rebound because all of the emotion that goes into tying it late, feeling good about that, losing in double overtime. It's something we have to deal with at some point, it's tonight. We go back with a split."
The truth, and not just from an optimist, is that the Jets have lots of solace to find from their split in Smashville. They made the Predators fight for every inch of ice they earned. The way they woke up after Ryan Johansen's stirring goal 27 seconds in, following by the furious push they made in the final minutes to force overtime said a lot about them.
There was no quit.
"I mean, they could win that game as well," Laviolette said. "I do think we've been through some things over the last few years … Playoffs series I think do that. Winning, losing, overtime wins, overtime losses. I think that all builds a little bit into your group … And so, we've kind of earned that. Just because we have that experience, it doesn't guarantee anything."
That should be the takeaway as the series shifts to Winnipeg, that the Jets just about pushed the Predators to their breaking point. They aren't far off. What makes the playoffs the ultimate test is that you're only as good as the way you answer the next question.
"It was great to force [overtime]," captain Blake Wheeler said. "We were on the ropes and down a goal. I really liked that compete right to the end … We really like our spot, though."
Contact Frank Seravalli on Twitter: @frank_seravalli​