Stackhouse is fitting in on Raptors coaching staff
After 18 years in the NBA, Jerry Stackhouse has begun his coaching career as an assistant with the Raptors. TSN's Josh Lewenberg explains that the team is already benefitting from his advice.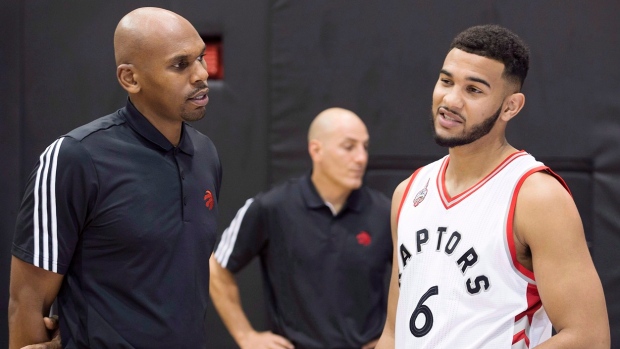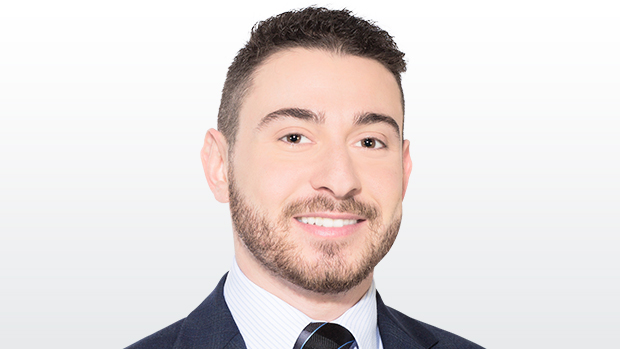 TORONTO - With the dog days of NBA training camp upon them, Raptors assistant coach Jama Mahlalela led what should have been a light-hearted shooting drill following one of the team's final pre-season practice sessions this past weekend.
Six or seven players participated. The premise: Starting at one corner, make your way around the three-point arc, taking three shots at each of the five stations. Once you've missed two shots, you're out. "That's it for today," Mahlalela would shout after each player was eliminated.
It got competitive. Nobody made it further than the halfway point - the top of the arc. That is to say, none of the players made it further.
Jerry Stackhouse, one of the team's newest assistants, was last to try his luck. If you weren't familiar with Stack, you might have difficulty picking out the 40-year-old from a crowd of active players. His form hasn't changed much. He still squats down in that unorthodox stance before releasing a shot. It's still weird and it still works.
"He's in incredible shape," said Cory Joseph, one his regular pupils. "He can still get out there and play with us."
As it turns out, he made quick work of the drill, shooting his way from one corner to the other. His players, all of whom failed to complete the exercise, applauded and called it a day.
Only three years removed from an impressive playing career that spanned 18 seasons in the NBA, Stackhouse is getting set to begin his first pro campaign on the sidelines after taking a job on Dwane Casey's staff this past summer.
He doesn't see himself as a new coach and the Raptors aren't treating him like one either.
"Man, it's nothing new to me," he told TSN.ca. "I've been coaching for the last 10 years and I don't feel any different. It's just about trying to get guys better, better prepared for what they're going to see during game action. The best way to do that is to build more repetition, more repetition. And that's the key, being creative to come up with ideas everyday so things don't get stagnant and guys [don't] get bored."
Stackhouse doesn't remember thinking about coaching much as a player. It's something that became of interest late in his career, almost by default, as he recalls.
"I was going out and watching my son play on a seventh grade team," he said. "And saw that they really had no structure, they were just rolling the ball out there. I was like, I got time, I could do it, I could help these kids and maybe give them a chance to play at the next level."
It didn't take long before his passion for coaching grew. He had been a mentor to many teammates, both young and old, during the latter years of his carer, but NBA players have already established certain habits and a style of play they don't necessarily want tinkered with. This was different. He loved being able to teach, watch young players grow, get better and be an integral part of their development on the court.
In 2011, a couple years later, he founded Stackhouse Elite, an AAU program for kids under the age of 17, already operating out of Atlanta and North Carolina, and coming to Toronto. As he played out his final seasons in the league with the Hawks and Nets, his seventh and eighth NBA stops, Stackhouse spent the summers coaching. It was a hobby before it became a job and without initially intending to do so, he started to build a coaching resume.
After retiring as a player, Stackhouse ramped up his coaching duties and eventually began putting out feelers around the league. He visited a bunch of NBA training camps to watch teams practice, see how they're run and, most importantly, network. Over the last couple summers he coached the USA Select team in Europe with several general managers, including Masai Ujiri, in attendance.
With a vacant spot on Toronto's staff this past off-season, Ujiri and Casey had been targeting a former player, someone who could bring a fresh perspective and relate to players differently than other coaches, something they've coveted for three years now. Casey vouched for Stackhouse, a player of his when he was an assistant with the Mavericks back in 2009.
After interviewing with the Raptors things came together quickly. The pairing seemed to make good sense for both parties.
"I just think it was a good fit," Stackhouse said. "And for where I want to go, being able to have a veteran coach like Coach Casey, who allows you to coach, [is great]. A lot of guys in my position that come in as a first-year assistant coach, they don't get a chance to say much. But he allows you to coach, he allows you to have input and I think that's welcomed."
That's something Casey says he learned from working under Rick Carlisle in Dallas.
"There should be no ego," the Raptors head coach insisted. "There's not with me. Give guys responsibility, hold them accountable. Don't disagree with them in public, we do it behind closed doors when guys don't do their job, coaches don't do their job. But you do have to delegate in this business because there's just too much to do, there's too much to think about."
"I learned that from Rick Carlisle. He's one of the best. He gave (Trail Blazers head coach) Terry Stotts and I supreme responsibility, didn't take it lightly and I learned from it. He always told us, 'don't throw stuff up against the wall, make a decision as if you were a head coach'. And it really helped me to do that."
Now Stackhouse is getting the opportunity to do the same. In coaches meetings he's a sponge, trying to absorb what he can from Casey and the rest of the staff, but he's generally right in the middle of the action on the practice court.
"Stack's done a good job," Casey said. "He's done a really good job working with guys, working with players. He can still get out there on the court and physically show guys what to do. So he's been a good addition to our staff."
With him, he brings the influence of his favourite coaches. A star at the University of North Carolina, Stackhouse still lists his college coach, the late Dean Smith, as the best he's had. Avery Johnson, a coach of his in Dallas and Brooklyn, emphasized similar defensive principles, which he appreciated. He credits Doug Collins as the most creative offensive mind he's played for. He hopes to take something from each of them as he goes forward in the profession.
Often the hardest thing for a young coach, particularly one who has been in the league, is finding a balance between ruling with an iron fist and buddying up with the players. Stackhouse hasn't had this problem, according to Casey. While several players, most recently Derek Fisher and Jason Kidd, have been transitioning straight from their careers to coaching, Stackhouse's path has better prepared him to walk that line.
Although he hasn't been away from the league long, he rightly points out that things change in a hurry. His experience coaching at the grassroots level helps him relate to some of the younger players. He has a laugh as he notes that Raptors sophomore Bruno Caboclo was born in 1995, the same year he was drafted third overall by the Philadelphia 76ers. At the same time, he has clout with the older guys, who - as he puts it - don't have to look him up on Youtube.
"Stack's been great, man," DeMarre Carroll said. "Just getting another player who has been in it for 18 years, just to get his [perspective] on certain things I think is great. It's great for not only me but it's great for our team, our young guys."
A two-time all-star and one of the top scorers in the NBA, Stackhouse was best known for his toughness and no-nonsense approach as a player. He's hoping to carry that over into his coaching career and the Raptors, still one of the league's youngest teams, should be better for it.
"It's still basketball and it's about being competitive," he said. "That's the key. At the end of the day you've got to learn how to be a competitor and I think that's what I can give more than anything. I didn't have the best crossover, maybe I didn't have the best jumper or whatever but at the end of the day, whoever I was playing against knew they had to compete to beat me and hopefully those are some of the things I can transfer over to these guys."