Stamkos, Canada draw first blood in World Cup final
Canada took the first game of the World Cup of Hockey final, beating Team Europe 3-1 on Tuesday at Air Canada Centre. Steven Stamkos's first goal of the tournament stood as the winner.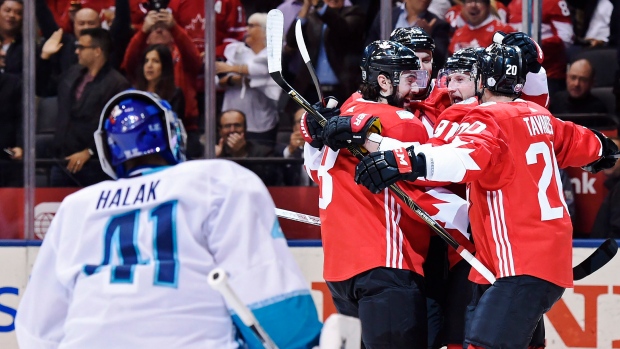 TORONTO — In between periods and again after the game Team Canada talked about it.
"We didn't play our best hockey there's no question about that," Canadian forward Brad Marchand said.
Their off-game was enough to get by Europe in the opener of the World Cup of Hockey final, a 3-1 decision at the Air Canada Centre on Tuesday night. Canada didn't come close to dominating like it had previously, outplayed for long stretches of a game that saw Carey Price shine (32 saves) and Sidney Crosby's line continue to produce.
Some of that was resistance from Europe, a concept team that's unlikely to return for future World Cups. They offered what's become a standard fight in the first game of perhaps their own only final appearance, limiting Canada's chances while generating more than a few of their own.
Shots were 32-31 at even-strength, just favouring the Canadians.
"For whatever reason we weren't as good as we felt we were capable of being," head coach Mike Babcock said. "And so we'll fix that and we'll be better."
Much of it was uncharacteristic sloppiness with the puck. The Canadians turned pucks over early, often and in inopportune places, including one such turnover from Ryan Getzlaf at the offensive blue line.
Getzlaf thought his linemate Steven Stamkos was there to take the pass, an error perhaps from unfamiliarity.
"Even if he is there I don't necessarily need to make that play," Getzlaf said. "The creativity and stuff is always going to be there, but we've got to take care of the puck for sure."
Getzlaf, who set up Stamkos' eventual game-winner, also thought the Canadians didn't move the puck effectively out of their own zone, nor skate with the speed that defined earlier wins. A puck-hogging force throughout the tournament, Canada wasn't prone either to long stretches in the offensive zone, often one-and-done in the offensive end.
"We've been a team that I don't know if we get 50 (shots) a night but it sure feels like it, we're all over the other team and we weren't that tonight," Babcock said.
Canada rolled over its first four opponents by a 19-6 margin, including a surgical 4-1 over the Europeans in the final game of the preliminary round. The Canadians trailed on only two occasions and for less than three minutes total.
It was testament to the overwhelming talent disparity between the two teams that they actually grabbed a 2-0 lead after the first. The Europeans were the better team through 20 minutes. They outshot the Canadians 13-9, sustained long stints in the offensive zone, grabbed a quick power play and even had the best early chance of the game, a Tomas Tatar shot in tight that was denied by Price.
Price's best was only required minimally in earlier games. "But we needed him early tonight," Babcock said.
Canada capitalized on its chances as a team with this much firepower often does.
Marchand finished off a rush with Patrice Bergeron early into the first, another play started by Crosby, who had a pair of assists in the game. Crosby leads the tournament in scoring, now with nine points.
Stamkos followed with his first goal of the tournament about 11 minutes later, Europe pulling back to within one midway through the second on a goal from Tatar.
Babcock previously described Europe as a "well-organized" group under head coach Ralph Krueger, that responsible style propelling them to an unlikely berth in the final. They managed to limit the Canadians prime chances through 40 minutes, though Canada did manage 17 shots on goal in the middle frame.
"You've got to give them credit, they played a really hard game," Marchand said. "They were skating really well. They were playing fast and physical and creating turnovers and we played into that (style of) game.
"We didn't play the way we did in some of the past games where we were turning the puck over a little bit, we were being a little bit too cute," he added.
Often the Canadians just looked unengaged and unusually sloppy. On one power play in the second they iced the puck and then surrendered a breakaway to defenceman Andrej Sekera, his game-tying attempt stopped by Price.
The game was never in doubt though and Canada offered a more pleasing third period, Bergeron adding his third goal on another stunning play from Crosby. Shifting back and forth with the puck behind the European net with defenceman Mark Streit trailing, Crosby then found his long-time international linemate open in front.
"Sid shows up every game there's no question about that," Marchand said.
Even that line, Babcock suggested, had played better in previous games.
Dissatisfaction was widespread like that after a game that pulls Canada to within one win of the World Cup trophy. The Canadians can clinch their second straight crown and 16th straight best-on-best win when the two teams meet again on Thursday night.
"We definitely have to be better for the next one," Getzlaf said.