Stamkos on no-trade clause: 'We'll cross that bridge at that time'
Tampa Bay Lightning star Steven Stamkos knows all eyes are on him for the next 17 days leading up to the NHL's Feb. 29 trade deadline, Frank Seravalli writes.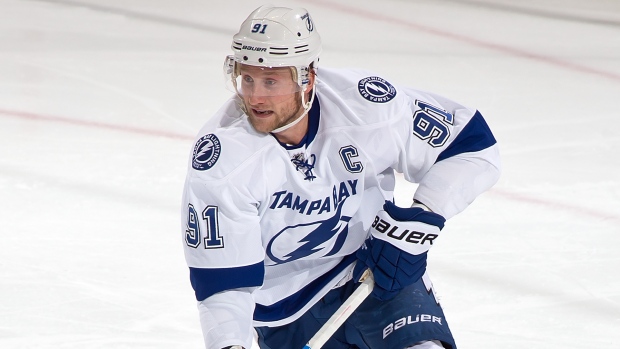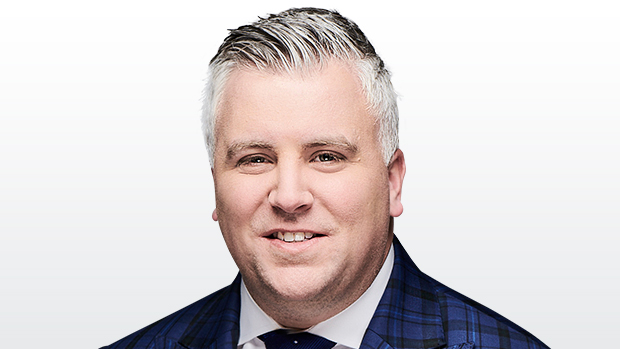 BRANDON, Fla. — Steven Stamkos got another taste of life in a hockey mecca this week when the Lightning visited Montreal on Tuesday, and it left a strange taste in his mouth.
Teammate Valtteri Filppula lost his phone charger, so Stamkos walked with him to a nearby Apple store to pick up a new one. He encountered a stealthy photographer capturing his every move on the short walk — part paparazzi, part stalker.
Stamkos tweeted a photo of his follower. His pursuer sent back a photo of Stamkos taking the picture, like a scene out of Taken 3.
"I did see that," Stamkos said, chuckling. "It was kind of creepy. But I'm here today, alive. That was kind of weird."
Stamkos joked the incident should serve as a lesson not follow him in the future. He knows when someone is watching him.
All eyes are on Stamkos for the next 17 days leading up to the NHL's Feb. 29 trade deadline. He knows that. He also knows that he calls his next shot — whether he wants the unusual quirks that come with playing in a hockey-mad market like Toronto or Montreal, or whether he prefers a low-key spot like Tampa Bay.
Stamkos, 26, said Thursday that he "hasn't even thought about" how he would respond if GM Steve Yzerman asked him to waive his no-trade clause.
"I think the answer is we'll cross that bridge at the time," Stamkos said. "I don't think it's that time right [now]. So, I continue to come to the rink every day as the leader that I am and the teammate that everyone in this room knows that I am, and give my best effort. I've said that since Day 1 of training camp and that hasn't changed."
Every indication is that Stamkos will remain with the Lightning at least through the end of the regular season, with Tampa Bay gearing up for what the team hopes will be another deep playoff run.
The logical follow-up question: if Stamkos wants to take a shot at a Stanley Cup with the Lightning this season, why not publicly state he will not waive his no-trade clause and he is staying? It would remove 17 days' worth of speculation, questions and undue distraction.
Stamkos responded by saying there will be "answers" soon.
"The trade deadline is coming up in a couple weeks," Stamkos said. "I'm sure everyone will have some answers in a couple weeks when that time comes. We've kept everything to ourselves and I know it sucks for you [media], I totally understand. But I think you can appreciate the way we've conducted business and whatever happens in the next couple weeks, obviously there's going to be some answers."
To come out and say he would not accept a trade if one was presented would be to go against everything Stamkos and agent Don Meehan have done and said so far. Yzerman has kept that pact of silence and has not negotiated through the media. Moreover, it is a hypothetical situation. There is no reason for Stamkos to paint himself into a corner.
"There's no use in me speculating and saying things that someone can twist," Stamkos explained. "We've had open lines of communication. There are ongoing talks. Really, that's been it. There hasn't been anything that we're going to say that's going to blow everyone out of the water. We've done it that way, shown a lot of respect towards each other.
"Obviously, I know the deadline is coming up, but we'll continue to talk."
Stamkos has been kept abreast of those talks. Unlike Ryan Getzlaf or Dustin Byfuglien, who basically told their agent to keep them out of the loop until it was time to sign, Stamkos has seemingly been involved the entire time.
Has it affected his play? Stamkos says the Lightning's recent run up the Atlantic Division standings is proof it hasn't been a distraction. But Stamkos has one goal in his last 10 games, his second extended drought of the season after a 10-game slump from Nov. 25 to Dec. 15. He rebounded from that one with nine goals in his next 12 games. Stamkos is still on pace for 32 goals, his lowest output in a full season other than his rookie year.
"I'm definitely aware of the situation, I'm a guy that likes to be," Stamkos said of the talks. "It's your career, it's your life. You've got to know exactly what's going on. You've got to do your due diligence. That's how I approach everything in life, whether it's a decision to buy a house or buy a car. You want to make sure you're well informed before you make a decision."
Until then, Stamkos said his priority is to minimize that discussion, particularly in the Lightning locker room. He wants to play hockey, microphones and prying photographers be damned.
"Obviously, a lot of people are guessing and writing stories and stuff like that. Everyone is entitled to their own opinion," Stamkos said. "…I didn't know what to expect going into this year. I didn't know how long it was going to play out. It's my first time going through something of this magnitude in my career. When you have a decision like this, it takes time. You make sure at the end of the day that you make the right decision."
Frank Seravalli can be reached at frank.seravalli@bellmedia.ca.