Stampeders confirm shooting death of Hicks
The Calgary Stampeders say defensive back Mylan Hicks died on Sunday morning. He was 23. The team said in statement that Hicks's "life was taken in act of violence."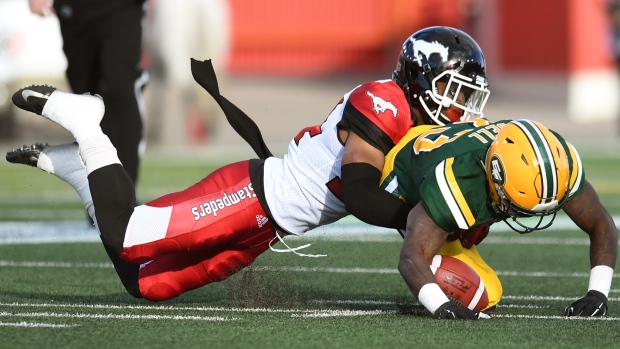 Calgary Stampeders defensive back Mylan Hicks died early Sunday morning in what the team said was an "act of violence." He was 23.
"Obviously this is an extremely difficult and upsetting time for the players and staff," Stampeders president and general manager John Hufnagel said. "It's a terrible tragedy. Our thoughts and prayers go out to Mylan's family."
Stampeders defensive back Joshua Bell a 31-year-old veteran who referred to Hicks as both a little brother and a son, said Hicks's death was immediately felt in the locker-room.
"We lost family today," Bell said. "Everybody doesn't react the same but we lost family today, we're hurting. We're shaken a little bit.
"You lose family but you have family. We're leaning on each other right now."
Calgary Police said earlier Sunday that they were investigating after a fatal shooting outside a night club.
The police statement said the victim had been taken to hospital in life-threatening condition before dying of his injuries, but the release did not identify the victim.
Police said three suspects were arrested.
Bell said he didn't know how or why Hicks was involved.
"I guess wrong spot, wrong time," Bell said. "Or mistaken identity, they may have thought he was somebody else. Same coloured shirt, something like that."
Hicks, who signed with the Stampeders in May and was on Calgary's practice roster, was born in Detroit and played for Michigan State, where he recorded a career-high 19 tackles and four pass break-ups in nine games in his senior year in 2014.
Hicks signed with the NFL's San Francisco 49ers as an undrafted free agent in May 2015 before being released at the end of training camp.
Hicks hadn't played a game this season with the Stampeders, who are currently first in the West Division and on a 12-game unbeaten streak.
"Everybody's talking about when's the next time we're going to lose, last night we had the most devastating loss we could," said quarterback Bo Levi Mitchell. Football doesn't even seem important right now.
"We're going to honour him as much as we can and play for him and his family."
"The one thing I ask and I beg of you guys is please make the story about Mylan," Mitchell added. "Don't make this about us and the rest of the season and how we deal with it."
CFL Commissioner Jeffrey Orridge said the league's "thoughts and prayers" are with Hicks's family and the Stampeders.
Brian Ramsay, the executive director of the CFL players association, said Hicks was just starting to establish himself as a member of the team and was well thought of.
"Mylan was a respected young man throughout his collegiate and professional careers," Ramsay said in a statement.