Stamps QB, MOP Mitchell highlights CFL All-Stars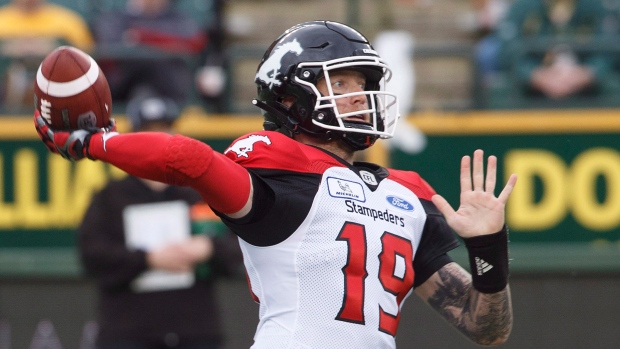 2018 Most Outstanding Player Bo Levi Mitchell highlighted the 2018 CFL All-Stars, which were announced Tuesday.
Mitchell was one of three Calgary Stampeders players to be named All-Stars, alongside linebacker Alex Singleton and defensive tackle Micah Johnson.
The Winnipeg Blue Bombers, Hamilton Tiger-Cats, and BC Lions topped the list with five CFL All-Stars each.
Below is the full list.
2018 CFL All-Stars
| Position | Name | Team |
| --- | --- | --- |
| Quarterback | Bo Levi Mitchell | Calgary Stampeders |
| Running Back | Andrew Harris* | Winnipeg Blue Bombers |
| Receivers | Duke Williams | Edmonton Eskimos |
| | Brandon Banks | Hamilton Tiger-Cats |
| | Brad Sinopoli* | Ottawa REDBLACKS |
| | Luke Tasker | Hamilton Tiger-Cats |
| | Bryan Burnham | BC Lions |
| Centre | Matthias Goossen* | Winnipeg Blue Bombers |
| Offensive Guards | Brandon Revenberg* | Hamilton Tiger-Cats |
| | Brendon LaBatte* | Saskatchewan Roughriders |
| Offensive Tackles | Stanley Bryant | Winnipeg Blue Bombers |
| | SirVincent Rogers | Ottawa REDBLACKS |
| Defensive Ends | Willie Jefferson | Saskatchewan Roughriders |
| | Charleston Hughes | Saskatchewan Roughriders |
| Defensive Tackles | Micah Johnson | Calgary Stampeders |
| | Davon Coleman | BC Lions |
| Linebackers | Adam Bighill | Winnipeg Blue Bombers |
| | Alex Singleton* | Calgary Stampeders |
| Cover Linebacker | Don Unamba | Hamilton Tiger-Cats |
| Cornerbacks | Delvin Breaux | Hamilton Tiger-Cats |
| | Anthony Orange | BC Lions |
| Halfbacks | Ed Gainey | Saskatchewan Roughriders |
| | T.J. Lee | BC Lions |
| Safety | Taylor Loffler* | Winnipeg Blue Bombers |
| Kicker | Lewis Ward* | Ottawa REDBLACKS |
| Punter | Ty Long | BC Lions |
| Special Teams | Diontae Spencer | Ottawa REDBLACKS |