Stamps re-sign WR Durant after injury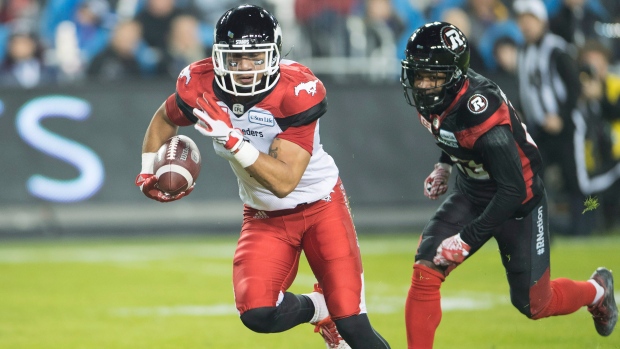 The Calgary Stampeders have re-signed wide receiver Lemar Durant, whose 2017 season came to an early end due to an knee injury.
Durant posted 22 catches for 313 yards and two touchdowns in seven games with the Stampeders before the injury. He missed the final 11 games of the season and the entire postseason.
"It was a blow to the team when Lemar suffered his injury but we're hopeful that he will be healthy and ready for the start of training camp," said Calgary president and general manager John Hufnagel. "Lemar has made steady progress since joining the team three years ago and we're counting on him to be an important part of our offence in 2018."
The 25-year-old Vancouver native was drafted by the Stampeders in the second round in 2015.
"I'm extremely happy to be staying in Calgary," said Durant. "I love the city and I'm lucky to have such great teammates and great coaches here with the Stamps. It was frustrating to have my 2017 season cut short by injury but my rehab is going very well and I fully expect to be ready and better than ever for the new season."