Stanley Cup Final a redemption story for Caps' warrior Orpik
There is something about the playoffs that brings out the best in defencemen like veteran grinder Brooks Orpik, who scored the game-winning goal in Game 2 on Wednesday night. During last year's second-round postseason exit against his old Pittsburgh Penguins, he and his blueline partner bore a large brunt of the blame for the Capitals' series loss, TSN Senior Hockey Reporter Frank Seravalli writes.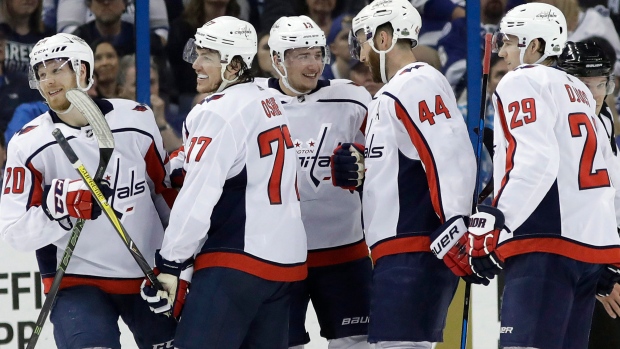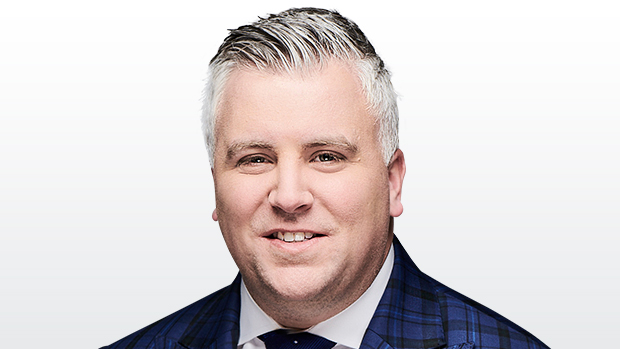 ARLINGTON, Va. — Brooks Orpik paused and bit his tongue.
The Washington Capitals' elder statesman was asked about the slash he received from Erik Haula as he attempted to make a game-saving clear behind Braden Holtby's net with five seconds left in Game 2.
Orpik's arms were folded behind his back as he spoke, hiding the index finger that exploded when hammered by Haula's stick – the one that required upwards of 15 stitches to put back together post-game.
Haula received a five-minute major and game misconduct for the two-hand slash, of zero consequence since it was whistled as time expired. But Orpik didn't want to pour gasoline on a Stanley Cup Final already filled with gamesmanship for discipline.​
"I'll address it later on," Orpik said with a solid poker face. "It'll be fine for the game."
The Capitals already knew what they had in Orpik, their 37-year-old warrior and do-it-all stalwart. But they got a little more out of him in Game 2 on Wednesday than they had in more than two years.
Orpik's game-winning goal was his first goal of any kind since Feb. 26, 2016. That was four months before the NHL awarded a franchise to Vegas. The Capitals will host those Golden Knights in Game 3 of the Stanley Cup Final on Saturday night.
Orpik's last goal was so long ago that the Great Eight, Alex Ovechkin, netted 116 goals over the 824 days between Orpik's strikes. The Capitals all got a charge out of his 220-game drought.
"He's a stay-at-home 'D' – that's all I can say," Ovechkin said Friday, smiling. "He's basically the core of our 'D.' When he scored a goal, he gave all the momentum to our bench and give energy right away."
Orpik didn't remember his last goal. He doesn't remember if he celebrated this time, but this goal in the Stanley Cup Final won't be forgotten.
"It was a big moment, so it was pretty exciting," Orpik said. "It's probably not expected from the team … Any time you can do something that you're not really counted on [to do], it's an added bonus."
Orpik's third Final appearance is a story of redemption for Washington's only player with a Stanley Cup ring. He bore a large brunt of the blame along with partner Kevin Shattenkirk after last spring's second-round exit against his old Pittsburgh Penguins.
Orpik was on the ice for nearly half (9-of-21) of the even-strength goals the Capitals allowed in the postseason against the Toronto Maple Leafs and Penguins.
Father Time appeared to be catching up with Orpik sooner than the Capitals planned.
"He's really played his best this spring," longtime teammate Matt Niskanen said. "It kind of defies logic with his age, but I don't think we're surprised by it with what a professional he is – and what a competitor. The guy is just all heart, and boy, it's nice to see him get rewarded with a big goal the other night. He's been a rock for us."
There is something about the Stanley Cup playoffs that brings out the best in defencemen like Orpik. As the NHL moves to smaller and more mobile puck-movers, Orpik and Vegas Golden Knights blueliner Deryk Engelland have hung on and grabbed the spotlight.
"Everybody's jamming things at the net and everybody's getting numbers to the net and trying to create chaos around them. Sometimes those stay-at-home guys are very valuable," Caps coach Barry Trotz said. "They can box you out, they can protect your goaltender in terms of not having to have second and third shots. They're quite valuable in a series where there's a lot of net pressure and a lot of [down]-low play."
Orpik took a beating in possession metrics this season, the Capitals holding just a 43.7 per cent share of shot attempts while Orpik was on the ice. He said those metrics don't paint a full picture.
"I don't think it really reflects anyone's value, to be honest with you," Orpik said of some advanced stats. "I think as a team this year I guess we had bad shot numbers or whatever and our team did pretty well.
"There's probably guys that have good numbers that I wouldn't want as teammates and guys that have had bad ones that I'd want as teammates."
He may be no analytics darling or scoring wizard, but Orpik is a grinder and that makes him a favourite among his Capitals teammates. How highly do they think of him? Orpik said last month in a story that the Russian players call him "Batya" and it means "protector" or "father."
"Brooksy does a lot more than just hockey," Holtby said. "Making sure our team has the right focus and making sure we're doing the right things on and off the ice. He backs it up with his play. He doesn't back down from anything. He shows up every game and battles with a ton of injuries and he's just one of those guys that shows the right thing to do and people follow."
Contact Frank Seravalli on Twitter: @frank_seravalli