Star power, depth define Trade Bait board a week before deadline
Three megawatt stars – Artemi Panarin, Matt Duchene and Mark Stone – headline a deep list of available talent that could make this one of the most intriguing NHL trade deadlines in recent memory, Frank Seravalli writes.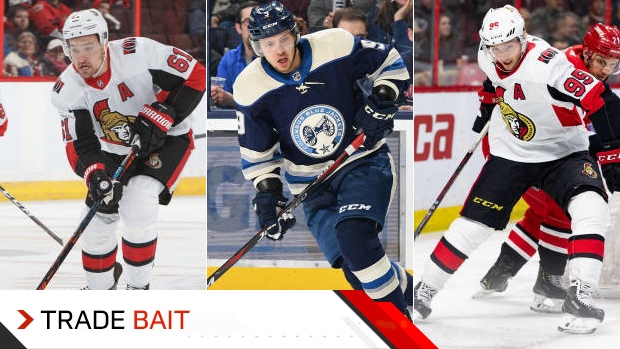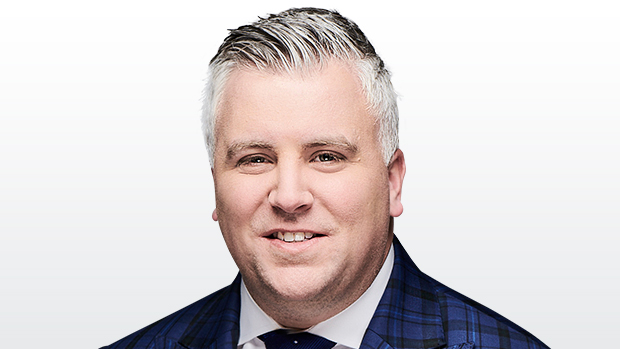 With one week to go before the NHL's trade deadline, the TSN Trade Bait Class of 2019 is shaping up to be the best in recent memory.
Rarely has such a prolific pack of players been up for grabs – a group jaw-dropping in both its star power and sheer depth.
Think back to years past and names like Wayne Simmonds (No. 4) or Kevin Hayes (No. 6) likely would have been enough to headline their class.
Three megawatt stars – Artemi Panarin, Matt Duchene and Mark Stone – are all better than point-per-game players in the NHL and all seem more likely than not to be traded over the next week.
Last year, two-time Norris Trophy winner Erik Karlsson was the marquee name on the board on Deadline Day – and Karlsson remained in play right up until the buzzer at 3 p.m. The Senators waited all summer to trade him. Evander Kane, Paul Stastny and Tomas Tatar all brought back first-round picks on the day of the deadline, making it a monster year.
Yes, there has seemingly always been one star attraction over the years – whether it was Kevin Shattenkirk (2017) or Eric Staal (2016), Keith Yandle (2015) or Martin St. Louis and Marian Gaborik (2014). But that is usually where the fun fell off.
But looking at the previous Trade Bait boards, some years felt more like a dudline rather than deadline. Jeff Petry was the No. 1 player available in 2015 once Yandle was dealt. The other "big" names available that year included Marek Zidlicky and Jan Hejda.
Seriously.
Two-time Vezina Trophy winner Sergei Bobrovsky is looming on the board at No. 11. He has little chance to remain with the Blue Jackets beyond this season, but Bobrovsky alone controls his destiny by holding a full no-trade clause hammer.
Karlsson was the leading scorer on the board last season with 41 points. Cross off the Big Three at the top (Panarin, Duchene and Stone) and Gustav Nyquist at No. 8 has already put up 47 points with a week still to play.
The surging Carolina Hurricanes have been dangling one of their three right-shooting defencemen (Dougie Hamilton, Brett Pesce or Justin Faulk) all season long in search of a sniper. They all come with cost certainty in term on their deals.
The Florida Panthers have internally discussed the idea of moving point-per-game winger Jonathan Huberdeau. Upper-echelon prospects Eeli Tolvanen and Jack Roslovic, who have yet to make their mark on the NHL, could be on the move along with first-round picks.
There is no shortage of intrigue, even well down the board, with potential heat on Minnesota's Eric Staal (No. 30) to waive his no-trade clause, or whether a buyer will step up to meet the New York Rangers' high asking price on Chris Kreider (No. 34).
The clock is ticking. The market is still sorting itself out, momentarily gummed up at the top while teams jockey between Stone and Panarin as the top prize, but the promise seems to be fireworks are on the horizon.
Here is TSN Hockey's latest Trade Bait board, which always seeks to blend prominence of a player with his likelihood of a trade:

The Top 50
| Trend | Player | Pos | Age | GP | G | PTS | Cap Hit | Years |
| --- | --- | --- | --- | --- | --- | --- | --- | --- |
| | 1. Artemi Panarin, CBJ | LW | 27 | 55 | 24 | 67 | $6M | UFA |
| | 2. Matt Duchene, OTT | C | 28 | 49 | 27 | 56 | $6M | UFA |
| | 3. Mark Stone, OTT | RW | 26 | 58 | 27 | 59 | $7.35M | UFA |
| | 4. Wayne Simmonds, PHI | RW | 30 | 59 | 16 | 27 | $3.98M | UFA |
| | 5. Jets' 1st-Round Pick | | | | | | | 2019 |
| | 6. Kevin Hayes, NYR | C | 26 | 49 | 14 | 42 | $5.18M | UFA |
| | 7. Mats Zuccarello, NYR | RW | 31 | 44 | 11 | 37 | $4.5M | UFA |
| | 8. Gustav Nyquist, DET | RW | 29 | 59 | 15 | 48 | $4.75M | UFA |
| | 9. Charlie Coyle, MIN | C | 26 | 59 | 10 | 28 | $3.2M | 1 |
| | 10. Jimmy Howard, DET | G | 34 | 41 | 2.80 | 0.913 | $5.3M | UFA |
| | 11. Ryan Dzingel, OTT | LW | 26 | 56 | 22 | 43 | $1.8M | UFA |
| | 12. Sergei Bobrovsky, CBJ | G | 30 | 42 | 2.88 | 0.904 | $7.43M | UFA |
| | 13. Micheal Ferland, CAR | LW | 26 | 50 | 16 | 33 | $1.75M | UFA |
| | 14. Marcus Johansson, NJD | LW | 28 | 47 | 11 | 25 | $4.58M | UFA |
| | 15. Dougie Hamilton, CAR | RD | 25 | 59 | 10 | 23 | $5.75M | 2 |
| | 16. Adam Henrique, ANA | C | 29 | 59 | 12 | 31 | $5.83M | 5 |
| | 17. Jack Roslovic, WPG | RW/C | 22 | 58 | 7 | 17 | $894K | 1 |
| | 18. Brett Pesce, CAR | RD | 23 | 50 | 5 | 15 | $4.03M | 5 |
| | 19. Jakob Silfverberg, ANA | RW | 28 | 50 | 15 | 23 | $3.75M | UFA |
| | 20. Jonathan Huberdeau, FLA | LW | 25 | 57 | 13 | 53 | $5.9M | 4 |
| | 21. Eeli Tolvanen, NSH | RW | 19 | 4 | 1 | 2 | $894K | 2 |
| | 22. Artem Anisimov, CHI | C | 30 | 55 | 9 | 26 | $4.55M | 2 |
| | 23. Derick Brassard, FLA | C | 31 | 48 | 10 | 19 | $5M | UFA |
| | 24. Cody Ceci, OTT | RD | 24 | 54 | 5 | 19 | $4.3M | RFA |
| | 25. Nick Jensen, DET | RD | 28 | 59 | 2 | 15 | $813K | UFA |
| | 26. Luke Glendening, DET | C | 29 | 60 | 9 | 20 | $1.8M | 2 |
| | 27. Alex Chiasson, EDM | RW | 28 | 49 | 17 | 27 | $650K | UFA |
| | 28. Andre Burakovsky, WSH | LW | 23 | 53 | 7 | 16 | $3M | RFA |
| | 29. Brayden Schenn, STL | C | 27 | 54 | 11 | 39 | $5.13M | 1 |
| | 30. Eric Staal, MIN | C | 34 | 58 | 17 | 37 | $3.5M | UFA |
| | 31. Justin Faulk, CAR | RD | 26 | 59 | 5 | 21 | $4.83M | 1 |
| | 32. Adam McQuaid, NYR | RD | 32 | 34 | 2 | 5 | $2.75M | UFA |
| | 33. Jeff Carter, LAK | C | 33 | 52 | 10 | 25 | $5.27M | 3 |
| | 34. Chris Kreider, NYR | LW | 27 | 58 | 24 | 45 | $4.63M | 1 |
| | 35. Colton Parayko, STL | RD | 25 | 58 | 9 | 18 | $5.5M | 3 |
| | 36. Alex Steen, STL | LW | 34 | 42 | 6 | 18 | $5.75M | 2 |
| | 37. Alec Martinez, LAK | RD | 31 | 43 | 4 | 15 | $4M | 2 |
| | 38. Jay Bouwmeester, STL | LD | 35 | 54 | 2 | 12 | $5.4M | UFA |
| | 39. Carl Hagelin, LAK | LW | 30 | 37 | 2 | 8 | $4M | UFA |
| | 40. Patrick Maroon, STL | LW | 30 | 50 | 4 | 16 | $1.75M | UFA |
| | 41. Alex Edler, VAN | LD | 32 | 38 | 5 | 20 | $5M | UFA |
| | 42. Ben Lovejoy, NJD | RD | 34 | 50 | 2 | 7 | $2.67M | UFA |
| | 43. Vlad Namestnikov, NYR | LW | 25 | 54 | 6 | 19 | $4M | 1 |
| | 44. Nikolay Goldobin, VAN | LW | 23 | 52 | 6 | 25 | $863K | RFA |
| | 45. Jesse Puljujarvi, EDM | RW | 20 | 46 | 4 | 9 | $925K | RFA |
| | 46. Mikkel Boedker, OTT | LW | 29 | 51 | 6 | 28 | $4M | 1 |
| | 47. Tobias Rieder, EDM | LW | 26 | 44 | 0 | 10 | $2M | RFA |
| | 48. Andreas Johnsson, TOR | LW | 24 | 51 | 15 | 31 | $788K | RFA |
| | 49. Kasperi Kapanen, TOR | RW | 22 | 58 | 18 | 36 | $863K | RFA |
| | 50. Jeff Skinner, BUF | LW | 26 | 58 | 36 | 53 | $5.73M | UFA |
Contact Frank Seravalli on Twitter: @frank_seravalli​