Statistically Speaking 48 points before the Stanley Cup Final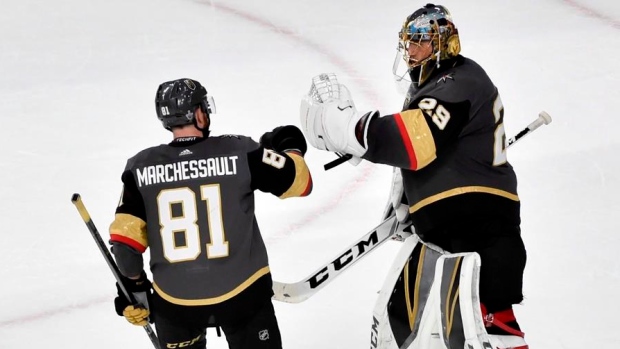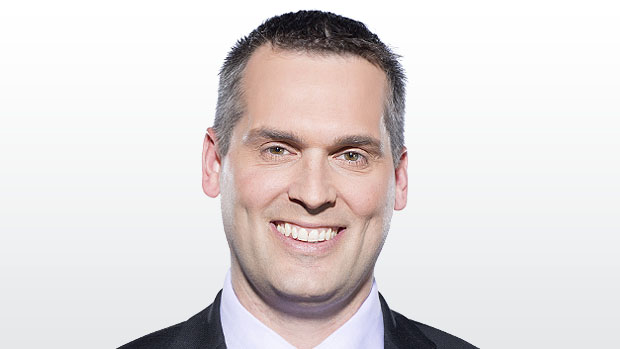 Scott Cullen has 48 points to make before the start of the Stanley Cup Final between the Vegas Golden Knights and the Washington Capitals.
1. Golden Knights G Marc-Andre Fleury has a preposterous .947 save percentage in 15 playoff starts. Remember from 2010 through 2013 when he had a .893 save percentage in 31 playoff games? After a .924 save percentage in 15 playoff starts for Pittsburgh last year, that rep has shifted.
2. Noted playoff choker (tongue firmly in cheek here, friends) Capitals LW Alex Ovechkin has 12 goals and 22 points in this year's playoffs, both career-bests, but he has 112 points in 116 playoff games. Among active players, Sidney Crosby, Evgeni Malkin and Patrick Kane are the only ones scoring at a better rate in the playoffs (minimum 50 playoff games), and Kane sits at .9685 points per game in the playoffs, while Ovi is at .9655.
3. It's easy to say that Golden Knights C William Karlsson won't shoot 23.4% again, because no one does that any more, but he was able to get into prime shooting locations, both at even strength and on the power play this year.
4. Golden Knights LW Jonathan Marchessault scored 59 of his 75 points this season at even strength, ranking 10th in the league. His 75 points ranked 30th.
5. Marchessault also saw shots per game climb from 2.57 to 3.48 per game even though his ice time increased by just 35 seconds per game.
6. Capitals D John Carlson led all defencemen with 68 points this season and had a career-high 2.89 shots on goal per game. In the playoffs, he has 16 points in 19 games, with 3.42 shots on goal per game.
7. He wasn't a full-time regular in Washington last year, but this year Schmidt played nearly two minutes more per game than any other skater on the Golden Knights.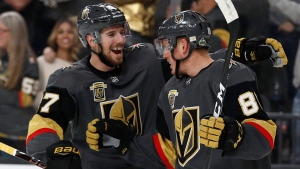 8. After he was inserted into the Capitals lineup in last year's playoffs, current Golden Knights D Nate Schmidt was a possession monster (60.6 CF%, +6.3 CF%) in 11 games, though he did start the majority of his shifts (72.6%) in the offensive zone.
9. The No. 2 defenceman on the Golden Knights' depth chart, Shea Theodore, spent the first month of the season in the American Hockey League, where he had 11 points (5 G, 6 A) in eight games.
10. Theodore had one more point in last year's playoffs (8) than he has recorded so far this year.
11. Of course it figures that Braden Holtby, coming off the worst regular season of his career and on the bench for the first two games against Columbus, would be thriving in the playoffs. He has the best playoff save percentage (.930) among active goaltenders with at least 30 games played.
12. Capitals D Dmitry Orlov has been impressive in the postseason. His shot (53.5 CF%) and scoring-chance (56.3 SCF%) ratios are best among Washington's defencemen.
13. This is the sixth straight season in which Capitals D Matt Niskanen has hit double digits for playoff games played. He and Orlov have been excellent as Washington's top pair.
14. How incredible is it that Golden Knights D Deryk Engelland had a career-best season at age 35? He played 20:17 per game, had 23 points and while he hasn't recorded a point in the playoffs, he has positive shot and goal differentials in the postseason.
15. Much-maligned by the analytics community, veteran Capitals D Brooks Orpik has been on the ice for 18 goals for and four against at even strength in the playoffs. There's a bunch of empty-netters in there and he does have a 106.7 PDO.
16. Capitals C Nicklas Backstrom has 40 points (12 G, 28 A) in 40 playoff games over the past three years. The Capitals are shooting just 4.5% with Backstrom on the ice at 5-on-5 in the playoffs.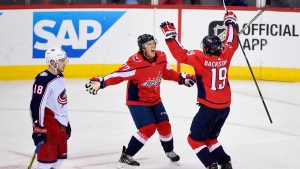 17. Golden Knights LW David Perron, who had a career-high 66 points this season, has one goal in his last 44 playoff games.
18. Capitals RW T.J. Oshie, predictably, saw his shooting percentage regress this season, and his goal total dropped from 33 to 18. That said, he leads the Capitals with five power-play goals in the playoffs.
19. Rookie Golden Knights RW Alex Tuch is tied for second on team with six goals in the playoffs.
20. Golden Knights RW Reilly Smith played less this season (17:55 per game) than he did in the previous two seasons with Florida. He also has 29 points in 33 career playoff games.
21. Golden Knights C Erik Haula, who had two power play goals in four years with the Minnesota Wild, led Vegas with 12 power play goals. Net-front presence.
22. Capitals C Evgeny Kuznetsov leads the playoffs with 24 points (11 G, 13 A). In his first two playoffs seasons, 2015 and 2016, he had a total of nine points (6 G, 3 A) in 26 games.
23. Capitals C Lars Eller has a career-high 14 playoff points, one more than he had with Montreal in 2014, and he's had strong shot differentials (52.6 CF%, +3.9 CFRel%), too.
24. Over the past three seasons, Ducks D Hampus Lindholm is the only defenceman (minimum 2,000 5-on-5 minutes) with better relative Corsi than Golden Knights D Colin Miller (+5.7 CFRel%).
25. The Golden Knights have outscored the opposition 8-1 during 5-on-5 play with Miller on the ice in the playoffs.
26. Golden Knights D Brayden McNabb was on the ice for 2.15 goals against per 60 minutes of 5-on-5 play during the regular season, best among Vegas defencemen to play 1,000 5-on-5 minutes, and probably not a total coincidence. In the playoffs, his 1.38 GA/60 is closer to the highest rate on the team.
27. Capitals RW Brett Connolly isn't playing a lot, but Washington is getting the better of the play (54.1 CF%, +5.4 CFRel%, 7 GF, 4 GA) with him on the ice.
28. Claimed on waivers from San Jose, Golden Knights RW Ryan Carpenter has been a positive contributor in the playoffs, recording five assists in 13 games and posting solid shot (53.3 CF%, +4.2 CFRel%) and goal differentials (5 GF, 2 GA).
29. Golden Knights LW William Carrier is a hitting machine. In nine playoff games, he's played just under 72 minutes and recorded 52 hits.
30. Golden Knights D Jonathon Merrill ran into penalty troubles earlier in the postseason, and it cost him his spot in the lineup, but he was reasonably effective (54.9 CF%, +2.5 CFRel%, 4 GF, 2 GA) when he was on the ice in eight playoff games.
31. He's known for his muscle, and for having his first goal for Vegas win the series against Winnipeg, but Golden Knights RW Ryan Reaves has been unusually solid (53.9 CF%, +8.8 CFRel%) in six games since he was inserted into the lineup.
32. A shift disturber of the highest order, Capitals RW Tom Wilson has been valuable on Washington's top line. In the playoffs, he has 12 points in 16 games, solid possession stats (52.0 CF%, +3.0 CFRel%) and goal differentials (16 GF, 11 GA).
33. Veteran Capitals C Jay Beagle has won 63.0% of his draws in the postseason.
34. With Cody Eakin on the ice in the playoffs, the Golden Knights have a 5-on-5 save percentage of .976. During the regular season it was .913.
35. Golden Knights C Pierre-Edouard Bellemare was outshot and outscored in each of his three seasons in Philadelphia. This season his shot differentials were positive (52.5 CF%, +2.1 CFRel%) and the Golden Knight outscored the opposition 23-20 with PEB on the ice.
36. Capitals rookie LW Chandler Stephenson, who had 18 points in 67 regular-season games, has been moved up the depth chart in the playoffs and has seven points (2 G, 5 A) in 19 games. His most common linemates have been Backstrom and Oshie.
37. He was on the outs early in the playoffs, playing under eight minutes in six of his first seven games and getting healthy scratched, but Capitals rookie LW Jakub Vrana has worked his way back into a more regular role. Of course, he has just one assist in his past eight games.
38. Although his regular season was something of a struggle, as he scored seven goals in 75 games, Capitals RW Devante Smith-Pelly has tallied four in 19 playoff games.
39. Smith-Pelly does have awful shot differentials (41.1 CF%, -10.7 CFRel%) in the playoffs.
40. Talented young Capitals winger Andre Burakovsky got hurt early in the playoffs and had struggled since returning, but scored two goals, his first of the postseason, in the deciding game against Tampa Bay.
41. This was the tenth consecutive season in which Golden Knights RW James Neal scored at least 20 goals during the regular season, and he's one point away from tying his playoff career-high of 10 points.
42. Capitals RW Alex Chiasson has been getting crushed by shot differentials (42.9 CF%, -9.0 CFRel%) on a regular basis, and yet has been on the ice for three goals for and three goals against in the playoffs.
43. Golden Knights LW Tomas Tatar has been a bust since he was acquired at the trade deadline. He had six points (4 G, 2 A) in 20 regular-season games and has just one goal in six playoff games, spending most of the postseason in the press box.
44. A spare part in Chicago, Capitals D Michal Kempny has been a regular as John Carlson's partner in the playoffs. Shot metrics aren't great (48.6 CF%, 49.6 SCF%) but the Capitals have outscored opponents 6-4 with that defensive duo on the ice.
45. Golden Knights LW Tomas Nosek had points in back-to-back games to finish the Winnipeg series, the first two games of the playoffs in which he played less than 10 minutes.
46. Golden Knights D Luca Sbisa also recorded points in back-to-back games to end the Western Conference Final. He did have spectacularly awful possession stats (43.2 CF%, -9.5 CFRel%) in the 30 regular-season games that he played this season.
47. Rookie Capitals D Christian Djoos has subpar possession numbers (45.2 CF%, -4.9 CFRel%), but a 106.7 PDO has led to his being on the ice for eight goals for and three against in the postseason.
48. Vadim Shipachyov scored 36 points (13 G, 23 A) in 36 (regular-season plus playoff) games for SKA St. Petersburg in the KHL.
Many of the advanced stats used here come from Natural Stat Trick, Corsica, Hockey Viz, and Hockey Reference.
Scott Cullen can be reached at scott.cullen@bellmedia.ca