Statistically Speaking: 64 points before the playoffs start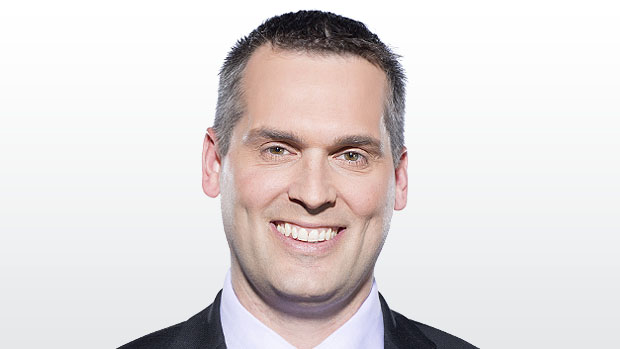 Scott Cullen has some points to make before the puck is dropped on this year's playoffs, 64 of them, in fact.
1. The best shot suppression defence pairing in the playoffs is Anaheim's Hampus Lindholm and Josh Manson, who allowed 9.4 fewer shot attempts per 60 than their fellow Ducks defenders. Next best: Enstrom-Byfuglien (-7.3 Rel CA/60), Provorov-Gostisbehere (-7.0 Rel CA/60), Orlov-Niskanen (-5.9 Rel CA/60)
2. Boston's top defence pairing of Zdeno Chara and Charlie McAvoy has allowed the fewest shot attempts/60 (47.17) among playoff pairs that were together for at least 500 5-on-5 minutes during the season.
3. The defence pair with the second-best rate of shots against? Boston's Matt Grzelcyk and Kevan Miller (47.95 CA/60).
4. After finishing with 58 points last season, Flyers winger Claude Giroux led the league with 68 assists and had a career-high 102 points. He had a career-low 1.0 points/60 at 5-on-5 a year ago then had 2.9 points/60 this season.
5. The Devils power play runs through Taylor Hall, who has a league-best 7.1 primary points/60 during 5-on-4 play.
6. The next four? Blake Wheeler (6.66), Mitch Marner (6.26), Nazem Kadri (6.00), and Steven Stamkos (5.70).
7. The Kings got incredible bounce-back seasons from Anze Kopitar and Dustin Brown. Kopitar had a career-high 92 points and his 2.3 points/60 was his best since 2010-2011. Brown is 33, and had gone four straight seasons with fewer than 40 points before getting a career-high 61 points this season.
8. Even though he had great possession stats (55.8 CF%, +5.3 CFRel%), Sidney Crosby was still outscored 55-48 at 5-on-5.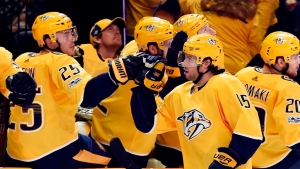 9. The lines on playoff teams with the best goal differential/60 this season (min. 500 minutes):
Fiala-Turris-Smith +2.09
Marchessault-Karlsson-Smith +2.00
Hyman-Matthews-Nylander +1.97
Forsberg-Johansen-Arvidsson +1.92
Landeskog-MacKinnon-Rantanen +1.62
10. The playoff forwards with the best relative Corsi (minimum 500 5-on-5 minutes):
Craig Smith, Nashville (+7.68)
Artemi Panarin, Columbus (+7.38)
Nino Niederreiter, Minnesota (+6.92)
Pierre-Luc Dubois, Columbus (+6.22)
Bryan Rust, Pittsburgh (+6.07)
11. The playoff defencemen with the best relative Corsi (minimum 500 5-on-5 minutes):
Colin Miller, Vegas (+6.66)
Travis Dermott, Toronto (+6.49)
Will Butcher, New Jersey (+6.08)
Brent Burns, San Jose (+5.73)
Travis Sanheim, Philadelphia (+5.65)
12. The playoff players with the best primary points (goals + first assists)/60:
Auston Matthews (2.60)
Nathan MacKinnon (2.45)
Brad Marchand (2.19)
Nikita Kucherov (2.16)
David Pastrnak (2.15)
13. The next five? Evgeni Malkin, Jonathan Marchessault, Ondrej Kase, Thomas Vanek, and Filip Forsberg.
14. Have you heard about Ondrej Kase? The second-year Ducks winger scored 20 goals and led Anaheim with 9.6 shots/60 during 5-on-5 play.
15. Everyone recognizes what an awful tragedy happened in Humboldt, Saskatchewan. Across this country, there are countless buses filled with hockey teams going from town to town, and that accident was a nightmare. It hits home for a lot of people across the country, but for the people that are intimately involved, I don't know how they can possibly recover. It's impossibly devastating.
16. In the first 23 games of the season, Maple Leafs D Ron Hainsey had a 51.7 CF%. In 59 games since, he sits at 46.3 CF%.
17. He struggled in terms of shot differentials early in the season, but Jets captain Blake Wheeler started to level out with a late-season possession improvement. He's at 57.9 CF% in the last 14 games, after he was at 48.3% in his previous 67 games.
18. Sean Couturier took a quantum leap forward this season. He had typically strong possession (53.3 CF%, +5.2 CFRel%) even though he started 43.2% of his shifts in the offensive zone, but his ice time went up more than three minutes per game and a player who had never finished with more than 39 points suddenly ends up with 76 points.
19. Couturier also has just four points in 19 career playoff games.
20. The Columbus Blue Jackets are dangerous with Artemi Panarin on the ice.
21. The Jets rely on high percentage shooters. Mark Scheifele (18.4%), Patrik Laine (18.3%) and Kyle Connor (16.1%) are all sitting on lofty numbers this season.
22. In 94 regular season and playoff games in the first two seasons, Matt Murray had a .926 save percentage. This season, he had a .907 save percentage in 49 games, so that's why goaltending is the big question mark about the team trying for a three-peat.
23. Hip surgery caused Ducks C Ryan Kesler to miss nearly half of the season, and he's had a tough season, with his worst possession stats (48.3 CF%, -2.7 CFRel%) along with a career-low 1.0 points/60 during 5-on-5 play.
24. 32-year-old Ducks RW Corey Perry finished the regular season with 17 goals and 49 points, his lowest full-season totals since 2006-07, and had the worst possession stats (47.4 CF%, -1.3 CFRel%) of his career.
25. On the other hand, Ducks C Ryan Getzlaf produced 61 points in 56 games, his first season averaging a point-per-game since 2013-14.
26. Rookie Devils C Nico Hischier had a strong finish, putting up 11 points (7 G, 4 A) in the past 15 games.
27. He struggled to earn regular playing time in Boston, but Golden Knights D Colin Miller had 41 points in 82 games this season to go with his typically great shot differentials.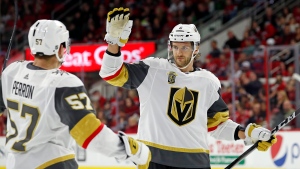 28. Over the past three seasons, these are the playoff defencemen with the best relative Corsi (minimum 1500 5-on-5 minutes):
Hampus Lindholm (+6.41)
Colin Miller (+5.73)
Josh Manson (+4.56)
Zach Werenski (+4.32)
Brent Burns (+4.22)
29. Was it ever determined why the Penguins couldn't tolerate Ian Cole's presence on their blueline? He's been solid (52.6 CF%, +2.2 CFRel, 7 PTS in 20 GP) since joining the Blue Jackets.
30. Blue Jackets RW Thomas Vanek finished with 56 points, his most since 2013-14, even though he had just one power-play point in 19 games with Columbus.
31. If Jake Muzzin is out of the lineup for the Kings for all of Round 1, that will be a huge hole. There are problems on the Los Angeles blueline behind Drew Doughty, and injuries to Muzzin and Derek Forbort leave them vulnerable.
32. Doughty was great this season, probably better than when he won the Norris in 2015-16. He has better relative possession stats (52.8 CF%, +4.6 CFRel%) and has a career-high 1.1 points/60 at 5-on-5.
33. The move to Los Angeles hasn't had a positive effect on Dion Phaneuf. He's still getting caved in (45.7 CF%, -5.0 CFRel%), just a little bit less than Ottawa, while starting more shifts in the offensive zone. Either way, it has not been good.
34. The Kings' score-adjusted Corsi this season was 49.8%, the first time that they've been on the wrong side of break-even since 2007-08.
35. He struggled initially when trying to re-join the lineup midway through the season, but Wild LW Zach Parise is producing after a slow start. He scored three points (2 G, 1 A) in his first 13 games, but has 21 points (13 G, 8 A) in 29 games since.
36. Since 2015-2016, Wild RW Nino Niederreiter has been an underrated two-way force. He could score more, but the only forward (minimum 1,500 5-on-5 minutes) with a better relative Corsi is Patrice Bergeron.
37. Rookie Wild D Nick Seeler has been a solid contributor. Not flashy, but steady on the third pair.
38. New Jersey's third defence pairing of Will Butcher and Ben Lovejoy has been thriving (55.3 CF%, 59.4 SCF%).
39. New Jersey's Stefan Noesen has been an underrated two-way winger. He had positive (+3.3 CFRel%) possession stats while starting just 39.3% of shifts in the offensive zone.
40. Since Dec. 20, second-year Blue Jackets D Markus Nutivaara has a 53.7 CF%, best among Columbus defencemen, and the Blue Jackets are outscoring the opposition 23-15 with him on the ice.
41. Capitals RW Tom Wilson had a career-high 14 goals and 35 points this season. When playing with Alex Ovechkin, they had a 51.9 CF% and outscored the opposition 35-29.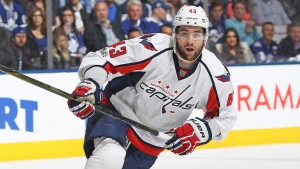 42. The players on playoff teams with the most fights this season:
Tom Wilson, Washington (13)
Jamie Oleksiak, Pittsburgh (7)
Austin Watson, Nashville (7)
Andy Andreoff, Los Angeles (6)
Matt Martin, Toronto (6)
Adam McQuaid, Boston (6)
Ryan Reaves, Vegas (6)
43. He's not great, but after getting crushed early in the year with Dallas, Jamie Oleksiak has been a useful addition in Pittsburgh.
44. The Devils benched defenceman Damon Severson late in the season. Even with positive relative possession stats, he had been surrendering too many high quality chances.
45. That's resulted in Mirco Mueller getting a chance to play, and the 2013 first-rounder has been solid.
46. Flyers rookie LW Oskar Lindblom doesn't score much – two goals in 24 games – but has really good numbers otherwise (54.1 CF%, +5.1 CFRel%).
47. Travis Sanheim looks like he's going to be a stud on Philly blueline.
48. Does it make sense for the Maple Leafs to keep rookie winger Andreas Johnsson out of the lineup? In his nine NHL games, he has three points (2 G, 1 A) and stellar possession stats (57.1 CF%, +5.2 CFRel%).
49. Small sample and all, but Johnsson's 11.5 shots/60 during 5-on-5 play is best on the Maple Leafs.
50. He played more AHL games than NHL games this season, but veteran Sharks D Paul Martin has had solid late-season numbers (55.5 CF%, +7.2 CFRel%) in limited playing time
51. J.T. Miller has been a nice addition in Tampa Bay, with 18 points (10 G, 8 A) in 19 games. Getting a chance to play with Stamkos is nice, too.
52. Golden Knights winger Tomas Tatar has struggled (4 G, 2 A) in 20 games since arriving in a trade from Detroit.
53. Playoff lines with the best expected goals percentage (xGF%, minimum 200 minutes) :
Zucker-Koivu-Granlund (64.5%)
Ehlers-Little-Perreault (64.0%)
Copp-Lowry-Tanev (62.7%)
Guentzel-Crosby-Rust (61.3%)
Fiala-Turris-Smith (61.3%)
54. Playoff lines generating the most shot attempts/60 (minimum 200 minutes) :
Ehlers-Little-Perreault (80.7)
Panarin-Dubois-Anderson (74.8)
Fiala-Turris-Smith (73.1)
Hagelin-Malkin-Hornqvist (69.5)
Hertl-Couture-Labanc (69.4)
55. Minnesota's blueline was rocked by the late-season injury to Ryan Suter. With Jared Spurgeon nearing a return from injury, he will have to play a huge role against Winnipeg. Spurgeon is great, but that's asking a lot from a player who hasn't played in the past four weeks.
56. He missed a bunch of time this season, but Jets C Adam Lowry was excellent for the Jets, putting up 21 points in 45 games and locking it down defensively.
57. Maple Leafs D Roman Polak has been outscored 32-30 during 5-on-5 play, but it looks like he's been rather fortunate given the shot distribution when he's on the ice.
58. The top power-play shooters on playoff teams this season (minimum 20 5-on-4 shots) :
Erik Haula (41.7%)
J.T. Miller (38.5%)
Jake Guentzel (30.4%)
Kyle Turris (29.2%)
Craig Smith (29.0%)
59. Early indications are the Boston Bruins are going to start the playoffs with rookie Ryan Donato on the outside looking in at the opening night lineup. His production (5 G, 4 A, 12 GP) and possession stats (54.3 CF%, +1.3 CFRel%) suggest that he shouldn't even be close the lineup bubble, let alone on the wrong side of it.
60. The Avalanche are going to have their hands full with Nashville in the first round, and may not be sticking around the postseason for long, but there are still some players to watch. Mark Barberio remains underrated. He missed a bunch of time with injuries, and he's not a star, but the waiver pickup from Montreal is a solid NHL defenceman.
61. It's one thing for T.J. Oshie to see his shooting percentage regress, from 23.1% last season to 14.2% this year, but another reason for dropping from 33 goals to 18 is that he generated a career-low 1.72 shots per game.
62. The San Jose Sharks waived Ryan Carpenter this season and the 27-year-old caught on in Vegas, scoring nine goals in 36 games. Nice pick-up.
63. Will Vegas play Ryan Reaves in the playoffs? He went from 6:45 per game in Pittsburgh to 9:55 per game with the Golden Knights, and with a few injuries up front, he could be part of the regular lineup.
64. The Ovechkin Spot. The Laine Spot.
Many of the advanced stats used here come from Natural Stat Trick, Corsica, Hockey Viz, and Hockey Reference.
Scott Cullen can be reached at scott.cullen@bellmedia.ca