Statistically Speaking: A look at early-season scratches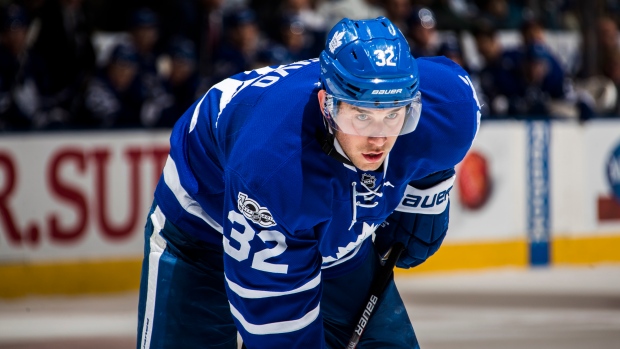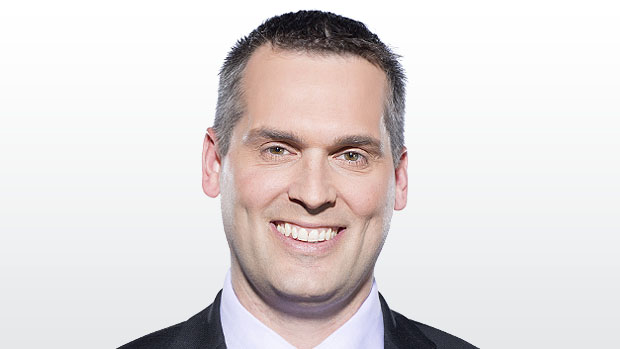 It's early in the NHL season but some players, like Vadim Shipachyov, Josh Leivo and more, are finding themselves on the outside of the lineup. A look at healthy scratches, Bobrovsky, Steen and more in Scott Cullen's Statistically Speaking.
After three weeks of NHL action, teams are starting to settle into their lineups and it's been interesting to see which players are on the outside looking in.
In some cases, they are young players who haven't been able to earn a regular spot. For someone like Logan Brown, the Ottawa Senators prospect, he ends up back in junior. For veterans on long-term deals, it can be a rather uncomfortable situation.
Then there's a case like what's happening in Vegas, where 30-year-old rookie Vadim Shipachyov was demoted to the AHL to start the year, but has been told that he is free to pursue a trade after playing a total of 31:45 in three NHL games.
At this point, teams are starting to figure out what they really have and might see some intriguing value among another team's healthy scratches in any given night.
For the most part, this list will not include young players who are still in the early stages of their careers. For example, the San Jose Sharks making Timo Meier a healthy scratch this week isn't exactly a vote of confidence, but he's also a 21-year-old who has played 41 career NHL games and sometimes, on the way up, you have to pay your dues.
These players have been determined to be unworthy of a spot in the lineup at various points this year. Some notable healthy scratches early in this NHL season:
Josh Leivo, LW, Toronto – Maybe Leivo is a 24-year-old who is simply on the way up and will eventually become a full-fledged NHLer, but he's spent a lot of time practicing and not playing games over the past year. At the same time, he has 15 points in 25 NHL games over the past two seasons, in modest ice time, so it would be interesting to see what he could contribute in a regular role, somewhere.
Vadim Shipachyov, C, Vegas – It's certainly possible that the 30-year-old centre, who scored 76 points in 50 KHL games last season, doesn't play at a quick enough pace to thrive in the NHL, but if that's the judgement after minimal ice time in three games, then it's practically lighting $9-million on fire.
Connor Murphy, D, Chicago – Chicago's decision to trade Niklas Hjalmarsson to Arizona in the offseason was a shocker and the transition to the Blackhawks has not been an easy one for Murphy, who has been a healthy scratch, is on the wrong end of the possession game (44.5 CF%) and is averaging a career-low 15:33 time on ice per game.
Jussi Jokinen, LW, Edmonton – The 34-year-old winger has lost a step, it seems, and had just one assist in his first seven games with the Oilers and that landed him in the press box this week. Jokinen has been a solid and versatile forward, but if the Oilers are intent on getting more speed in the lineup, that may not work.
Alexei Emelin, D, Nashville – A physical presence on the blueline, Emelin was selected by Vegas in the expansion draft, then flipped to the Predators, who needed improved depth on the back end. Emelin was scratched early in the year, but has averaged more than 19 minutes per game in the seven games since, despite terrible possession stats (45.9 CF%, -10.3 CFRel%).
Brendan Smith, D, N.Y. Rangers – As excited as the Blueshirts may have been to acquire Smith at the trade deadline last season, playing him more than 20 minutes per game, he's playing 16:32 per game this year and was a healthy scratch for a couple of games.
Mark Barberio, D, Colorado – When he was acquired by the Avalanche last season, Barberio went from spare part in Montreal to playing more than 20 minutes per game for Colorado. He's once again battling for a regular spot in the lineup, though he does have the best possession stats (52.0 CF%) among Avs blueliners.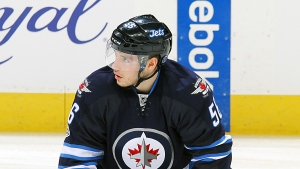 Marko Dano, RW, Winnipeg – Although Dano is just 22-years-old, he's already on his third franchise and doesn't appear to be in a good spot. With injuries hitting the Jets, Dano has been surpassed for significant prospects by other prospects and a team looking to take a shot might consider Dano, who has 42 points in 112 career NHL games, but had 21 points in 35 games as a rookie in 2014-2015.
Jori Lehtera, C, and Matt Read, RW, Philadelphia – The Flyers have a couple of veteran forwards that haven't been able to get into the lineup, with Lehtera dressing for three games and Read dressing for one. Lehtera seems to be more of a problem for Philadelphia, since he's signed for another season, beyond this one, at a cap hit of $4.7-million.
Colton Sceviour, RW, Florida – The 28-year-old winger scored 73 points, total, in the three previous seasons, and does have two points in six games this year, but since he was signed during the Panthers' Computer Boys phase, he's not part of the Panthers' current "in" crowd.
Joel Ward, RW, San Jose – An industrious 36-year-old winger, Ward has dressed for only three games this season, and this is a departure for the veteran who had missed a total of seven games in the previous four seasons.
Andrej Sustr, D, Tampa Bay – A 26-year-old who played 80 games for the Lightning last season, Sustr has dressed for only four games this year, even though Tampa Bay is regularly dressing seven defencemen. The emergence of Jake Dotchin and Mikhail Sergachev has left Sustr battling Slater Koekkoek for the last spot in the lineup.
Brayden McNabb, D, Vegas – The Golden Knights are overflowing with defencemen and would probably prefer to move someone other than McNabb, but a team looking for a physical presence on the back end might want to at least try to pry McNabb out of Vegas' hands.
Alex Petrovic, D, Florida – Even after the Panthers tap-danced their way around the expansion process to make sure that they could keep 25-year-old Petrovic, he's barely been a contributor in the early going, playing six of eight games, while getting just 14:13 of ice time per game.
Jannik Hansen, RW, San Jose – The veteran Sharks winger was a healthy scratch this week, along with Meier, and his production – one assist, nine shots on goal in seven games – certainly left him vulnerable.
Matt Beleskey, LW, Boston – When he signed a five-year, $19-million contract in the summer of 2015, it looked like a questionable deal before the ink was dry, but at least he contributed 15 goals and 37 points in his first year with the Bruins. In the year-plus since, Beleskey has three goals in 55 games.
Matt Moulson, LW, Buffalo – Scoring 11 power-play goals last season masked Moulson's troubles at this stage of his career – he scored three even-strength goals in 81 games last season and has no points in eight games this season.
Carl Soderberg, C, Colorado – The 32-year-old centre had a miserable 2016-2017 season, managing 14 points in 80 games. But, he's signed at $4.75-million per year for two years beyond the current season, so if Soderberg can find his way to even a moderately productive role it will help the Avalanche. Soderberg has four points (1 G, 3 A) in eight games.
Mike Cammalleri, LW, Los Angeles – While the 35-year-old winger does have five points in the seven games that he has played this season, four of those points came in one game.
Nic Dowd, C, Los Angeles – While Dowd produced a modest 22 points in 70 games last season he had stellar possession stats (57.6 CF%, +2.7 CFRel%) in a depth role, but he's dressed for only five games this year, hasn't recorded any points and the super early possession signs (44.8 CF%, -9.3 CFRel%) this year have not been good.
Brandon Davidson, D, Montreal – The 26-year-old has never played more than 51 games in an NHL season, and seems to be settling into a part-time role with Montreal. To his credit, though, Davidson has fared well in a sheltered role in the 15 games that he's played for the Habs (58.7 CF%, +5.2 CFRel%) going back to last season.
Nick Holden, D, N.Y. Rangers – At the same time, the Rangers haven't found a regular spot for Holden, a 30-year-old who played in 240 of 246 games in the previous three seasons. He's not exactly forcing their hands with strong play (0 PTS, 39.7 CF%, -8.3 CFRel%) in his first half a dozen games this year.
From Wednesday's games…
HEROES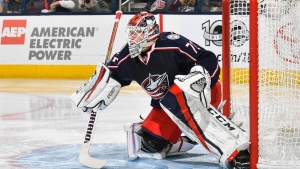 Sergei Bobrovsky – The reigning Vezina Trophy winner stopped 34 of 35 shots in a 5-1 win against Buffalo, giving him a .934 save percentage through his first seven starts.
Alexander Steen – St. Louis' 33-year-old winger was injured to start the year, suffering a broken hand in the preseason, and he was held off the scoresheet in his first three games of the year, but busted out with a goal and three assists in a 5-2 win over Calgary.
Seth Jones – Columbus' 23-year-old blueliner recorded a goal and an assist in the win over Buffalo, and has six points (2 G, 4 A) in the past six games.
Mikael Backlund – The Flames pivot scored both Calgary goals in a 5-2 loss at St. Louis. He had one assist in his previous five games.
ZEROES
Evander Kane and Jack Eichel – The Sabres' top forwards were on the wrong side (10 for, 19 against, 34.5 CF%) when they were on the ice together and were on for two goals against in a 5-1 loss at Columbus.
Eddie Lack – Making his first start of the season, the Flames netminder allowed four goals on 28 shots; it's not a disastrous start, but a .857 save percentage isn't going to do the job.
SHORT SHIFTS
Flames LW Matthew Tkachuk contributed two assists at St. Louis, giving him eight points (3 G, 5 A) in the past nine games…Blues C Brayden Schenn chipped in a couple of assists against Calgary, and has nine points (2 G, 7 A) in 10 games…Blues C Paul Stastny recorded a goal and an assist, and has 10 points (4 G, 6 A) in 10 games…Blues RW Vladimir Tarasenko scored goal and added an assist, giving him seven points (2 G, 5 A) in the past six games.
Many of the advanced stats used here come from Natural Stat Trick, Corsica and Hockey Reference.
Scott Cullen can be reached at scott.cullen@bellmedia.ca