Statistically Speaking: Atkinson's clutch hat trick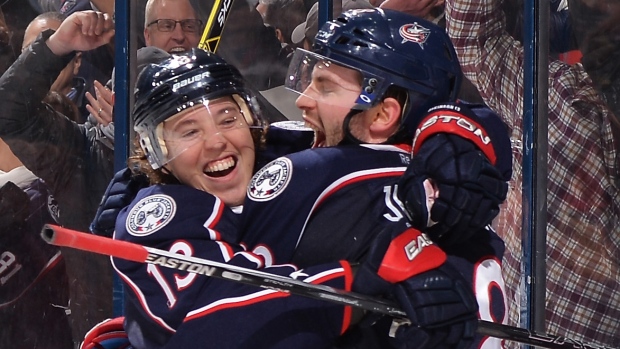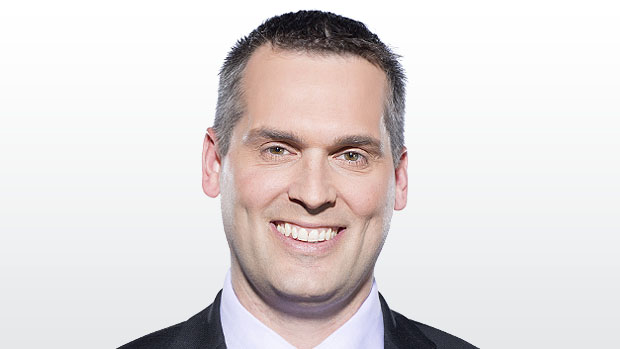 Atkinson gets a hat trick, Brassard busts out, Domingue steals a win for the Coyotes, fantasy and more in Scott Cullen's Statistically Speaking.
HEROES
Cam Atkinson – The Blue Jackets winger delivered a hat trick on 11 shot attempts (7 SOG) in a 5-2 win over Montreal. He had two points (1 G, 1 A) in his previous eight games, but Atkinson now has career-highs in goals per game (0.33) and points per game (0.61). He also came up big when it counted, at least for one fan in particular.
Derick Brassard – After being held off the scoresheet for five games, the Rangers centre erupted for five points (2 G, 3 A) in a 6-3 win over the Sabres. He's up to 0.75 points per game, the same as last season, when he produced a career-high 60 points, and 2.21 shots on goal per game, his highest since 2010-2011.
Louis Domingue – Arizona's rookie goaltender stopped 34 of 35 shots in a 2-1 shootout win at Minnesota. In 16 games, he's posted a .931 save percentage, making a strong case to remain the Coyotes starter whenever Mike Smith is ready to return. Domingue is tops in save percentage among rookie goaltenders with at least 10 games played.
ROOKIE GOALTENDER SV% LEADERS (MIN. 10 GP)
| PLAYER | TEAM | GP | SV% |
| --- | --- | --- | --- |
| Louis Domingue | Arizona | 16 | .931 |
| Connor Hellebuyck | Winnipeg | 21 | .926 |
| Philipp Grubauer | Washington | 11 | .925 |
| John Gibson | Anaheim | 21 | .923 |
| Linus Ullmark | Buffalo | 19 | .915 |
| Joonas Korpisalo | Columbus | 11 | .914 |
| Andrei Vasilevskiy | Tampa Bay | 13 | .906 |
| Mike Condon | Montreal | 33 | .904 |
| Anders Nilsson | N.Y. Islanders | 24 | .903 |
ZEROES
Rasmus Ristolainen and Zach Bogosian – Buffalo's top defence pair was on the ice for four Rangers goals against (and one goal for) in a 6-3 loss at the Rangers.
Alexey Marchenko – The Detroit defenceman had team-worst possession (10 for, 25 against, 28.6 SAT%) and was on for both Islanders goals in a 4-2 Red Wings win.
Jeff Petry – While Petry had solid possession stats (23 for, 13 against, 63.9 SAT%), he was also on for three Blue Jackets goals in Montreal's 5-2 loss at Columbus.
Mike Condon – Handling the starter's workload is proving to be too much for the Canadiens rookie. He allowed four goals on 24 shots at Columbus, and has a .895 save percentage in 19 games since December 1.
VITAL SIGNS
Danny DeKeyser – With Niklas Kronwall out, DeKeyser logged 24:38 of ice time on the ed Wings blueline at the Islanders, and scored a goal – his third consecutive game with a point.
Eric Tangradi – The 26-year-old winger made his season debut in the NHL playing 6:55 at the Islanders. He's tallied 15 points (5 G, 10 A) in 144 career NHL games, but was playing well at Grand Rapids of the AHL, posting 31 points (16 G, 15 A) with a plus-11 rating in 36 games.
SHORT SHIFTS
Sabres C Jack Eichel earned a couple of assists in a 6-3 loss at the Rangers. The rookie is finding his form lately, putting up 18 points (5 G, 13 A) in the past 17 games…Canadiens D P.K. Subban scored a goal and added an assist in a 5-2 loss at Columbus; he has 11 points (3 G, 8 A) in the past 12 games…Blue Jackets C Brandon Dubinsky recorded three assists against Montreal, giving him 12 points (4 G, 8 A) in the past 12 games…Blue Jackets LW Brandon Saad netted a pair of goals, and has 16 points (8 G, 8 A) in the past 17 games…Flyers RW Wayne Simmonds scored a couple of goals on 15 shot attempts (9 SOG) in a 3-2 loss to Boston, giving him six points (4 G, 2 A) in the past six games…Sabres RW Zemgus Girgensons scored two goals at the Rangers; he had three points (1 G, 2 A) in his previous 18 games. Dallas' fourth line of Vernon Fiddler, Colton Sceviour and Patrick Eaves dominated play against Calgary, on the ice for nine shot attempts for and none against.
Blue Jackets rookie G Joonas Korpisalo stopped 32 of 34 shots in a 5-2 win over Montreal, giving him a .948 save percentage in his past five games…Red Wings G Petr Mrazek turned away 27 of 29 shots in a 4-2 win at the Islanders; he has a .940 save percentage in his past 17 games…Bruins G Tuukka Rask had 34 saves on 36 shots in a 3-2 win at Philadelphia. He has a .933 save percentage in his past 19 games…Wild G Devan Dubnyk stopped 23 of 24 shots in a 2-1 shootout loss to Arizona, and has a .937 save percentage in his past dozen games.
FANTASY FOCUS
A look at defencemen with unsustainably high on-ice shooting percentages, and therefore likely to see their production slow down:
Marc-Edouard Vlasic – The Sharks blueliner already has 24 points (7 G, 17 A) and the last time he had more points in a season was 2008-2009. His current on-ice shooting percentage of 11.0% is notably higher than his previous career-high of 8.5%.
T.J. Brodie – Calgary's rising star defenceman has 24 points in 38 games, a career-best pace, but his on-ice shooting percentage (10.9%) is substantially higher than the 8.3% he's posted over the past couple of seasons.
Brian Campbell – He's no longer a big point producer, as he was in his best years, but the Panthers veteran still has a 10.1% on-ice shooting percentage during 5-on-5 play. The last time he finished over 8.0% was 2010-2011.
Much of the data included comes from www.war-on-ice.com, stats.hockeyanalysis.com www.hockey-reference and www.naturalstattrick.com
Scott Cullen can be reached at scott.cullen@bellmedia.ca