Statistically Speaking: Blackhawks find the net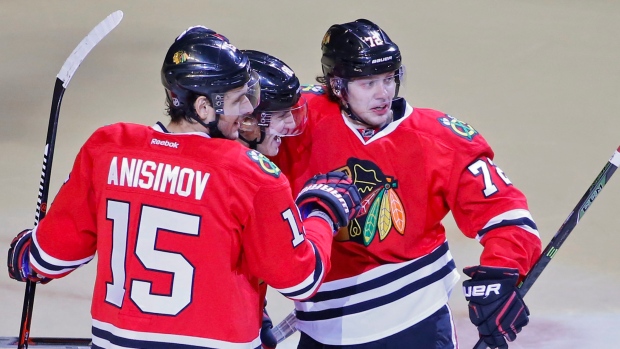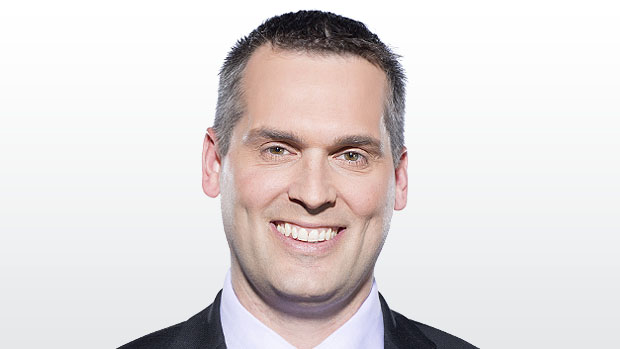 Chicago has a scoring outburst; Hall, Hossa, Schlemko, Montoya and more in Scott Cullen's Statistically Speaking.
The Chicago Blackhawks line of Artemi Panarin, Artem Anisimov and Patrick Kane exploded for five goals in a 7-4 win against Philadelphia. When they were on the ice together at 5-on-5, the trio generated 56.5% of shot attempts, and held an 8-2 edge in scoring chances.
The Blackhawks have tried different line combinations early in the season, but their one tried and true line is Anisimov between last year's rookie of the year and the reigning MVP.
Anisimov led the way with two goals and two assists against Philadelphia, while Kane added a goal and three helpers. Panarin, who had been held off the scoresheet in the first three games, put up two goals and an assist.
The trio scored three of their goals at even strength, all against the Flyers' defence pairing of Mark Streit and Ivan Provorov.
That makes 12 goals in the past two games for the Blackhawks, but those 12 goals have come on just 55 shots, so they haven't necessarily been as dominant as the scoreboard suggests.
In any case, better for the Blackhawks to get on track offensively, and if it means riding the coat tails of their big scorers, that's just fine.
HEROES
Taylor Hall – The Devils winger scored a pair of goals in a 2-1 win vs. Anaheim, making a positive impression in his first home game for New Jersey. The Devils, last year's lowest-scoring team, are still struggling to score, however, with a total of five goals in three games.
Marian Hossa – It was inevitable, since the 37-year-old winger entered the season with 499 goals, but Hossa hit the milestone, scoring the 500th goal of his career against Philadelphia. Not that it was needed to cement his case, but he's a lock for the Hall of Fame.
David Schlemko – The San Jose defenceman had a spectacular possession game (20 for, 1 against, 95.2 CF%) in a 3-2 win at the Islanders. Through four games, he's sitting at a team-leading 66.4 CF%, which plays quite nicely on the third pair.
Al Montoya – Montreal needed a strong showing with Carey Price still out of the lineup and Montoya delivered a 36-save shutout in a 4-0 win against Pittsburgh. He has a .962 save percentage in the Habs' first three games.
ZEROES
Josh Gorges – Buffalo's veteran defender couldn't get out of his own end (2 for, 18 against, 10.0 CF%, 0-8 scoring chances) in a 4-3 OT loss at Calgary.
Jeff Zatkoff – Attempting to hold the fort in the Kings goal with Jonathan Quick injured, Zatkoff was lit up for five goals on 16 shots in a 6-3 loss at Minnesota. He was pulled, and replaced by Peter Budaj, after two periods.
Michal Neuvirth – It was a rough night in Chicago for Neuvirth, the Philadelphia netminder who lasted just over 25 minutes after allowing four goals on 16 shots.
VITAL SIGNS
Tanner Pearson – Playing his first game of the season, after serving a suspension, the Kings winger scored a pair of goals in a 6-3 loss at Minnesota.
Kris Letang – Pittsburgh's star blueliner left their loss at Montreal early after getting rubbed out along the boards. Considering the other options on the Penguins defence, they can ill afford to lose Letang for a long time.
Mike Smith – Arizona's starting goaltender suffered a lower-body injury at Ottawa, opening the door for backup Louis Domingue to play a significant role, at least in the short term.
Conor Sheary – The Penguins winger was clipped by a high stick from Montreal's Alexander Radulov.
SHORT SHIFTS
Canadiens C David Desharnais scored two goals against Pittsburgh, on his only two shots in the first three games of the season…Canadiens D Jeff Petry picked up a pair of assists and has four points in three games…Canadiens LW Max Pacioretty added a goal and an assist…Sharks D Brent Burns and C Joe Thornton both had a couple of assists in a 3-2 win at the Islanders; Burns has eight points and Thornton has five assists in four games…Capitals RW T.J. Oshie scored a pair of goals in a 3-0 win over Colorado…Capitals LW Alex Ovechkin added a goal – his first of the season – and an assist, while LW Marcus Johansson had a couple of assists…Coyotes LW Jordan Martinook scored a couple of goals, while D Alex Goligoski and D Connor Murphy both added two assists…Senators LW Mike Hoffman recorded three assists, his first points of the year, and 11 shot attempts (8 SOG) against Arizona…The Senators had five players – D Erik Karlsson, C Chris Kelly, RW Tom Pyatt, RW Mark Stone and C Kyle Turris – finish with a goal and an assist against Arizona. Karlsson has seven points during a four-game point streak.
Lightning C Steven Stamkos scored the tying goal with five seconds left and added an assist in a 4-3 shootout win against Florida, giving him four points (2 G, 2 A) in three games...Wild C Erik Haula and RW Jason Pominville each had a goal and an assist in a 6-3 win over Los Angeles…Wild D Ryan Suter added a pair of assists, and has four points (1 G, 3 A) in four games…Flyers C Claude Giroux had three assists and Flyers RW Matt Read scored a pair of goals in a 7-4 loss at Chicago; Read has three goals and 11 shots on goal in three games…Blackhawks D Brent Seabrook earned three assists against Philadelphia, and has five points (1 G, 4 A) in four games…Flames D Mark Giordano had a pair of assists in Calgary's 4-3 overtime win against Buffalo…Hurricanes RW Lee Stempniak scored a pair of goals, both assisted by C Victor Rask, in a 3-2 loss at Edmonton. Stempniak has five points (3 G, 2 A) in three games and Rask has four points (2 G, 2 A)…Kings D Drew Doughty controlled play (27 for, 4 against, 87.1 CF%, 11-1 scoring chances) in a 6-3 loss at Minnesota.
Stars G Kari Lehtonen stopped 27 of 28 shots in a 2-1 win vs. Nashville. Any positive goaltending signs are cause for celebration in Big D…Predators G Pekka Rinne turned away 35 of 37 shots in the loss.
FIRSTS
Matthew Tkachuk – The sixth pick in this year's draft by Calgary scored his first NHL goal, in his third NHL game, a 4-3 OT win over Buffalo.
Anthony Beauvillier – Played a team-low 8:16 for the Islanders, yet scored his first career NHL goal in his third NHL game, a 3-2 loss to San Jose.
Michael Matheson – The defenceman who was a 2012 first-rounder of the Panthers scored his first NHL goal, in his sixth career game, a 4-3 shootout loss at Tampa Bay.
Anton Slepyshev – The Oilers winger notched his first career goal, in his 13th career game, a 3-2 win over Carolina.
Aaron Dell – San Jose's backup goaltender made his NHL debut and recorded his first win, stopping 21 of 23 shots at the Islanders.
Philipp Grubauer – Washington's goaltender had a relatively easy time recording the first shutout of his career, in his 43rd career game, stopping all 18 shots that he faced in a 3-0 win against Colorado.
FANTASY FOCUS
A couple of players to consider for your lineup tonight, with only two games on the schedule:
Mika Zibanejad – It's been a good start to his Rangers career, as he has four points in three games, having success on a line with red-hot left winger Chris Kreider.
Mitch Marner – He has one goal in two games, but the Leafs rookie has also put 10 shots on goal in those two games. If he continues to create chances like that, the goals and points will follow.
Much of the data included comes from corsica.hockey, stats.hockeyanalysis.com www.hockey-reference and www.naturalstattrick.com
Scott Cullen can be reached at scott.cullen@bellmedia.ca