Statistically Speaking: Brady and Gronk are still good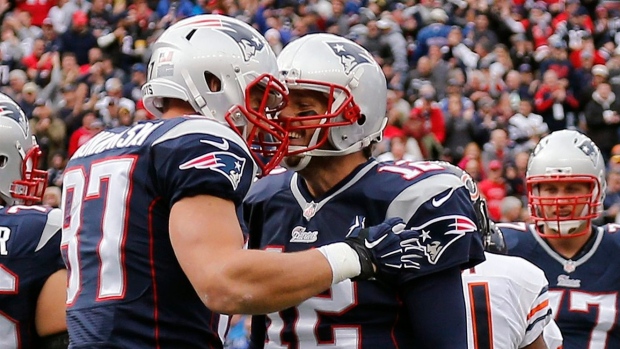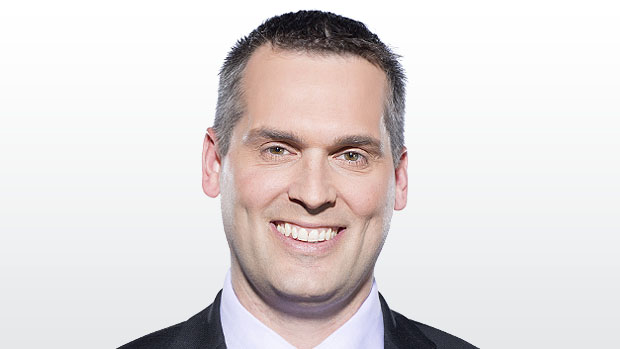 It turns out that Tom Brady and Rob Gronkowski can still play. Anderson, Gurley, Montgomery, Hunt, Crabtree and more in Statistically Speaking.
HEROES
Tom Brady, QB, New England – Completed 30 of 39 passes for 447 yards and three touchdowns at New Orleans; nothing like some Saints defence to rejuvenate a superstar quarterback who struggled in Week One. Brady has only thrown more yardage in a game twice in the regular season and once in the playoffs.
C.J. Anderson, RB, Denver – The Broncos won the battle at the line of scrimmage against Dallas and Anderson was busy, accumulating 154 yards and two scores on 29 touches.
Todd Gurley, RB, Los Angeles – Bouncing back after a tough sophomore season, the Rams running back piled up 146 yards and two touchdowns on 19 touches in a 27-20 loss to Washington.
Ty Montgomery, RB, Green Bay – It came in a losing effort at Atlanta, but Montgomery finished with 110 yards and two touchdowns on 16 touches.
Kareem Hunt, RB, Kansas City – The Chiefs' rookie runner delivered another big game, gaining 109 yards and scoring two touchdowns on 16 touches against Philadelphia.
Rob Gronkowski, TE, New England – After a disappointing Week One, Brady and Gronk had to take the heat. After pasting the Saints, and Gronkowski put up six catches for 116 yards and a touchdown on nine targets to contribute to the win, the Patriots Stars receive their due praise. He suffered a groin injury, but early indications are that it's not expected to be serious.
Michael Crabtree, WR, Oakland – The veteran receiver caught all six of the passes sent his way by quarterback Derek Carr, gaining 80 yards and scoring three touchdowns in the process.
ZEROES
Ezekiel Elliott, RB, Dallas – The Cowboys' star second-year runner was stifled at Denver, gaining eight yards on nine carries, totalling 22 yards on 13 touches overall. It was a rough week for some marquee running backs, but none more than Elliott.
Jordan Howard, RB, Chicago – He's already facing a challenge for playing time in the Bears backfield, but Howard was locked down at Tampa Bay, rushing for seven yards on nine carries.
LeSean McCoy, RB, Buffalo – The Bills couldn't move the ball on the ground at Carolina, and McCoy managed nine yards on 12 carries, redeeming his value only a little with 34 yards on six receptions.
Jimmy Graham, TE, Seattle – Targeted just twice against the 49ers, and dealing with an ankle problem, the Seahawks' tight end came up with one catch for one yard; quite a day.
Larry Fitzgerald, WR, Arizona – The veteran receiver was targeted six times and caught three passes for a modest 21 yards at Indianapolis.
10 POINTS
1. Some expected quarterbacks that had productive days: Saints QB Drew Brees, in a losing effort at home against New England, Brees connected on 27 of 45 passes for 356 yards and two scores. Raiders QB Derek Carr had an easy day against the Jets completing 23 of 28 passes for 230 yards and three touchdowns against the Jets.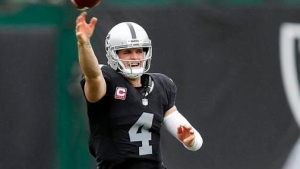 And maybe not-so-expected: Broncos QB Trevor Siemian was 22 of 32 for 231 yards with four touchdowns and an interception.Second-year Eagles QB Carson Wentz was very productive (25 of 43, 333 YDS, 2 TD, 1 INT; 55 YDS on four carries) in a losing effort at Kansas City.
2. Some more runners that had productive days: Ravens RB Javorius Allen emerged as the top option in the Baltimore backfield, gaining 101 yards and scoring one touchdown on 19 touches. Falcons RB Devonta Freeman was typically productive (100 yards, 2 TD, 21 touches) against Green Bay and 49ers RB Carlos Hyde put up 143 yards on 18 touches in a 12-9 loss at Seattle.
3. A look at backfield splits:
Seahawks rookie RB Chris Carson appears to have taken the backfield lead, gaining 100 yards on 21 touches against San Francisco. Thomas Rawls had five carries (four yards) and C.J. Prosise caught three passes for 22 yards. Eddie Lacy was inactive.
With David Johnson out, Cardinals RB Chris Johnson rushed for 44 yards on 11 carries, and Kerwynn Williams contributed 22 yards on nine carries.
Titans RB Derrick Henry emerged (92 YDS, 1 TD, 14 carries) as a better option at Jacksonville than DeMarco Murray (28 YDS, 10 touches), who is dealing with a hamstring injury.
Texans RB Lamar Miller (87 yards on 21 touches) is still getting a starter's workload, but rookie D'onta Formeman (40 yards on 12 carries) was getting more action in Week Two.
Eagles RB Darren Sproles (78 YDS, 12 touches) was much more involved than LeGarrette Blount (1 REC, 0 YDS, 1 target) in the Philadelphia offence at Kansas City.
Bengals rookie RB Joe Mixon (41 yards on 10 touches) had a slight edge on veterans Gio Bernard (26 yards on seven touches) and Jeremy Hill (19 yards on seven touches) against Houston.
Saints RB Mark Ingram (76 yards on 12 touches) was more productive than Adrian Peterson (26 yards on eight carries), and rookie Alvin Kamara (54 yards on four touches) is pushing for touches too. Any chance the Saints could trade Peterson to a team that wants him to run the ball?
Bears rookie RB Tarik Cohen was more productive (68 yards on 15 touches) than Jordan Howard (nine yards on seven carries) at Tampa Bay.
Veteran Jets RB Matt Forte (91 yards on 13 touches) had the edge on Bilal Powell (13 yards on six carries) at Oakland.
Washington RB Chris Thompson had a huge game (106 yards and two touchdowns on six touches) and may be looking at a bigger role since Rob Kelley (78 yards on 12 carries) may have suffered a fractured rib at the Rams.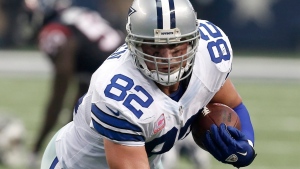 4. Old tight ends making a difference: Cowboys TE Jason Witten (10 REC, 97 YDS, 1 TD, 13 targets) and Ravens TE Benjamin Watson (8 REC, 91 YDS, 8 targets) had strong games.
5. Younger tight ends too: Chiefs TE Travis Kelce (8 REC, 103 YDS, 1 TD, 10 targets), Eagles TE Zach Ertz (5 REC, 97 YDS, 10 targets), Chargers TE Hunter Henry (7 REC, 80 YDS, 7 targets) and Colts TE Jack Doyle (8 REC, 79 YDS, 8 targets) recorded solid numbers Sunday.
6. Heavy use runners: Steelers RB Le'Veon Bell did gain 91 yards against the Vikings, but needed 31 touches to do it. Dolphins RB Jay Ajayi put up 126 yards on 30 touches at the Chargers.
7. With Allen Robinson out, Jaguars WR Allen Hurns (6 REC, 82 YDS, 1 TD, 8 targets) and Jaguars WR Marqise Lee (7 REC, 76 YDS, 12 targets) were both bigger parts of a relatively ineffective offence against Tennessee.
8. Some other receivers of note: Eagles WR Alshon Jeffery (7 REC, 92 YS, 1 TD, 13 targets) was a primary option for Carson Wentz; Chargers WR Keenan Allen (9 REC, 100 YDS, 10 targets) was targeted 10 times for the second week in a row…Dolphins WR Jarvis Landry (13 catches for 78 yards, 15 targets) is a focal point on underneath routes for QB Jay Cutler…Cardinals WR J.J. Nelson (5 REC, 120 YDS, 1 TD, 7 targets) was the big threat at Indianapolis.
9. Panthers rookie RB Christian McCaffrey managed 44 yards on a dozen touches against Buffalo, but had just 10 yards on eight carries. Chargers RB Melvin Gordon had a similar experience, finishing with 78 yards on 16 touches, but just 13 yards and a touchdown on nine carries. It was a rough week for the runners.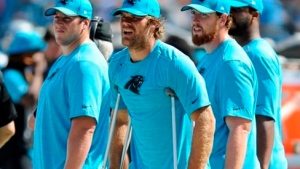 10. Panthers TE Greg Olsen suffered a broken foot and will be out 6-8 weeks. There will be more looks available for receivers Kelvin Benjamin and Devin Funchess, as well as RB Christian McCaffrey…With Vikings QB Sam Bradford injured, Case Keenum got the start at Pittsburgh and, predictably, he struggled (20 of 37, 167 yards). Bradford's absence dings the value of Minnesota receivers, notably Stefon Diggs…Washington TE Jordan Reed suffered a shoulder injury against the Rams…Browns WR Corey Coleman suffered a broken hand, leading to a big game from Browns WR Rashard Higgins (6 REC, 95 YDS, 11 targets), and not Kenny Britt (1 REC, 2 YDS, two targets)…Packers WR Jordy Nelson suffered a quad injury and was forced to leave Sunday's loss at Atlanta. Packers WR Randall Cobb is going to have an MRI on his shoulder too, leaving Davante Adams (8 REC, 99 YDs, 1 TD, 10 targets) as the primary receiving option. TE Martellus Bennett could have more value too…The Ravens lost RG Marshal Yanda, one of the league's best, for the season with an ankle injury. That will likely have a negative impact on their running game moving forward…Patriots WR Phillip Dorsett suffered a knee injury at New Orleans.
Scott Cullen can be reached at scott.cullen@bellmedia.ca