Statistically Speaking: Depth the difference for Blues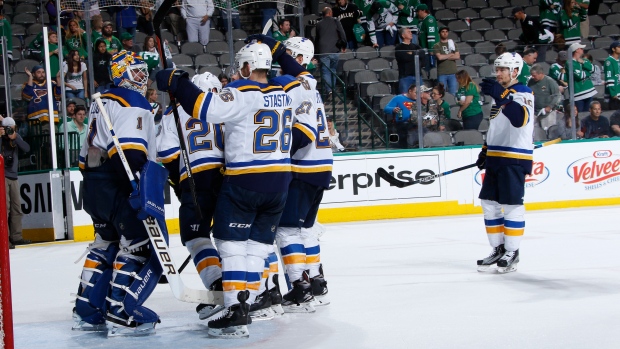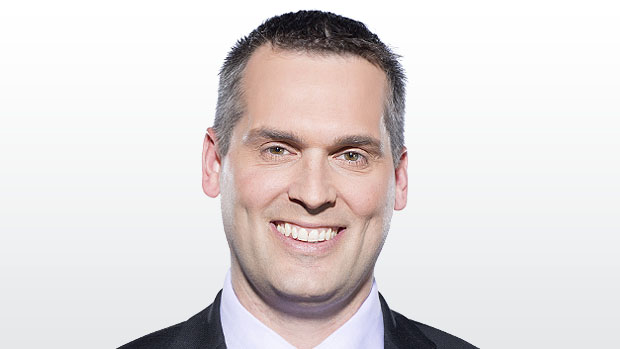 St. Louis' supporting cast finishes off the Stars; Fabbri, Brouwer and more in Scott Cullen's Statistically Speaking.
The St. Louis Blues faced a tough assignment, going on the road to Dallas for Game Seven, but it didn't take long for the Stars' game to unravel and the Blues took the series, coasting to a 6-1 victory in the deciding game.
The Game Seven goal rush started with Blues rookie Robby Fabbri, scoring 5:23 into the first period, and that was just the start for Fabbri, who added two assists, giving him eight points (2 G, 6 A) in the series. That tied Fabbri for the team lead in scoring in the series. David Backes (4 G, 4 A) and Troy Brouwer (4 G, 4 A) also finished with eight points in seven games.
That the Blues would get that kind of production out of secondary offensive threats is a good indication why they won the series. It's not like Vladimir Tarasenko (3 G, 4 A), Paul Stastny (3 G, 4 A) and Alexander Steen (3 G, 2 A) didn't contribute too, but the depth of scoring options is part of what makes this Blues team different from those that preceded it.
With Tyler Seguin injured, the Stars didn't have quite the same depth. Jamie Benn led the Stars with five points, but with only one goal, in seven games. Colton Sceviour (1 G, 3 A), Cody Eakin (1 G, 3 A), Jason Spezza (1 G, 3 A) and Alex Goligoski (2 G, 2 A) were next-best among Dallas scorers.
Stars RW Ales Hemsky had a team-leading 24 shots on goal against St. Louis, but none of them ended up in the net and no Stars had more than the two goals tallied by Goligoski as well as rookies Radek Faksa and Mattias Janmark.
The Stars made significant progress this season, getting within a game of the Western Conference Final, even though they were missing an injured Tyler Seguin in the playoffs. But, they were undone by subpar goaltending. Fortunately for the Blues, they were able to take advantage of that weakness, and they advance to the Western Conference Final.
HEROES
Robby Fabbri - The Blues rookie tallied a goal and two assists in Game Seven, and leads all rookies with 13 points (3 G, 10 A) in 14 playoff games.
Paul Stastny - He started the playoffs slowly, with two assists in the first nine games but, after a goal and two assists in Game Seven, he has seven points (3 G, 4 A) in five games since.
Troy Brouwer - This was the eighth straight series in which Brouwer participated and he delivered, with a goal and two assists, giving him 10 points (5 G, 5 A) in the past eight games.
ZEROES
Kari Lehtonen - Goaltending has been a problem in Dallas for most of the season, and those problems came home to roost in Game Seven, as Kari Lehtonen allowed three goals on eight shots before getting pulled...Antti Niemi wasn't much better in relief, allowing two goals on 10 shots.
Jason Demers - In what could be his last game with the Stars, the pending UFA defenceman was on the ice for three goals against at even strength.
Steve Ott, Kyle Brodziak and Scottie Upshall - Yes, they were protecting a lead for most of the night, but the Blues' fourth line was locked into the defensive zone (1 for, 12 against, 7.7 SAT%) in Game Seven.
STANLEY CUP HALF FULL/HALF EMPTY
Alex Goligoski - Though it was ultimately in a losing effort, the Stars defenceman had a solid series against the Blues, with four points and 59.5% possession in seven games.
VITAL SIGNS
Joel Edmundson - The Blues rookie defenceman returned to action, sending Robert Bortuzzo back to the press box.
SHORT SHIFTS
Blues G Brian Elliott bounced back after a poor Game Six performance, stopping 31 of 32 shots in Game Seven at Dallas. He has a .929 save percentage in 14 postseason starts.
Much of the data included comes from www.war-on-ice.com, corsica.hockey,stats.hockeyanalysis.com www.hockey-reference.com and www.naturalstattrick.com
Scott Cullen can be reached at scott.cullen@bellmedia.ca