Statistically Speaking: Dickey dealing for Jays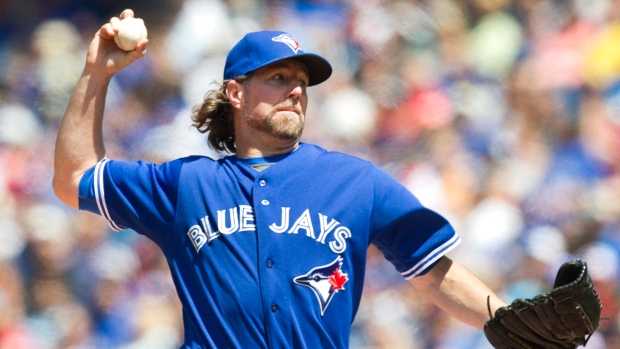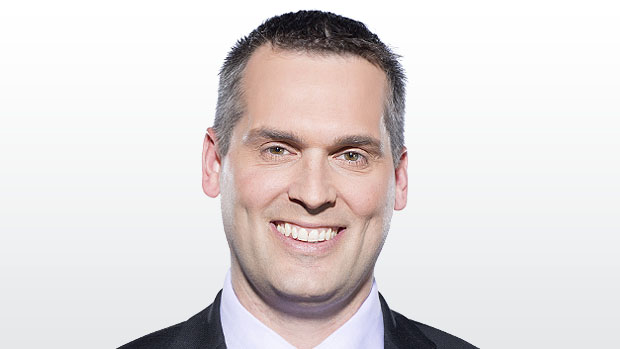 R.A. Dickey's resurgence gives Jays a boost, Strasburg, Schwarber, Severino, lineup news, closer chart, Fantasy tips and more in Scott Cullen's MLB Statistically Speaking.
HEROES
R.A. Dickey, SP, Toronto – Much was expected of Dickey when the Blue Jays acquired him from the New York Mets prior to the 2013 season, but the knuckleballer has been underwhelming. In his past seven starts, though, he's been a big part of the Blue Jays' pitching resurgence, allowing eight earned runs in 49 1/3 innings (1.46 ERA).
Matt Shoemaker, SP, L.A. Angels of Anaheim – After a stunning rookie season last year, the 28-year-old righty has been rather mediocre in his second season, but the results are getting better. He hasn't allowed a run over 19 innings in his past three starts, striking out 27, an uncharacteristically high rate.
Welington Castillo, C, Arizona – Buried in the Cubs' depth chart earlier in the year, Castillo was freed by move to the desert, where he's showcased his power with more regular playing time. Since the All-Star break, he's hitting .298 with seven homers and a 1.104 OPS.
Asdrubal Cabrera, SS, Tampa Bay – Had an 11-game hitting streak, during which he was 21-for-40 (.525 AVG) snapped Sunday. The surge raised his OPS to .706 for the season, so it's not like Cabrera is a major threat, but better than he was hanging around .620 a month ago.
ZEROES
Todd Frazier, 3B, Cincinnati – The Home Run Derby hometown hero has been crashing hard in the second half of the season. In his past 13 games, he's 5-for-49 (.102 AVG) with 17 strikeouts.
Mike Moustakas, 3B, Kansas City – What had been a breakout season for the 26-year-old third baseman is losing some of its lustre as Moustakas is 3-for-34 (.088 AVG) in his past 11 games.
Jeff Samardzija, SP, Chicago White Sox – A hot commodity who wasn't moved at the non-waiver trade deadline, Samardzija has been crushed in two starts since, throwing the lowest percentage of fastballs he has all season and allowing 16 earned runs in a total of 9 1/3 innings.
Ervin Santana, SP, Minnesota – The Twins hoped that Santana might boost their rotation for the second half of the season, once he returned from an 80-game PED suspension, and three of his first four starts were good. In three starts since, though, he's given up 17 earned runs in 14 innings (10.93 ERA).
LINEUP NOTES
Stephen Strasburg, SP, Washington – This season has been pretty much a disaster for the 27-year-old Nationals ace, though a significant part of that has been due to a .345 BABIP. In any case, Strasburg was on the DL for more than a month with an oblique strain then returned Saturday with one earned run, three hits and 12 strikeouts in seven innings against Colorado. The way things are going for the slumping Nationals, they could use the old Strasburg for the stretch run.
Kyle Schwarber, C/LF, Chicago Cubs – The Cubs have had to find a way to get this 22-year-old, the fourth overall pick in the 2014 Draft, and that's meant shifting him from behind the plate to left field once Miguel Montero returned from the DL. Well worth it for a rookie who is hitting .341 with a 1.033 OPS and six homers in his first 105 plate appearances.
Luis Severino, SP, N.Y. Yankees – A prized prospect that the Yankees wouldn't part with leading up to the non-waiver trade deadline, 21-year-old Severino blew through Double-A and Triple-A this season, posting a 2.45 ERA and 1.00 WHIP with 98 strikeouts in 99 1/3 innings through 19 starts before getting called up. He took the loss in his MLB debut, surrendering a two-run home run to David Ortiz, but Severino also struck out seven in five innings and his average fastball was 95.7 MPH.
Lance McCullers, SP, Houston – Demoted to Double-A after a disaster start (6 ER in 1/3 of an inning) at Texas on August 3, the Astros rookie may need a refresher course, but he's been really good for Houston, and had a 2.48 ERA in 13 starts before getting pasted by the Rangers.
Henry Owens, SP, Boston – As the Red Sox try to figure out what their future starting rotation will look like, they have called up the 23-year-old lefty that they selected in the first round of the 2011 Draft. He has a 3.60 ERA in 10 innings through his first two major-league starts, and had a 3.16 ERA, 1.14 WHIP and 103 strikeouts in 122 1/3 IP at Triple-A.
Jon Gray, SP, Colorado – The third overall pick in the 2013 Draft, Gray has joined the Rockies' rotation. In 21 games at Triple-A this season, he has a 4.33 ERA with a 1.49 WHIP and 110 strikeouts in 114 1/3 innings. In his first major-league start, his average fastball was 94.7 MPH, so he can bring it.
Chris Bassitt, SP, Oakland – Acquired in the offseason deal that sent Jeff Samardzija to the White Sox, Bassitt is a 26-year-old who has been particularly effective as a starter for the A's, posting a 2.27 ERA and 0.99 WHIP in seven starts. He has struck out 23 in 20 2/3 innings over his past three starts and has enough stuff, with improved velocity, that he has a shot to earn a long-term spot in the rotation.
Aaron Brooks, SP, Oakland – Picked up from Kansas City in the Ben Zobrist deal, the 25-year-old right-hander has produced a couple of strong starts for the A's, allowing two earned runs and striking out 12 in 14 1/3 innings for his new club.
Michael Bourn, LF, Atlanta – Moved out of Cleveland to become the Braves left fielder and leadoff hitter, 32-year-old Bourn can still run a bit (13 SB) could provide some value while playing out the string this season.
Coco Crisp, LF, Oakland – The 35-year-old outfielder has been injured for most of the season, but has returned to action and is playing left field for the A's while Billy Burns mans centre field. If he's healthy, Crisp can still get around the bases.
Abraham Almonte, CF, Cleveland – The Tribe have playing time available for the 26-year-old, who hasn't done much in previous stops with Seattle and San Diego. He did have a .777 OPS in Triple-A this season and has had base-stealing success (220 for 293, 75.1%) in the minors.
Nick Swisher, 1B, Atlanta – It's been a couple of years since 34-year-old was mashing 20-plus homers a year and he's been hurt for most of this season, but he's getting time at first base in Atlanta right now while Freddie Freeman is injured.
Travis Shaw, 1B, Boston – In the wake of Mike Napoli being dealt to Texas, 25-year-old Shaw takes over at first for the Red Sox. Shaw is hitting .306 with an .850 OPS in his first 40 plate appearances, but wasn't hitting much (.249 AVG, .674 OPS) at Triple-A this season.
Jose Fernandez, SP, Miami – Upon returning from Tommy John surgery, the Marlins ace is 4-0 with a 2.30 ERA and 1.02 WHIP in seven starts, but he's going to the DL with forearm soreness. So long as it doesn't have long-term effects, that's okay, because this year doesn't matter to the Marlins, but they could really use a healthy Fernandez in 2016.
Shane Peterson, CF, Milwaukee – The 27-year-old gets the starting centre field job in Milwaukee following the trade of Carlos Gomez to Houston. Peterson is hitting .308 with a .770 OPS for the season, and had a .911 OPS at Triple-A but, barring a big finish, he's more of a stopgap measure.
Chase Utley, 2B, Philadelpia – At one time the premier second baseman in the game, the 36-year-old has struggled badly for the Phillies this year, with a career-low .189 batting average and .556 OPS. He's coming off an ankle injury and, while he was out, Utley was convinced that he figured out a mechanical flaw in his swing that was due to the injury. Can he rebound over the final six weeks of the season?
Colin Rea, SP, San Diego – After obliterating Double-A batters this season, posting a 1.08 ERA and 0.81 WHIP in a dozen starts, the 25-year-old wasn't quite as successful at Triple-A, putting up a 4.39 ERA and 1.54 WHIP (with many more walks) at Triple-A. He's set to make his major-league debut for the Padres Tuesday.
Stephen Piscotty, LF, St. Louis – A first-round pick in 2012, Piscotty has pushed his way into more playing time since getting called up to the Cardinals, hitting .328 with an .806 OPS. The 24-year-old hit .272 with an .841 OPS at Triple-A, so there's some reason to believe that he can be a factor, at least as long as there is playing time available in St. Louis.
CLOSING TIME
The trade deadline means some new closers. Ken Giles, Arodys Vizcaino, Alex Wilson, Tommy Kahnle and Edward Mujica are among those with new opportunities.
CLOSER CHART
| TEAM | CLOSER | SAVES | CONVERSION | NEXT IN LINE | SECOND IN LINE |
| --- | --- | --- | --- | --- | --- |
| ARI | Brad Ziegler | 20 | 90.9% | David Hernandez | Andrew Chafin |
| ATL | Arodys Vizcaino | 2 | 100.0% | David Aardsma | Matt Marksberry |
| BAL | Zach Britton | 27 | 96.4% | Tommy Hunter | Darren O'Day |
| BOS | Koji Uehara | 25 | 92.6% | Junichi Tazawa | Alexi Ogando |
| CHC | Hector Rondon | 19 | 86.4% | Pedro Strop | Jason Motte |
| CWS | David Robertson | 22 | 81.5% | Zach Putnam | Jake Petricka |
| CIN | Aroldis Chapman | 24 | 96.0% | J.J. Hoover | Burke Badenhop |
| CLE | Cody Allen | 22 | 88.0% | Bryan Shaw | Zach McAllister |
| COL | Tommy Kahnle | 2 | 100.0% | Rafael Betancourt | John Axford |
| DET | Alex Wilson | 2 | 66.7% | Bruce Rondon | Al Alburquerque |
| HOU | Luke Gregerson | 22 | 81.5% | Pat Neshek | Chad Qualls |
| KC | Greg Holland | 25 | 89.3% | Wade Davis | Kelvin Herrera |
| LAD | Kenley Jansen | 21 | 95.5% | J.P. Howell | Jim Johnson |
| LAA | Huston Street | 26 | 89.7% | Joe Smith | Trevor Gott |
| MIA | A.J. Ramos | 18 | 78.3% | Mike Dunn | Bryan Morris |
| MIL | Francisco Rodriguez | 26 | 100.0% | Jeremy Jeffress | Will Smith |
| MIN | Glen Perkins | 30 | 93.8% | Kevin Jepsen | Casey Fien |
| NYM | Jeurys Familia | 30 | 85.7% | Tyler Clippard | Bobby Parnell |
| NYY | Andrew Miller | 24 | 100.0% | Dellin Betances | Justin Wilson |
| OAK | Edward Mujica | 1 | 25.0% | Fernando Rodriguez | Evan Scribner |
| PHI | Ken Giles | 6 | 66.7% | Luis Garcia | Jeanmar Gomez |
| PIT | Mark Melancon | 35 | 97.2% | Joakim Soria | Jared Hughes |
| SF | Santiago Casilla | 27 | 84.4% | Sergio Romo | Hunter Strickland |
| SD | Craig Kimbrel | 31 | 93.9% | Joaquin Benoit | Brandon Maurer |
| STL | Trevor Rosenthal | 33 | 94.3% | Kevin Siegrist | Seth Maness |
| SEA | Carson Smith | 12 | 85.7% | Fernando Rodney | Tom Wilhelmsen |
| TB | Brad Boxberger | 28 | 90.3% | Jake McGee | Steven Geltz |
| TEX | Shawn Tolleson | 20 | 95.2% | Sam Dyson | Jake Diekman |
| TOR | Roberto Osuna | 10 | 90.9% | LaTroy Hawkins | Aaron Sanchez |
| WSH | Jonathan Papelbon | 19 | 100.0% | Drew Storen | Casey Janssen |
Scott Cullen can be reached at scott.cullen@bellmedia.ca