Statistically Speaking: Elliott comes through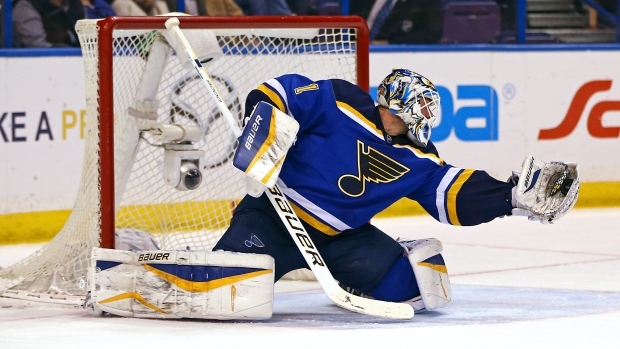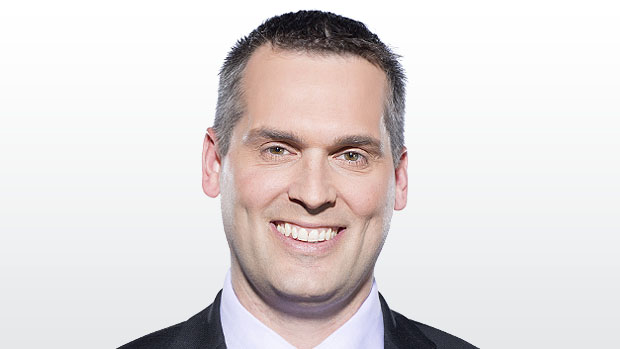 St. Louis survives a shorthanded night on the blueline, Anaheim and Chicago make a trade, fantasy and more in Scott Cullen's Statistically Speaking.
HEROES
Brian Elliott – The Blues goaltender stopped 29 of 30 shots in a 2-1 win at Detroit. He's done a nice job filling in for injured Jake Allen, and has a .934 save percentage in his past 16 games. It's not every team that can turn to their backup goaltender for an extended period and get performance of this quality. In a competitive Central Division, losing Allen could have been disastrous, but Elliott is 5-1-1 (with a .936 SV%) in seven games since Allen was injured, to keep the Blues in playoff position.
Alex Pietrangelo – The Blues defenceman logged 28:28, the ninth time in the past 10 games that he's played at least 27 minutes, and recorded two assists in a 2-1 win at Detroit. That gives Pietrangelo six points (1 G, 5 A) in the past eight games, after he accumulated six points in the previous 27 games.
Alex Tanguay – The veteran Avalanche winger had a goal and an assist in a 2-1 win against Buffalo, giving him four points (1 G, 3 A) in the past four games. Even so, the 36-year-old is still under half-a-point per game – 2009-2010 was the only time in his previous 15 seasons that Tanguay finished with a points-per-game scoring rate under 0.50.
SEKAC for GARBUTT
The Anaheim Ducks swapped young skill for veteran grit, sending Jiri Sekac to the Chicago Blackhawks for Ryan Garbutt.
Sekac is a 23-year-old winger who has just three points this season, but has 26 points (10 G, 16 A) in 91 career games. He skates well and does have some offensive ability, even if it was latent in Anaheim. He's making $925,000 on an entry-level deal and will be a restricted free agent at season's end. Even when he's not scoring, though, Sekac has been effective defensively this season.
Garbutt, 30, is a physical winger who has six points in 43 games, but contributed more in previous seasons (including 17 goals and 32 points in 2013-2014) with Dallas. Garbutt is also reasonably-priced, making $900,000 this season and next, after which he will be an unrestricted free agent.
Verdict: There isn't a landslide winner in this swap of supporting cast wingers, but the Blackhawks have added much more upside in the deal.
ZEROES
Ryan O'Reilly – The former Avalanche centre had a rough return to Denver, struggling in the possession game (10 for, 17 against, 37.0 SAT%) and on the ice for both Avalanche goals in a 2-1 loss.
Thomas Vanek – The Minnesota winger started 83% of his shifts in the offensive zone, yet had team-worst possession stats (10 for, 17 against, 37.0 SAT%) and was on for all three goals against in a 3-1 loss at Anaheim.
VITAL SIGNS
Blues D – With Colton Parayko ill and Robert Bortuzzo dealing with a lower-body injury, the Blues went with five defencemen in Detroit. Four (Pietrangelo, Kevin Shattenkirk, Jay Bouwmeester and Joel Edmundson) played more than 20 minutes, and recent call-up Andre Benoit played 16:24 against the Wings.
SHORT SHIFTS
Blues C David Backes got drilled in terms of possession (4 for, 16 against, 20.0 SAT%), but assisted on both goals in a 2-1 win at Detroit…Avalanche D Francois Beauchemin put up a goal and an assist in a 2-1 win over Buffalo; he had one point in his previous nine games…Avalanche G Semyon Varlamov had 27 saves on 28 shots in a 2-1 win vs. Buffalo; his .913 save percentage is still below league average…Sabres G Robin Lehner turned aside 33 of 35 shots in the loss at Colorado, his third start of the season…Wild G Devan Dubnyk stopped 24 of 26 shots in a 3-1 loss at Anaheim, giving him a .932 save percentage in his past dozen starts…Ducks G John Gibson had 25 saves on 26 shots in the win, and has a .924 save percentage in his past 11 games.
FANTASY FOCUS
Non-injured players that are being dropped the most in TSN leagues:
Tyler Bozak – Maybe a lack of faith in Bozak's production without James van Riemsdyk? In any case, Bozak has two assists in the past six games and is down from more than 70% ownership. Owned: 42.9%
Reilly Smith – A solid supporting winger who gets significant ice time – Aleksander Barkov and Jonathan Huberdeau are the only Panthers forwards averaging more time on ice than Smith's 18:03 per game – Smith has five points (2 G, 3 A) in the past 13 games. Owned: 30.7%
Matt Beleskey – Goals haven't come easily for Beleskey this season and with a goal and two assists in the past nine games, it's easy to find wingers that provide more offence. Owned: 34.0%
Much of the data included comes from www.war-on-ice.com, stats.hockeyanalysis.com www.hockey-reference and www.naturalstattrick.com
Scott Cullen can be reached at scott.cullen@bellmedia.ca