Statistically Speaking: Fantasy Football breakthrough candidates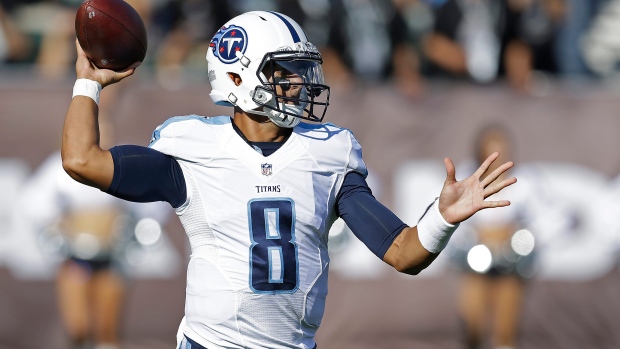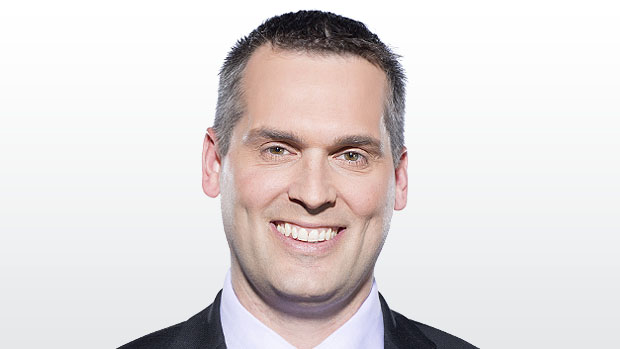 One of the challenges for any fantasy owner is finding players that are poised to break out and exceed their previous production. Hit on the right ones and it can make a big difference in your fantasy season.
Here are some potential breakthrough players to consider:
BREAKTHROUGH
Marcus Mariota, QB, Tennessee – The third-year Titans quarterbacks did take a significant step forward last season, throwing 26 touchdowns and just nine interceptions, but he's a dual threat who adds value with his rushing totals and continued development could quite reasonably make him a Top 10 quarterback this season.
Carson Wentz, QB, Philadelphia – After a promising rookie year, Wentz is going to have higher expectations for his second season, especially after the Eagles signed free agent wide receivers Alshon Jeffery and Torrey Smith. He's not likely starter-calibre in most leagues, but as an injury fill-in or an upside play for later in the season, it's worth keeping an eye on him.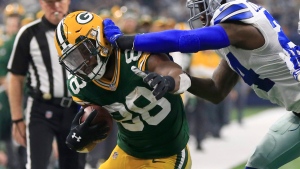 Ty Montgomery, RB, Green Bay – The converted wide receiver had 5.9 yards per carry last season and is certain to get a heavier workload as a runner this year. It shouldn't be hard, he had double-digit carries once, when he carried the ball 16 times for 162 yards and two touchdowns at Chicago. Montgomery's experience as a receiver also means that he doesn't need to leave the field on passing downs.
Paul Perkins, RB, N.Y. Giants – A fifth-round pick of the Giants last year, Perkins was a solid contributor as a rookie, gaining 618 yards from scrimmage, and now he's the best bet to lead the Giants backfield in touches, and opportunity is a big part of whether a player really has a chance to take a significant step forward. The first goal for Perkins is to find the end zone, since he didn't manage a touchdown in 127 touches as a rookie.
Ameer Abdullah, RB, Detroit – A foot injury in Week Two last season ended Abdullah's season prematurely, but the 2015 second-rounder out of Nebraska has the talent to be a legitimate starting runner and has averaged 4.3 yards per carry to this point in his career.
Robert Kelley, RB, Washington – After rushing for 704 yards and six touchdowns as a rookie, Kelley looks like he'll be the starter in the second NFL season. He'll face competition for touches from Chris Thompson and Matt Jones, and even rookie fourth-round pick Samaje Perine, but Kelley is at the top of the depth chart and should score enough touchdowns to give him real fantasy value.
Michael Thomas, WR, New Orleans – How much improvement can be expected after a rookie year in which he put up 1,137 receiving yards with nine touchdowns? That doesn't leave a lot of room to get better, but with Brandin Cooks gone to New England, that has to leave at least a few more targets for Thomas, who had 637 yards and six touchdowns in his last eight games last year.
Corey Coleman, WR, Cleveland – A first-round pick of the Browns in 2016, Coleman played 10 games as a rookie and his production was modest, with 33 catches for 413 yards and three touchdowns. Certainly, the quarterback situation for the Browns is never ideal, but if rookie DeShone Kizer takes over that would likely raise Coleman's upside higher and Kizer likely needs Coleman to make a significant move forward in his second season.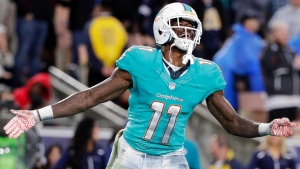 DeVante Parker, WR, Miami – The addition of strong-armed quarterback Jay Cutler should work in favour of Parker, the third-year receiver who has good size and deep speed. He made positive strides last season, going from 26 to 56 catches, and the progress should continue.
Hunter Henry, TE, L.A. Chargers – A second-round pick in 2016, Henry was a red-zone threat as a rookie scoring eight touchdowns, and while 36 catches for 478 yards was fine, he's capable of more as he battles Antonio Gates for a bigger share of the tight end looks.
Cameron Brate, TE, Tampa Bay – The Harvard grad had a breakthrough last season, with 57 catches for 660 yards and eight touchdowns, but he's not a brand-name player at the position yet and rookie O.J. Howard will take touches away, but consider that last season Brate finished with 434 yards and six touchdowns in his last nine games. If those numbers get pro-rated over a full season, then Brate's career breakthrough will continue.
Scott Cullen can be reached at scott.cullen@bellmedia.ca