Statistically Speaking: Fantasy football rookies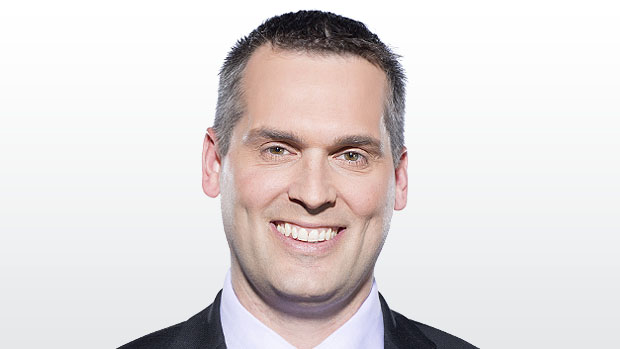 It's not easy to make the jump to the NFL from college and make an impact right away, but in recent seasons there are rookies that have been impact players right from the jump and hitting on the right rookies can sure make a difference in your fantasy fortunes.
Last year, Dallas' Ezekiel Elliott was the league's leading rusher and the year before the Rams' Todd Gurley ranked third. New Orleans wide receiver Michael Thomas was a Top-10 receiver in terms of yardage, while the Giants' Odell Beckham and Tampa Bay's Mike Evans finished in the Top 20 in 2014.
Those are the dream scenarios, getting elite production from relatively unknown commodities, but it bears watching the first year players that could find their way into regular playing time. Sometimes, all it takes is one injury for a rookie to get the chance to show what he can do.
RUNNING BACKS
Christian McCaffrey, Carolina – As a sophomore and junior at Stanford, McCaffrey accumulated 4,577 yards and 29 touchdowns, and early indications in Carolina suggest that McCaffrey is going to be a major part of the Panthers' offence right from the start. He's silenced questions about his ability to run inside and already looks like an exceptional receiver out of the backfield, which gives him the potential to be a star.
Leonard Fournette, Jacksonville – The fourth overall pick out of LSU, Fournette was a dominant physical runner in college and that should continue with the Jaguars. He rushed for 3,830 yards and 40 touchdowns in 32 college games. Maybe he's not going to be a notable receiver, but 1,000 rushing yards and double-digit touchdowns is on the table.
Dalvin Cook, Minnesota – While veterans Latavius Murray and Jerick McKinnon might get some touches, it is looking like the second-round pick out of Florida State is going to be the Vikings' main ball carrier. He piled up 4,188 yards and 40 touchdowns in 25 games as a sophomore and junior with the Seminoles, so he's coming to the league with a productive track record.
Joe Mixon, Cincinnati – Coming out of Oklahoma, Mixon carries off-the-field baggage stemming from an assault, but he's a strong runner who had 6.8 yards per carry and 26 touchdowns in 25 games with the Sooners. Mixon has to battle Jeremy Hill and Gio Bernard for touches with the Bengals, and that presents an element of risk, but Mixon offers real upside.
Others (aka backups with potential): Kareem Hunt, Kansas City; Alvin Kamara, New Orleans; James Conner, Pittsburgh; Samaje Perine, Washington
WIDE RECEIVERS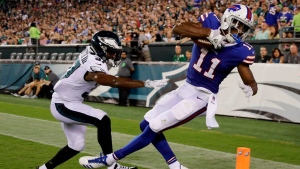 Zay Jones, Buffalo – After the Bills traded Sammy Watkins and saw Anquan Boldin retire, there are few great receiving options for quarterback Tyrod Taylor, and Jones is coming off a senior year at East Carolina in which he caught 158 passes for 1,746 yards and eight touchdowns. He may end up getting a bunch of targets right out of the gate.
Cooper Kupp, Los Angeles – His upside may have taken a hit by the Rams' acquisition of Watkins, but the 6-foot-2 receiver out of Eastern Washington has a chance to provide value. While he's making a jump from a lower level of competition, Kupp was ridiculously productive, putting up 428 catches for 6,464 yards and 73 touchdowns in 52 games. He may be the Rams' No. 3 receiver, behind Watkins and Robert Woods, but Kupp should have a chance to contribute.
John Ross, Cincinnati – The fastest player at the Combine, with a record-setting 4.22 seconds in the 40, Ross does have big-play potential. He's dealing with a shoulder injury, and had one productive college season (81 catches, 1,150 yards and 17 touchdowns last season), and is on a team with more established options (A.J. Green, Brandon LaFell and Tyler Boyd), but maybe the Bengals will find a way to take advantage of Ross' speed.
Mike Williams, L.A. Chargers – The seventh pick in the draft is out with a back injury and may not play until October, so there's no need to draft Williams, and San Diego has established receivers too, but Williams was really productive (98 catches, 1,361 yards, 11 touchdowns) at Clemson last season nad obviously has long-range value.
Corey Davis, Tennessee – The fifth pick in the draft, Davis has been struggling in camp with a hamstring injury. He was hugely productive in college (331 catches, 5,278 yards, 52 touchdowns in 50 games at Western Michigan), and there is an opportunity to step into a big role with a really good quarterback, but he needs to get on the field.
Others: Curtis Samuel, Carolina; Kenny Golladay, Detroit; JuJu Schuster, Pittsburgh; Taywan Taylor, Tennessee
TIGHT ENDS
O.J. Howard, Tampa Bay – Long-term, Howard should be a force, because he's an athletic 6-foot-6 target, but he's also trying to get into a Bucs offence that already has Cameron Brate as the No. 1 tight end. Nevertheless, Howard had 83 catches for 1,197 yards in 27 games as a junior and senior at Alabama.
Evan Engram, N.Y. Giants – He's built more like a wide receiver than a prototypical tight end, but that should find Engram some favourable matchups. He's behind wideouts Odell Beckham and Brandon Marshall in the pecking order, but Engram does have a chance to make an impact right away.
Others: David Njoku, TE, Cleveland; Gerald Everett, TE, Los Angeles
QUARTERBACKS
DeShone Kizer, Cleveland – The Notre Dame product appears ready to overtake Brock Osweiler to get the Browns' starting job, so that is at least an open door to playing time. The bigger issue for Kizer is that, aside from Kenny Britt, most of the targets in the Browns' passing game are relatively inexperienced too.
Mitch Trubisky, Chicago – The calls are getting louder for the Bears' first-rounder to get the starting nod ahead of free agent addition Mike Glennon, and while Trubisky only had one year as a starter at North Carolina, it was a phenomenal season (3,748 passing yards, 30 TD, 6 INT) and if Trubisky plays, he's got some decent receivers to work with in Chicago.
DeShaun Watson, Houston – The Texans have indicated that Tom Savage will be the starter, but it's not like a 27-year-old with 92 career passing attempts has the job locked down and Watson is a dual threat who can run as well as throw the ball – he passed for 4,593 yards and 41 touchdowns, adding 629 yards and nine touchdowns on the ground at Clemson last season.
Scott Cullen can be reached at scott.cullen@bellmedia.ca