Statistically Speaking: First quarter NHL awards
Who will be in, and who will be out of playoffs in the East?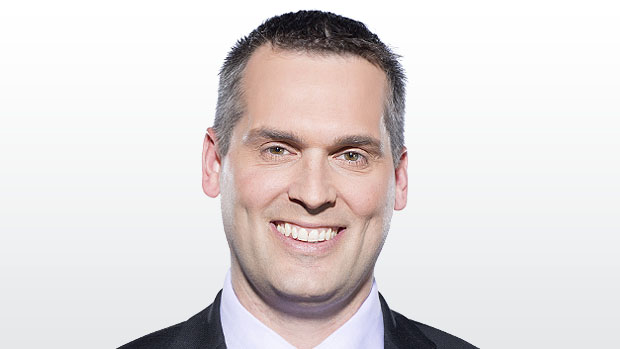 After the first quarter of the NHL season, Scott Cullen weighs in with his award picks, with some new faces appearing in starring roles.
HART
Winner: Nikita Kucherov, RW, Tampa Bay
Runners-Up: John Tavares, C, N.Y. Islanders; Jaden Schwartz, LW, St. Louis
Kucherov emerged as a bona fide star last season, putting up big numbers even with Steven Stamkos out of the lineup, and together this season they are 1-2 in the scoring race. The edge goes to Kucherov, at least in part, because he's been the finisher, and while Stamkos is the league's leading scorer with 36 points in 21 games, only three of his 10 goals have come at even strength, while 14 of Kucherov's league-leading 17 goals have come at evens.
Tavares is riding some high percentages at this point (23.8 SH%, 12.2 OiSH%) that suggest he's likely to regress as the season progresses, but these picks aren't about sustainability – it's rewarding play through the first quarter of the season and Tavares, who has 15 goals in 21 games, to rank second behind Kucherov, has been a driving force for the Islanders.
There are quite a few legitimate candidates for a runner-up spot, but I'm going to go with Blues winger Jaden Schwartz, not only because his 26 even-strength points is six more than Stamkos and Kucherov, and four more than linemate Brayden Schenn, but he's driving play on what may be the best line in hockey through the first quarter of the season. Just as Stamkos could take votes from Kucherov, Vladimir Tarasenko and Brayden Schenn could take votes from Schwartz, but all have performed at a very high level.
Some others to consider: Ottawa's Mark Stone has 13 goals in 20 games, and all 13 are at even strength; Toronto's Auston Matthews is currently in his worst scoreless drought of the season – it's been two games; Edmonton's Connor McDavid is scoring at a better rate, with 28 points in 22 games, than he did to win the scoring race last season, and continues to tilt the rink in the Oilers' favour when he's on the ice.
NORRIS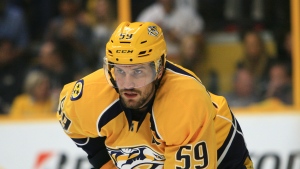 Winner: Roman Josi, Nashville
Runners-Up: Erik Karlsson, Ottawa; Jared Spurgeon, Minnesota
Josi has two top-five Norris finishes to his credit already, but he's off to a fantastic start this season, scoring at a career-best rate (5 G, 9 A in 18 GP), generating shots (3.9 per game) at a career-best rate, and driving play (53.4 CF%, +8.1 CFRel%) at a career-best rate. It seems that playing with Mattias Ekholm agrees with Josi.
Is Josi the best defenceman in the league? Well, no, that would be Erik Karlsson, but that evaluation encompasses years of evidence, not the 15 games that Karlsson has played this season. Karlsson's been typically great this season, and has 17 points in 15 games despite being held off the scoresheet in the past four games. He's driving play, but Karlsson is having the ice tilted little in his favour with a higher percentage of offensive zone starts than Josi, and Karlsson's shot rate (2.4 per game) is his lowest since his rookie season. If I have to pick one that will be in the discussion at the end of the season, it would be Karlsson but, through the first quarter, Josi gets the edge.
The second runner-up spot may be a notable step down from the top two, but it goes to Minnesota's Jared Spurgeon, who does play with Ryan Suter, but Spurgeon has been excellent, driving play and increasing his offensive output. It also appears that the more dangerous shots against the pair are coming away from Spurgeon's side of the ice.
Top pairs like Anaheim's Hampus Lindholm with Josh Manson, Calgary's Mark Giordano with Dougie Hamilton, and Columbus' Zach Werenski with Seth Jones, could very well have Norris contenders emerge. Lindholm has really been great, but has only played 13 games and, especially in this first quarter sample, it can be hard to draw a big distinction between some of the league's top pairs.
VEZINA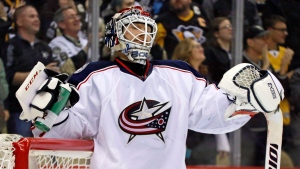 Winner: Sergei Bobrovsky, Columbus
Runners-Up: Corey Crawford, Chicago; Jonathan Quick, Los Angeles
Measuring goaltenders is a tricky bit of business, but with more information, it's getting better. Starting with something like save percentage is a fair beginning, but there is more nuance that should go into the evaluation. We can start looking at the quality of shots that a goaltender has faced, and we can see that Corey Crawford (here), Jonathan Quick (here), Martin Jones (here) and Braden Holtby (here) look like they are facing some high-quality shots against.
On the other hand, some goaltenders that have put up good numbers, like Calgary's Mike Smith (here) and Winnipeg's Connor Hellebuyck (here), have benefitted from their teams not allowing as many high-quality shots against.
Ultimately, I'm siding with Bobrovsky. Even though he's not facing the highest-quality shots against, his 5-on-5 save percentage (.945), relative to expected save percentage (.920), is best among starting goaltenders.
SELKE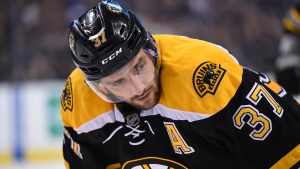 Winner: Patrice Bergeron, C, Boston
Runners-Up: Mikael Backlund, C, Calgary; Aleksander Barkov, Florida
You're going to have to pry the Selke from Patrice Bergeron's death grip, most likely, because the Bruins simply dominate play (58.5 CF%, +8.9 CFRel%) with him on the ice. He is getting a higher percentage of offensive zone starts (61.6%) than ever before but, with all of Boston's injuries, that may be out of necessity rather than a long-range shift in philosophy.
Flames centre Mikael Backlund drives play like Bergeron, but is still starting more of his shifts in the defensive zone. Same goes for Florida's Aleksander Barkov, who does just about everything for the Panthers while playing 22:47 per game.
Others with strong two-way games that deserve consideration include some from my Hart mentions, Jaden Schwartz and Mark Stone, as well as Philadelphia's Sean Couturier and Washington's Nicklas Backstrom.
CALDER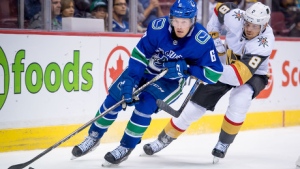 Winner: Brock Boeser, RW, Vancouver
Runners-Up: Clayton Keller, RW, Arizona; Mathew Barzal, C, N.Y. Islanders
Boeser is the leading rookie scorer, with 11 goals and 21 points in 19 games. Even after he scored four goals in nine games last season, which caused some excitement and optimism for a full rookie campaign in 2017-2018, he was a healthy scratch for the first two games of the year, but now he's shown such a lethal shot that he's Vancouver's leading scorer and, even if he's not a play-driving force, his production is difficult to ignore.
Keller burst out of the gate with 11 goals in 16 games, but has now gone eight straight without finding the back of the net, and he's not generating shots like he did early in the year. Nevertheless, he has seven more points than any other forward in Arizona, and is the biggest reason for optimism on the team with the league's worst record.
While Keller started hot and has cooled a bit recently, Barzal didn't record a point in the first five games of the season. Since then, he has 20 points in 16 games and is a dangerous playmaker who anchors the Islanders' second line.
In the preseason, Keller was my pick to be the top scoring rookie, but I had no inkling that any of the rookie would be pushing a point per game like Boeser, Keller and Barzal have to this point in the season.
A few other freshmen of note: Tampa Bay's 25-year-old Yanni Gourde played 20 games last season, but has emerged as a sold second-line player. His teammate in Tampa Bay, 19-year-old Mikhail Sergachev is only playing 14 minutes per game, but he's been very productive in his sheltered usage.
It's an interesting rookie class, probably more appealing than expected, and I could list another half dozen, but let's leave it with those for now, and see where the dust settles around midseason.
JACK ADAMS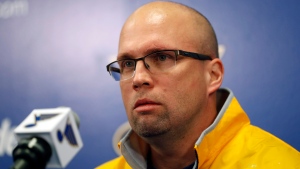 Winner: Mike Yeo, St. Louis
Runners-Up: Gerard Gallant, Vegas; Travis Green, Vancouver
One of the things that I try to avoid when trying to guess at the best coach, is to avoid someone riding a PDO wave (combined on-ice shooting and save percentages), because I don't have much reason to suspect that a coach is responsible for that variance in extreme cases.
At the same time, teams that are exceeding expectations are often the place where coaching changes have occurred, so it's hard to recognize coaching improvement, particularly in a quarter season sample.
Nevertheless, one of the factors that I do think coaches deserve some credit for is being able to withstand injuries. In some cases, an injury or two can completely derail a team, whereas there are others than manage to keep pushing forward. That's essentially why I'm going with Mike Yeo as my pick for best coach of the first quarter, because the Blues came out of training camp with a bunch of injuries and it looked like this team could be life-and-death to be a playoff team, as opposed to battling Tampa Bay for the best record in the league.
Vegas has exceeded all expectations, but what's most impressive about it is that they were down to their fourth-string goaltender 10 games into the season. They didn't fold, have managed to put up 27 points in 20 games, and their improving possession numbers indicate that while they probably can't keep this pace, the Golden Knights may not be looking at a dramatic collapse either.
Vancouver was expected to be lingering around the bottom of the barrel, but that hasn't been the case thus far. Certainly some of the credit should go to new head coach Travis Green, though he is the beneficiary of great goaltending from Jacob Markstrom and Anders Nilsson, whose .937 save percentage at 5-on-5 ranks second in the league.
A couple of others to consider include the Islanders' Doug Weight and New Jersey's Jon Hynes.
Now, to the Fantasy All-Stars: players who would have been available in mid-to-later rounds (if not undrafted altogether) that are producing at a high level.
C – Sean Couturier, Philadelphia
LW – Vladislav Namestnikov, Tampa Bay
RW – Dustin Brown, Los Angeles
D – Mike Green, Detroit
D – Mattias Ekholm, Nashville
G – Connor Hellebuyck, Winnipeg
Honourable mentions: Mike Smith, G, Calgary; Morgan Rielly, D, Toronto; Josh Manson, D, Anaheim; Josh Bailey, LW, N.Y. Islanders; Mika Zibanejad, C, N.Y. Rangers; Anthony Mantha, RW, Detroit
Many of the advanced stats used here come from Natural Stat Trick, Corsica, HockeyViz, and Hockey Reference.
Scott Cullen can be reached at scott.cullen@bellmedia.ca