Statistically Speaking: Hornqvist cleans up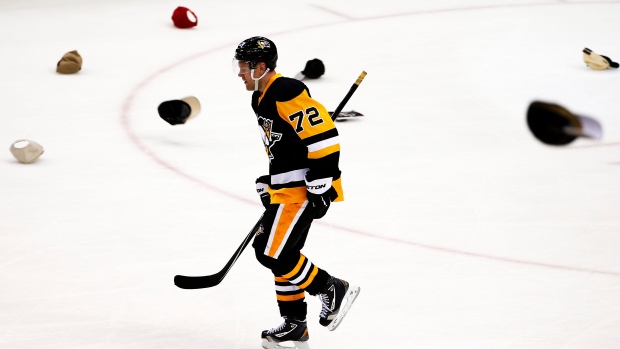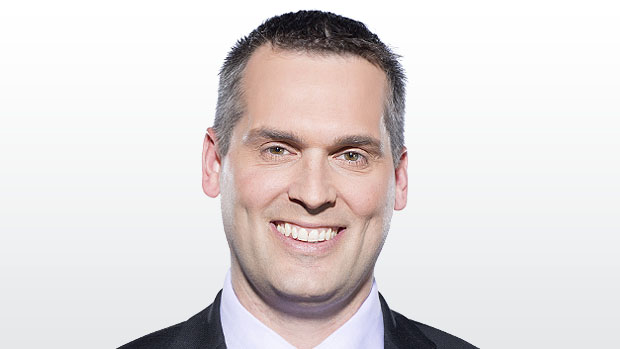 Hornqvist's hat trick, Elliott, Zatkoff, Kucherov and more in Scott Cullen's Statistically Speaking.
Pittsburgh Penguins right winger Patric Hornqvist entered the 2016 playoffs with five goals in 29 career postseason games. He was the opening night star for the Penguins though; scoring three goals and adding an assist in a 5-2 win over the New York Rangers.
As I noted in 77 things about the NHL playoffs, the Penguins line of Hornqvist, Sidney Crosby and Chris Kunitz was the league's best possession trio, getting better than 61% of shot attempts at even strength during the regular season, and that kind of territorial dominance will lead to goals.
It certainly did in Game One. Hornqvist opened the scoring when rookie winger Conor Sheary beat Rangers defenceman Dan Girardi to a loose puck behind the Rangers net, feeding Hornqvist, who shovelled the puck home.
Then, Hornqvist delivered a nice pass to spring Sidney Crosby for a breakaway goal and a 2-0 Penguins lead.
On a third period power play, Sidney Crosby's shot hit Phil Kessel in front of the net and the puck was sitting in the crease for Hornqvist to knock home.
Finally, Hornqvist was the recipient of a Crosby stretch pass late in the third period, leading to an empty-net goal.
None of Hornqvist's markers were the most aesthetically pleasing, but that's not unusual. The Penguins have players who can finish with style; sometimes it's good to just have a winger like Hornqvist who will finish.
HEROES
Brian Elliott - Even as the St. Louis Blues were outshot 35-18, Elliott backstopped the Blues to a 1-0 overtime win over Chicago in Game One. He had a league-leading .930 save percentage during the regular season but, entering the 2016 playoffs, Elliott had a .897 save percentage in 19 career postseason appearances.
Jeff Zatkoff - A surprise starter for Pittsburgh in Game One, Zatkoff stopped 35 of 37 shots in a 5-2 win over the Rangers. The 28-year-old has a .915 save percentage in 35 career NHL games, but didn't even practice with the Penguins on Tuesday, when it appeared that Marc-Andre Fleury would be ready to start the series. After Zatkoff's performance in Game One, there may be a little less urgency to have Fleury return to the net.
The New Triplets - Alex Killorn has been skating with Tyler Johnson and Nikita Kucherov and that line was responsible for all three goals in Tampa Bay's 3-2 win over Detroit in Game One.
Kucherov, the Lightning's leading scorer during the regular season who finished the season with 17 points (6 G, 11 A) in his last 17 games, scored Tampa Bay's first two goals, and added an assist against Detroit.
Killorn scored the winner, and added an assist, while Johnson had a pair of assists. Johnson, Kucherov and Killorn were Tampa Bay's top three scorers in last year's run to the Cup Final.
Sidney Crosby - Pittsburgh's superstar centre picked up a goal and two assists in the Game One win. Crosby finished the regular season with points in 20 of the last 21 games.
ZEROES
Dan Girardi - The Blueshirts defenceman was on the ice for two even-strength goals against and had subpar (12 for, 14 against, 46.2 SAT%) in the Game One loss at Pittsburgh.
Darren Helm - The Red Wings veteran was on the ice for all three goals against (and one for) in a 3-2 Game One loss at Tampa Bay.
Justin Schultz - With the Penguins dressing seven defencemen, Schultz played just 5:52 against the Rangers, but struggled at even strength, on for four shot attempts for and 11 against (26.7 SAT%).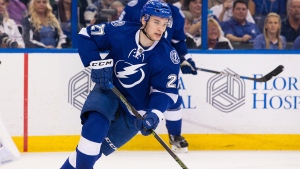 STANLEY CUP HALF FULL/HALF EMPTY
Jonathan Drouin - The second-year Lightning winger played 18:09 against Detroit, second-highest among Tampa Bay forwards, and was an active participant while skating with Valtteri Filppula and Ondrej Palat. However, while Drouin played a notably physical game, he also took two minor penalties and was deemed offside on a video challenge, negating a Victor Hedman goal. All in all, it was an encouraging performance from Drouin, who appears to have worked his way out of Jon Cooper's doghouse.
VITAL SIGNS
Henrik Lundqvist - The Rangers' star goaltender was forced to leave the game after taking a stick in the eye from defenceman Marc Staal. Lundqvist is considered day-to-day, but an eye injury is obviously a serious issue. While Lundqvist is out, Antti Raanta takes over in the Rangers net.
Olli Maatta - The reason that the Penguins went with seven defenceman against the Rangers was that Maatta returned to the lineup. He had been out since March 24 with a lower-body injury.
Trevor van Riemsdyk - With Duncan Keith serving the final game of his suspension, TvR played 28:12, ranking second among Blackhawks blueliners (behind Brent Seabrook's 30:35).
SHORT SHIFTS
Rangers C Derek Stepan scored both of his team's goals in Game One; he finished the regular season on a roll, with 22 points (8 G, 14 A) in the past 18 games…Penguins D Kris Letang continued his torrid pace, with two assists in Game One. He had 14 points (3 G, 11 A) in the last 11 games of the regular season…Lightning G Ben Bishop stopped 34 of 36 shots in the Game One victory…Blues RW Vladimir Tarasenko registered eight shot attempts, but had only one shot on goal…Blues LW Patrik Berglund assisted on David Backes' game-winning goal, but had game-worst possession stats (4 for, 17 against, 19.1 SAT%)…Blues rookie D Joel Edmundson had sensational possession numbers (20 for, 4 against, 83.3 SAT%), dominating against Chicago's fourth line.
Much of the data included comes from www.war-on-ice.com, corsica.hockey, stats.hockeyanalysis.com www.hockey-reference and www.naturalstattrick.com
Scott Cullen can be reached at scott.cullen@bellmedia.ca