Statistically Speaking: Hurricanes, Flames swing blockbuster trade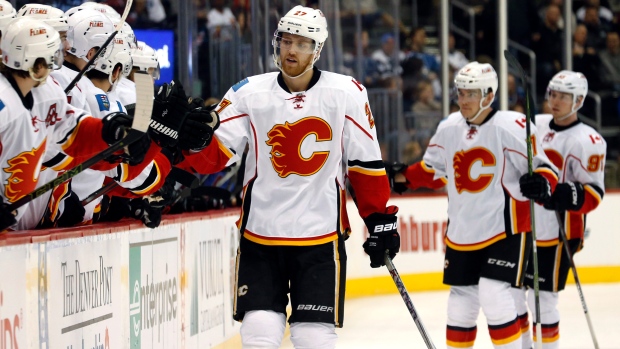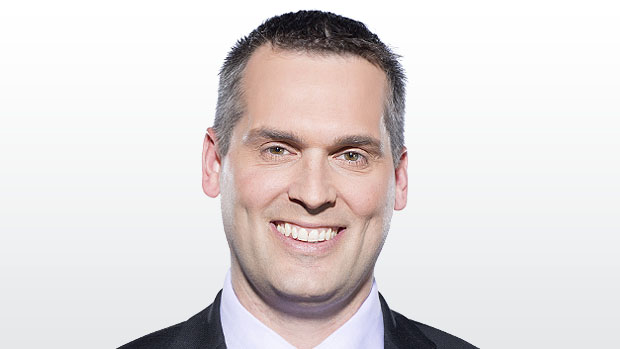 The Calgary Flames broke up the league's top defence pairing in a blockbuster trade with the Carolina Hurricanes.
Statistically Speaking looks into a deal that involves four players players that had significant roles on their teams along with a high-end prospect.
2017-2018 NHL STATS
| PLAYER | TEAM | POS | GP | G | A | PTS | CF% | CF%Rel | PDO | OZS% | ATOI |
| --- | --- | --- | --- | --- | --- | --- | --- | --- | --- | --- | --- |
| Dougie Hamilton | Calgary | D | 81 | 17 | 27 | 44 | 57.6 | 6.7 | 98.7 | 53.0 | 21:32 |
| Micheal Ferland | Calgary | RW | 77 | 21 | 20 | 41 | 51.9 | -2.0 | 101.6 | 56.1 | 15:01 |
| Noah Hanifin | Carolina | D | 79 | 10 | 22 | 32 | 56.2 | 2.5 | 96.9 | 62.8 | 18:52 |
| Elias Lindholm | Carolina | RW/C | 81 | 16 | 28 | 44 | 53.3 | -1.8 | 97.4 | 56.9 | 17:54 |
2017-2018 PROSPECT STATS
| PLAYER | TEAM | POS | GP | G | A | PTS | +/- |
| --- | --- | --- | --- | --- | --- | --- | --- |
| Adam Fox | Harvard (ECAC) | D | 29 | 6 | 22 | 28 | +3 |
The Flames Get: C/RW Elias Lindholm and D Noah Hanifin
Lindholm, 23, is a talented forward who can play wing and centre, but he has yet to surpass 45 points in any of his five NHL seasons.
While he generates chances, and tends towards favourable shot differentials, he's been a relatively low percentage finisher (8.9% career shooting percentage) who plays with low percentage finishers – over the course of five seasons, his 5-on-5 on-ice shooting percentage is 6.2%, which is remarkably low for a player who plays on a scoring line.
Calgary does offer a wonderful opportunity for Lindholm, though, as he should get a chance to play the right side on the top line with Johnny Gaudreau and Sean Monahan.
A restricted free agent, Lindholm is looking at a significant raise. According to Matt Cane's free agent model, Lindholm could be looking at a deal of five years at nearly $5-million per season.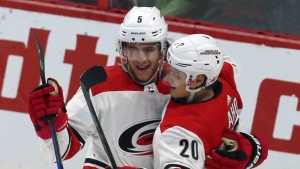 Hanifin is a 21-year-old blueliner who was the fifth pick in the 2015 Draft and has already played three seasons. He hasn't had to deal with difficult minutes, and played a career-high 18:52 this season, but he's a young defenceman on the rise who will take on a bigger role with the Flames.
In Calgary, Hanifin is set to play on the second pairing alongside Travis Hamonic, with T.J. Brodie rejoining Mark Giordano on the Flames' top pair. Hamonic and Brodie struggled last year, so perhaps Hanifin can make that work better. While he was outscored 58-48 at 5-on-5 in Carolina last year, Hanifin had spectacular shot rates, both offensively, and defensively.
Hanifin is also a restricted free agent, coming off his entry-level deal, and Cane's model suggests that a two-year bridge deal, at a cost of a little more than $2.3-million per season, is warranted. It would come as no surprise if the Flames were to make a bigger commitment to Hanifin with expectations that he'll be a big piece of their defence for years to come.
The Hurricanes Get: D Dougie Hamilton, RW Micheal Ferland and D Adam Fox
Hamilton, 25, is one of the premier right-handed defencemen in the league, coming off an outstanding season, at both ends of the rink, alongside Giordano on Calgary's top pair.
He's a fluid skater at 6-foot-6, and while he could play with more of an edge, Hamilton's skill puts him in the top tier of defencemen. In the past two seasons, Brent Burns and Victor Hedman are the only defencemen with more goals than Hamilton's 30.
In Carolina, Hamilton figures to be on the second pair, where he can play more of an offensive role, while Jaccob Slavin and Brett Pesce handle the shutdown defensive role. At the moment, Carolina has an imbalance of right-handed shots on the blueline. In addition to Pesce and Hamilton, Justin Faulk and Trevor van Riemsdyk are right shots, so it appears that Faulk could be expendable, unless Carolina is going to run a pair of two right-shot defencemen in its top four.
In addition to the benefits that Hamilton provides on the ice, he also comes with a rather appealing contract, signed for three more years at a cap hit of $5.75-milion per year. For a first-pair defenceman, that's nice value.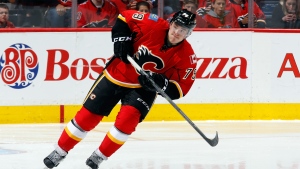 Ferland is a 26-year-old winger who had battled his way into a prominent role with the Flames. He was probably playing over slot when he was skating on the first line, but 36 of his 41 points last season were at even strength, and his 2.05 points/60 was more than respectable. He plays a physical game and can shoot the puck.
In Carolina, he's probably better suited to a middle-six role, but that may depend on what other moves the Hurricanes have up their sleeve.
Ferland is under contract for just one more season, at a $1.75-million cap hit, after which he will be an unrestricted free agent.
Fox may be the wildcard in this deal. The 20-year-old right-shot defenceman was a third-round pick in 2016, but has quickly established himself as a top prospect, putting up 68 points in 64 games in two seasons at Harvard while adding nine points in 14 games at the past two World Juniors.
The risk for the Flames was that Fox would not sign a contract, and ultimately elect unrestricted free agency when his collegiate days were done. Now that risk carries over to the Hurricanes, but if they can convince Fox to sign on that would be a huge get for Carolina.
Verdict: The Hurricanes get the better talent in the deal – Hamilton is clearly the best player – but the contracts have potential to be more favourable for Calgary; that is, the players are under team control for longer. Nevetheless, if the Hurricanes secure Fox's services, then that would tip the scales, making Carolina's edge quite significant overall.
Many of the advanced stats used here come from Natural Stat Trick, Corsica, Hockey Viz, and Hockey Reference.
Scott Cullen can be reached at scott.cullen@bellmedia.ca