Statistically Speaking: Kamara earning bigger role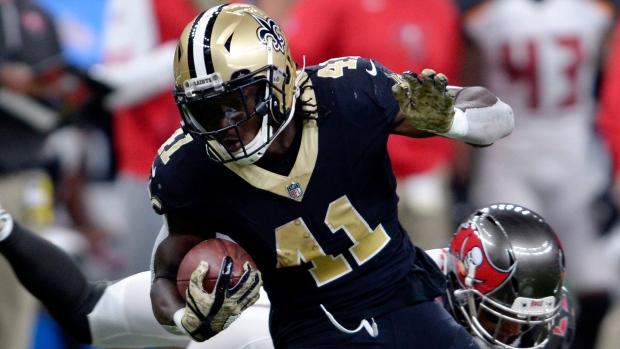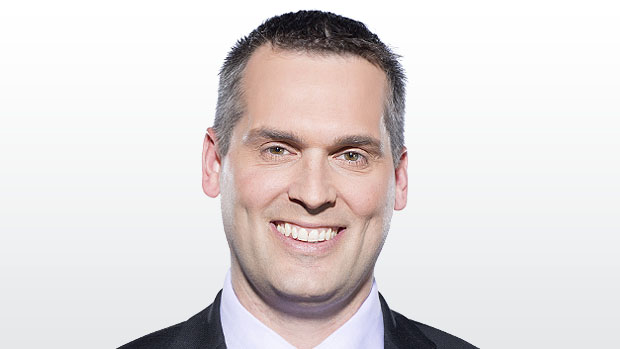 Kamara is picture perfect for the Saints, Goff gets it done for the Rams and Hilton hammers the Giants in Scott Cullen's Statistically Speaking.
HEROES
Alvin Kamara, RB, New Orleans – The brilliant rookie out of Tennessee forced his way into a bigger role in the Saints backfield and had his most productive game (152 yards and two touchdowns on 16 touches) in a 30-10 win over Tampa Bay.
Jared Goff, QB, Los Angeles Rams – It's been quite a sophomore campaign for the first pick in the 2016 Draft, who looked lost as a rookie. Goff has been solid this season, but was better than that against the Giants, passing for 311 yards and four touchdowns.
T.Y. Hilton, WR, Indianapolis – The big games have been few and far between this year, but the Colts receiver busted out (5 REC, 175 YDS, 2 TD, nine targets) in a 20-14 win at Houston. IT was the third time this season that Hilton had more than 150 receiving yards; it was also the third time that he had more than 60 receiving yards.
ZEROES
Andy Dalton, QB, Cincinnati – For the second time in three weeks, the Bengals quarterback was held under 150 passing yards, throwing for 136 yards and no touchdowns.
Mike Evans, WR, Tampa Bay – It's been an underwhelming season for the Bucs receiver, and even though he managed to avoid getting kicked out of the game at New Orleans, he managed just one catch for 13 yards on six targets.
A.J. Green, WR, Cincinnati – He might have had more than one catch for six yards on two targets against Jacksonville if he hadn't been tossed from the game for a fight with Jaguars cornerback Jalen Ramsey, but that was Green's fate, making it his third straight game under 50 yards receiving.
LeSean McCoy, RB, Buffalo – A week after putting up 173 yards against Oakland, the Bills' runner finished with just 25 yards on 12 carries at the Jets.
10 POINTS
1. It's interesting seeing some quarterbacks with unexpected fantasy production. Bills QB Tyrod Taylor, who didn't even have new toy Kelvin Benjamin at his disposal, threw for 285 yards and two touchdowns, then rushed for 35 yards and a touchdown in Thursday's loss at the Jets.
Colts QB Jacoby Brissett had his most productive game of the season, passing for 308 yards and two touchdowns in a 20-14 win at Houston.
Dolphins QB Jay Cutler threw for 311 yards and three touchdowns. It was the first time this year that he passed for more than 230 yards.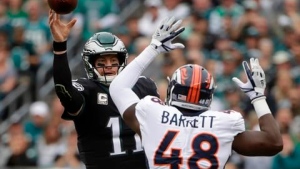 2. There were more tried and true performers getting the job done too. Eagles QB Carson Wentz only had 199 yards passing, but threw for four touchdowns in a 51-23 rout of Denver.
Cowboys QB Dak Prescott passed for 249 yards and two touchdowns and rushed for 27 yards and a touchdown against Kansas City.
Seahawks QB Russell Wilson passed for 297 yards and two touchdowns, and two interceptions, and also rushed for 77 yards.
3. Bills WR Deonte Thompson is forcing his way into the Buffalo receiver conversation, even after they traded for Benjamin. He had a big game (7 REC, 81 YDS, 1 TD, 10 targets) in a losing effort at the Jets.
Cowboys WR Terrance Williams caught nine passes for 141 yards against Kansas City, the first time this season he had more than 70 yards in a game.
Panthers WR Devin Funchess, who is the new No. 1 with Benjamin going to Buffalo, had five catches for 86 yards on seven targets against Atlanta.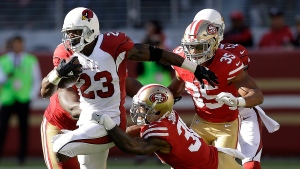 4. Cardinals RB Adrian Peterson was back in business, rushing for 159 yards on a career-high 37 carries at San Francisco, his highest rushing total in almost two years.
Jets RB Matt Forte remains productive in a share-time role. He gained 96 yards and scored two touchdowns on 18 touches against the Bills.
5. But some of the big hitters were getting it done too. Rams RB Todd Gurley gained 104 yards and scored two touchdowns on 18 touches at the Giants.
New Eagles RB Jay Ajayi only had eight carries against Denver, but still managed 77 yards and a touchdown.
49ers RB Carlos Hyde had 125 yards on 21 touches against Arizona, his second-highest yardage total this season.
Panthers RB Christian McCaffrey put up 94 yards and a touchdown on 20 touches against Atlanta.
Filling in for starter Leonard Fournette, Jaguars RB Chris Ivory delivered 104 yards on 20 touches against Cincinnati.
6. After the Dolphins traded Ajayi to Philadelphia, that opened up opportunities for running backs Kenyan Drake (104 YDS, 15 touches) and Damien Williams (61 YDS, 1 TD, 13 touches).
7. Eagles RB Corey Clement may be hard-pressed to find consistent playing time behind Ajayi and LeGarrette Blount, but he had 66 yards and three touchdowns on 13 touches against Denver; that's some kind of game from a third-string running back.
8. This week's tight end leaders were rather unexpected. Raiders TE Jared Cook had eight catches for 126 yards on nine targets and Dolphins TE Julius Thomas caught six passes for 84 yards and a touchdown on eight targets.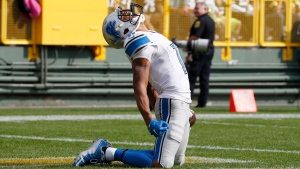 9. Some of the big receiving games came from more familiar names. Lions wide receivers Golden Tate (7 REC, 113 YDS, nine targets) and 9. (7 Rec, 103 YDS, 2 TD, 11 targets) had big games at Green Bay.
Eagles WR Alshon Jeffery (6 REC, 84 YDS, 2 TD, 11 targets) got his in the blowout win against Denver.
Falcons WR Julio Jones was productive enough (6 REC, 118 YDS, 12 targets) but also dropped a wide-open touchdown pass.
Seahawks WR Doug Baldwin (7 REC, 108 YDS, 1 TD, 12 targets) had a productive day in a loss to Washington.
10. Buccaneers QB Jameis Winston is out at least two weeks with a shoulder injury; Ryan Fitzpatrick will take over and that won't crush the value of Bucs receivers.
Of course, Buccaneers WR Mike Evans was suspended for one game, so this week the looks will likely go to DeSean Jackson, Cameron Brate and O.J. Howard.
Seahawks RB Eddie Lacy suffered a groin injury against Washington, which could open the door (again) for Thomas Rawls.
Scott Cullen can be reached at scott.cullen@bellmedia.ca