Statistically Speaking: Kane's streak snapped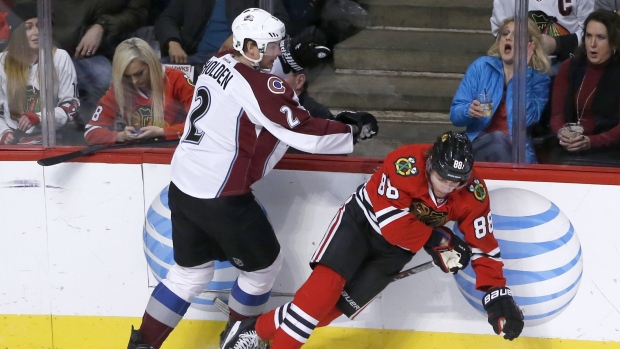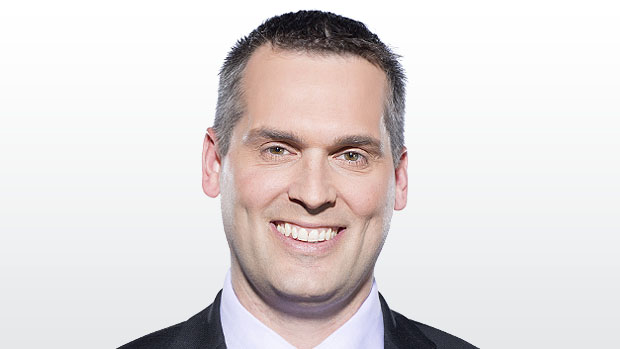 Kane's streak is stopped by an unlikely opponent, Skinner gets tricky, a Ghost in Philly, Steen, Tarasenko, Parise, fantasy and more in Scott Cullen's Statistically Speaking.
We'll start with the end of Patrick Kane's scoring streak, an impressive 26-game run during which he tallied 40 points to take the NHL scoring lead.
When listing teams based on their likelihood of shutting down a long-running scoring streak, the Avalanche would fall way down the list.
Against Colorado Tuesday, however, Kane was not only held without a point, but he didn't manage a single shot on goal in 23:11 of ice time, which is a tad amusing considering that the Avalanche rank 29th in the league in all situations shot attempts against/60.
The Blackhawks got last change at home, so it's not like Kane had terrible matchups. Erik Johnson saw the most time against Kane, but the pairing of Tyson Barrie and Nick Holden also played against him quite a bit. The most common forwards facing Kane were wingers Blake Comeau and Andreas Martinsen.
Semyon Varlamov continued his strong play for the Avalanche, with a 29-save shutout. He has a .964 save percentage in the past six games.
Now that Kane's streak is over, it's probably about time for the rest of the Blackhawks to pick up the pace. C Jonathan Toews (17 points in 32 games) and RW Marian Hossa (13 points in 29 games) are a couple of notables that are producing far below their standards.
HEROES
Jeff Skinner – The Hurricanes winger was a slow starter this season, but he's making up for it. He scored all three Carolina goals in a 4-3 overtime loss at Philadelphia and has nine goals in the past six games. From the 2010 Draft, only Tyler Seguin, with 147, has more goals than Skinner's 129.
Shayne Gostisbehere – Philadelphia's rookie blueliner scored the overtime winner (his third OT winner already) and assisted on another in the Flyers' 4-3 win vs. Carolina. He has nine points (5 G, 4 A) in the past 11 games.
Alexander Steen and Vladimir Tarasenko – The Blues winger led the comeback from a 3-1 deficit at Winnipeg, on the way to a 4-3 overtime win. Steen has 12 points (3 G, 9 A) in the past 10 games, while Tarasenko has 10 points (6 G, 4 A) in the past nine games.
Zach Parise – Minnesota's left winger had a goal and two assists, with 12 shot attempts (8 SOG), in a 6-2 win over Vancouver, giving him eight points (3 G, 5 A) during a five-game point streak.
ZEROES
David Savard – A tough night in Big D for Savard, who had team-worst possession (9 for, 24 against, 27.3 SAT%) and was on the ice for four goals against in Columbus' 5-1 loss at Dallas.
Jay McClement – Carolina's checking centre was pinned in the Hurricanes zone against Philadelphia, on the ice for two shot attempts for and 15 against (11.8 SAT%) at even strength. Worse, both of the shot attempts for were blocked.
Dylan DeMelo – The Sharks rookie defenceman spent his night in the defensive zone, registering two shot attempts for and 17 against (10.5 SAT%).
Deryk Engelland – In Calgary's 2-1 OT win at Nashville, Engelland was locked in the defensive zone (1 shot attempt for, 18 against, 5.3 SAT%) for virtually his entire night.
Goaltenders:
Jaroslav Halak – In a 5-1 loss to Florida, the Islanders goalie surrendered four goals on just 16 shots. He still has a .920 save percentage in 18 games.
Jonathan Bernier – Making his return to the NHL, after four AHL starts on a conditioning stint, the Leafs goaltender allowed five goals on 27 shots in a 5-4 OT loss to Tampa Bay. It's going to take some effort to rebuild a goaltender who has an .881 save percentage in 10 games.
Ryan Miller – Was bombarded in the Vancouver net, and gave up six goals on 36 shots through two periods before he was pulled. That's not all on Miller, to be sure, but his save percentage is down to .910 in 26 games.
VITAL SIGNS
Jaromir Jagr – The Panthers veteran winger missed his club's 5-1 win at Brooklyn due to the flu.
Tomas Hertl – San Jose's 22-year-old centre missed the game in Montreal due to a lower-body injury.
Ryan Johansen – Columbus' top centre was benched at Dallas, sitting the final 23:38 of game time, and had no shot attempts in 11:03 of ice time during a 5-1 loss.
Matt Carle – Tampa Bay's veteran blueliner was benched after he was on the ice for Toronto's first two goals.
Cal O'Reilly – Ryan O'Reilly's older brother played 6:46 against New Jersey, his first NHL game since February, 2012. He had 14 points (3 G, 11 A) and was minus-11 in 21 AHL games when he got called up.
Frank Corrado – The 22-year-old Maple Leafs defenceman finally played his first game for the team, after being claimed on waivers from Vancouver at the start of the season. He saw 8:10 of ice time against Tampa Bay.
Corban Knight – Called up to the Panthers lineup as they have sent Dave Bolland to the AHL on a conditioning assignment. Knight played 7:46 against the Islanders.
Iiro Pakarinen – Played just 2:36 at the Rangers, forced out of the game after blocking a shot while killing a penalty.
Christian Thomas – The 23-year-old winger has been on the bubble for the past couple of seasons and has three points in 26 career NHL games. He may get a chance to play in Arizona, but there hasn't been enough production to this point to expect that he's going to be a long-term NHLer.
Lucas Lessio – The 22-year-old winger offers more size than Thomas, his junior hockey teammate in Oshawa. Lessio has had a little more production in the AHL before this season and has five points in 29 career NHL games, so he's not busting down the door, but might be able to work his way into a depth role with the Habs.
Jarret Stoll – The veteran centre was claimed on waivers by Minnesota. He struggled terribly with the Rangers this season, with terrible possession stats and just three points in 29 games. He'll get a chance to play a fourth-line role in Minnesota and if he can manage adequate possession, his faceoff skills (55.2% since 2007-2008) can be an asset.
FIRSTS
Yanni Gourde – The 24-year-old who was undrafted out of the QMJHL, and has worked his way up the minor-league ladder, made his NHL debut for the Lightning in Toronto, recording an assist in 6:55 of ice time in a 5-4 OT win.
SHORT SHIFTS
Lightning RW Nikita Kucherov put up a goal and an assist in a 5-4 OT win at Toronto; he has seven points (6 G, 1 A) in the past six games…Maple Leafs LW James van Riemsdyk had a goal and an assist against Tampa Bay, and has eight points (2 G, 6 A) in the past eight games…Flames D Kris Russell registered a goal and an assist in a 2-1 OT win at Nashville, giving him seven points (1 G, 6 A) in the past seven games…Wild C Mikko Koivu put up a goal and three assists in a 6-2 win over Vancouver; he had one point in his previous eight games…Wild LW Thomas Vanek also had a goal and three assists; he had no points in his previous six games.
Blues D Kevin Shattenkirk had a pair of assists in a 4-3 win at Winnipeg, giving him seven points (1 G, 6 A) during a five-game point streak…Sharks D Justin Braun picked up a pair of assists in a 3-1 win at Montreal, and has five points (1 G, 4 A) in the past five games…Panthers C Aleksander Barkov had a goal and two assists in a 5-1 win at Brooklyn; he had three points in his previous nine games…Rangers LW Rick Nash scored a goal and added an assist in a 4-2 win over Edmonton, giving him seven points (2 G, 5 A) in the past six games…Hurricanes rookie RW Phil Di Giuseppe had two assists at Philadelphia, which gives him five points (2 G, 3 A) during a four-game point streak…Canucks C Henrik Sedin assisted on both Vancouver goals in a 6-2 loss to Minnesota. In his past 16 games, Sedin has 22 points (6 G, 16 A)…Stars C Tyler Seguin tallied a pair of goals in a 5-1 win over Columbus, and has seven points (3 G, 4 A) in the past four games…Flyers RW Jakub Voracek had a goal and two assists, with 10 shot attempts (7 SOG) in a 4-3 OT win against Carolina.
Devils C Jacob Josefson had a solid possession game (12 for, 3 against, 80.0 SAT%) at Buffalo, but that's no surprise. He doesn't score – 14 goals in 211 career games – but keeps the puck moving in the right direction…With the Canadiens chasing the Sharks, Habs fourth-liners Torrey Mitchell (15 for, 2 against, 88.2 SAT%) and Brian Flynn (14 for, 3 against, 82.4 SAT%) had strong possession output.
Devils G Cory Schneider recorded a 25-save shutout at Buffalo. He has a .927 save percentage in 26 games this season.
FANTASY FOCUS
If you've lost a starting goaltender to injury, or otherwise need goaltending help, here are some options available in more than 50% of TSN leagues:
Darcy Kuemper – Kuemper only has value as long as Devan Dubnyk is out, but has allowed six goals in his past four starts. Owned: 30.1%
Jeff Zatkoff – While Marc-Andre Fleury is out, Zatkoff might get some action. He has a .936 save percentage in five games. He'll face a challenge from 21-year-old prospect Matt Murray, who has a .940 save percentage in 58 career AHL games. Owned: 14.6%
Karri Ramo – There's actually some long-term value to Ramo, who is the Flames' starter. He's getting better, but still has a .903 save percentage in 19 games. Owned: 20.5%
Anders Lindback – With Mike Smith out, Lindback is going to play for Arizona. He fared all right (.924 SV%) down the stretch with Buffalo last year, but his .900 save percentage in a dozen games this year doesn't inspire a ton of confidence. Owned: 1.4%
Eddie Lack – Cam Ward has had the bulk of the starts for the Hurricanes, but Lack has started three in a row. He still has a miserable .876 save percentage in 12 games, but there's some upside here. Owned: 4.3%
Much of the data included comes from www.war-on-ice.com, stats.hockeyanalysis.com www.hockey-reference and www.naturalstattrick.com
Scott Cullen can be reached at scott.cullen@bellmedia.ca