Statistically Speaking: Karlsson a major addition to Sharks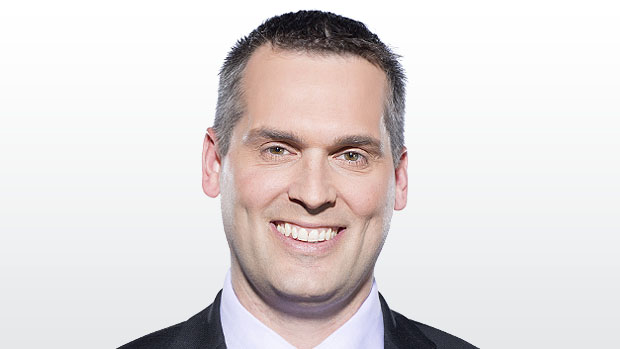 It seems like it's been a long-time coming, like a car crash in slow motion, but it has finally happened – the Ottawa Senators have traded their franchise player to the San Jose Sharks.
Statistically Speaking examines the quantity-over-quality package that helped the Sharks acquire superstar defenceman Erik Karlsson.
2017-2018 NHL STATS
| PLAYER | TEAM | POS | GP | G | A | PTS | CF% | CF%Rel | PDO | OZS% | ATOI |
| --- | --- | --- | --- | --- | --- | --- | --- | --- | --- | --- | --- |
| Erik Karlsson | Ottawa | D | 71 | 9 | 53 | 62 | 50.9 | 5.7 | 97.0 | 54.9 | 26:44 |
| Chris Tierney | San Jose | C | 82 | 17 | 23 | 40 | 49.3 | -2.2 | 99.1 | 51.4 | 16:00 |
| Dylan DeMelo | San Jose | D | 63 | 0 | 20 | 20 | 49.7 | -0.7 | 99.6 | 49.3 | 14:12 |
2017-2018 STATS
| PLAYER | TEAM | POS | GP | G | A | PTS | +/- |
| --- | --- | --- | --- | --- | --- | --- | --- |
| Rudolfs Balcers | San Jose (AHL) | LW | 67 | 23 | 25 | 48 | -8 |
| Josh Norris | Michigan (Big 10) | C | 37 | 8 | 15 | 23 | -8 |
| Francis Perron | Belleville (AHL) | LW | 44 | 4 | 11 | 15 | -8 |
The Sharks Get: D Erik Karlsson and LW Francis Perron
Karlsson, 28, is the most dynamic defenceman in the game, a freewheeling rover who generates offence and has been a play-driving force for the Senators. He has won two Norris Trophies and finished second in voting on two other occasions.
He's far-and-away the highest-scoring defenceman over the past five seasons, and he's joining the team with the No. 2 scoring defenceman over that period of time.
SCORING LEADERS - DEFENCEMEN SINCE 2013-2014
| PLAYER | TEAM | GP | G | A | PTS |
| --- | --- | --- | --- | --- | --- |
| Erik Karlsson | Ottawa | 394 | 83 | 272 | 355 |
| Brent Burns | San Jose | 328 | 85 | 193 | 278 |
| Victor Hedman | Tampa Bay | 368 | 66 | 209 | 275 |
| P.K. Subban | Nashville | 380 | 57 | 206 | 263 |
| Roman Josi | Nashville | 381 | 68 | 190 | 258 |
Over that same period of time, Karlsson ranks second among defencemen in relative Corsi, meaning that the Senators have been consistently better in terms of shot differentials with Karlsson on the ice. Imagine that.
One statistic to note with respect to Karlsson, though, is that over the past five seasons he has an on-ice save percentage of .914 and that's on the low end. Only 10 defencemen have played more than 2,000 minutes at 5-on-5 over the past five years and have a lower on-ice save percentage.
How much you think that is player dependent may vary. For my money, I'd take my chances that Karlsson isn't destined to be submarined by on-ice save percentage, but last season's rate of .891 was a career-low, so he's likely to at least be better than that moving forward. When a player is coming off a season with historically low percentages, it's usually a great time to make a deal for that player.
One way to mitigate those effects in San Jose could be to partner Karlsson with a stay-at-home ace like Marc-Edouard Vlasic. Vlasic has been playing shutdown minutes forever and his reliability would figure to be a nice complement to Karlsson, but the Sharks now have the option of having Karlsson and Brent Burns on the ice on separate pairs and both have a history of driving the puck the right way when they are on the ice.
Karlsson is heading into the last year of his contract, with a $6.5-million cap hit, but he's likely looking at a massive raise on his next deal. Drew Doughty got $11-million per season on his contract extension and Karlsson will likely be expecting at least that much on a new contract.
Perron is a 22-year-old winger who was a seventh-round pick in 2014. He had a strong finish to his junior career, but has a modest 41 points in 112 AHL games through his first two pro seasons. It would be a surprise if he turns into anything of note with the Sharks.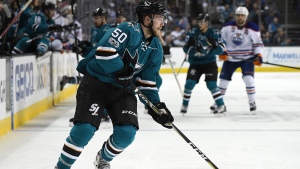 The Senators Get: C Chris Tierney, D Dylan DeMelo, C Josh Norris, LW Rudolfs Balcers, a second-round pick and a first-round pick in 2020 (would be 2019 if Sharks miss the playoffs) plus a conditional pick if Karlsson re-signs.
Tierney, 24, is a decent two-way centre who had a career-high 17 goals and 40 points last season, taking on a bigger role with Joe Thornton out of the Sharks lineup for a large portion of the season. He seems like a natural third-line centre, but with Jean-Gabriel Pageau reportedly suffering an Achilles injury they may need Tierney to slot in behind Matt Duchene on the depth chart while they wait for prospect Logan Brown to establish himself in the NHL.
With a cap hit of $2,937,500 for the next two seasons, Tierney is reasonably priced, and he will be a restricted free agent at the end of his deal.
25-year-old Dylan DeMelo had something of a breakthrough season for the Sharks last season, recording 20 assists in 63 games. He's a serviceable third-pair, right-shot defenceman who can play for the Senators, but isn't likely to move the needle.
DeMelo is signed for two more years with a cap hit of $900,000.
While Josh Norris was a first-round pick in 2017, the 19-year-old is coming off a freshman season at Michigan in which he produced 23 points in 37 games. If he's going to be an impact player in the National Hockey League, he will have to produce significantly more in college to have any reason to expect that he can do it as a pro.
21-year-old Latvian winger Rudolfs Balcers is something of a wildcard. He was a fifth-round pick in 2015 and has developed over the past couple of seasons, scoring 23 goals in 67 games as an AHL rookie last season. If he can carry that production forward, he may be positioned to get a look with the rebuilding Senators at some point this season.
Presuming that the Sharks make the playoffs, they won't have their 2019 first-round pick, due to last season's Evander Kane trade. That means the Senators will most likely receiver a 2019 second-round pick, the highest of a second-round pick between Florida and San Jose. A second-round pick offers a little better than a one-in-three chance of turning into an NHL player.
If the Sharks do make the playoffs next season, that means the Senators will receive their 2020 first-round pick. The value of that pick could vary a great deal, depending on what the Sharks' season is like in 2019-2020.
There are also some conditional picks in the deal. If Karlsson re-signs in San Jose, the Senators would get a 2021 second-round pick. Additionally, if the Sharks reach the Stanley Cup Final in 2019, the pick will be a 2021 first-rounder instead.
After the Sharks and Senators made a trade earlier this summer, in which winger Mike Hoffman was dealt to the Sharks and immediately flipped to the Florida Panthers, there is yet another clause in this deal. If Karlsson ends up on the reserve list of an Eastern Conference team at any time in the 2018-2019 season, then the Senators receive a first-round pick.
Verdict: The deal is an obvious win for San Jose, because adding Karlsson makes them a contender next season, and none of the pieces that are going to Ottawa, including the draft picks, are likely to become impact players. There might be a few pieces that turn into NHLers, and that's something, but it's not a lot when it comes to moving the best defenceman in the league. That the Senators couldn't get a young NHL winger like Timo Meier or even Kevin Labanc out of San Jose seems to limit the upside of their return.
On the Sharks side of the deal, the only downside is if they can't convince Karlsson to stay beyond the 2018-2019 season. If that happens, the Sharks will still have loads of financial flexibility to be players in free agency or future blockbuster trades.
Ultimately, the Sharks are a veteran team that was a good bet to make the playoffs. Adding Karlsson at minimal cost raises the bar for what they might be able to achieve this season.
Scott Cullen can be reached at scott.cullen@bellmedia.ca