Statistically Speaking: Neal's finish keys Vegas' hot start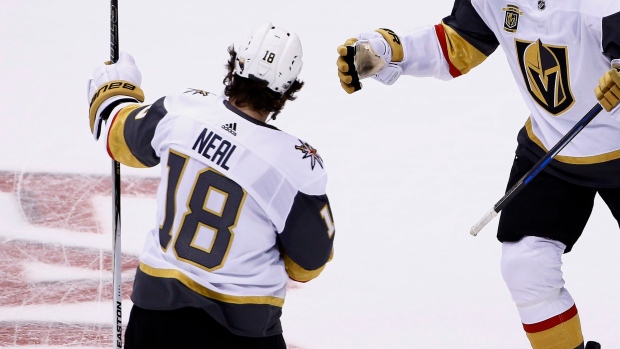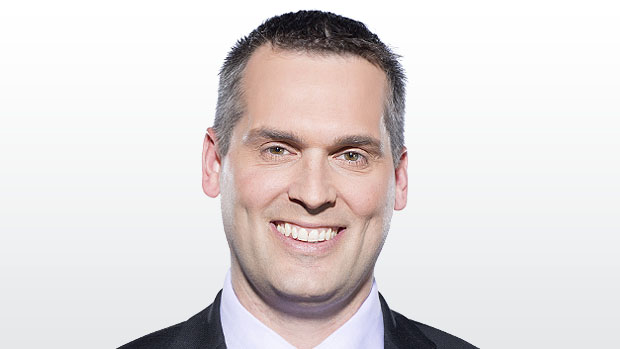 Neal and the Knights continue their improbably hot start, Milano, Forsberg and more in Scott Cullen's Statistically Speaking.
The Vegas Golden Knights have improbably started their franchise history by winning their first three games. The most recent, the first home game in the history of the franchise, was a 5-2 win over Arizona, with veteran winger James Neal scoring a pair of goals.
This has been standard procedure as Neal has scored five of the team's nine goals in three games. He's fired 11 shots on goal in three games, and that's a promising sign, but it's fair to say that Neal won't continue to shoot 45%.
Nevertheless, the 30-year-old sniper, who is a nine-time 20-goal-scorer, has a good thing going with linemates David Perron and Cody Eakin.
Neal will be an unrestricted free agent next summer, which makes him a likely trade candidate, and if he scores a bunch, that should only help drive up the Golden Knights' asking price.
HEROES
Sonny Milano – The Blue Jackets rookie scored both Columbus goals, including the overtime winner, in a 2-1 win at Carolina. The talented 21-year-old has four goals in three games.
Filip Forsberg – Nashville's talented left winger buried two goals, including the winner, and added an assist, in a 6-5 win over Philadelphia. He has four points (3 G, 1 A) in three games.
ZEROES
Craig Smith – The Predators winger had team-worst possession stats (11 for, 14 against, 44.0 CF%) and was on the ice for three goals against in a 6-5 win over Philadelpia.
Luke Witkowski and Riley Sheahan – Skating on Detroit's fourth line, the duo played just a little over four minutes at Dallas, but stayed in their own end for most of the night (1 for, 9 against, 10.0 CF%, 1-6 scoring chances).
Antti Raanta – The Coyotes netminder allowed three goals on five shots, and was pulled after just 6:15 of game time, in a 5-2 loss at Vegas. Arizona expects Raanta to be their starter, so he can't afford to have too many of those disaster starts.
VITAL SIGNS
Roman Josi – A lower-body injury kept the Nashville defenceman out of the lineup against Philadelphia. 19-year-old rookie Samuel Girard was plugged into the lineup to make his NHL debut and he did pick up an assist.
Brendan Perlini – The second-year Coyotes winger suffered an upper-body injury and was out of the game after playing just 2:45 at Vegas.
Brendan Smith – The Rangers have scratched him in the past two games, in place of Anthony DeAngelo and Steven Kampfer. Not the ideal start after Smith signed a four-year, $17.4-million contract in the summer.
SHORT SHIFTS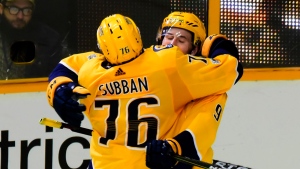 Predators LW Scott Hartnell scored two goals against Philadelphia, giving him three goals in three games. He's also played 15:43 per game this season, after getting just 12:04 per game in Columbus last year…Flyers C Valtteri Filppula scored a pair of goals at Nashville, his first points of the season…Predators D P.K. Subban recorded three assists against Philadelphia, giving him four assists through three games…Blues LW Jaden Schwartz had a goal and an assist in a 3-1 win at the Rangers, giving him seven points (2 G, 5 A) in four games…Stars LW Mattias Janmark and D John Klingberg both produced a goal and an assist in a 4-2 win over Detroit. Janmark has three points (2 G, 1 A) in three games, while Klingberg has four points (2 G, 2 A) in three games…Predators RW Kevin Fiala and D Mattias Ekholm both contributed two assists against Philadelphia, the first points of the season for both…Flyers RW Jakub Voracek and D Shayne Gostisbehere both recorded a pair of assists in a 6-5 loss at Nashville. Voracek has six assists in four games, and Gostisbehere has five helpers in four games…Red Wings D Mike Green assisted on both Detroit goals in a 4-2 loss at Dallas, giving him six assists in three games…Canucks C Henrik Sedin assisted on both Vancouver goals in a 3-2 shootout loss to Ottawa. He's also played 14:45 per game through the first two games…Golden Knights RW Brendan Leipsic earned a couple of assists in a 5-2 win against Arizona…Rangers D Ryan McDonagh had a dominant game (31 for, 9 against, 77.5 CF% 18-1 scoring chances) in a 3-1 loss to St. Louis.
Blackhawks G Corey Crawford stopped 41 of 42 shots in a 3-1 win at Montreal, and has stopped 101 of 104 shots (.971 SV%) in his first three starts…Blue Jackets G Sergei Bobrovsky had 37 saves on 38 shots in a 2-1 overtime win at Carolina. He's stopped 66 of 67 shots (.985 SV%) in two starts…Blues backup G Carter Hutton turned away 32 of 33 shots in a 3-1 win at the Rangers…Canucks G Jacob Markstrom stopped 40 of 42 shots in a 3-2 shootout loss to Ottawa, and has a .948 save percentage through his first two starts.
FIRSTS
Nolan Patrick – The second pick in the 2017 Draft scored his first NHL goal in his fourth game, a 6-5 loss at Nashville.
Alex DeBrincat – The 2016 second-round pick tallied his first NHL goal and added an assist in his fourth career game, a 3-1 win at Montreal. He's on the small side, but he's a shooter who scored 167 goals in 191 regular-season OHL games.
Christian Jaros – With Johnny Oduya, Erik Karlsson and Ben Harpur injured, the Senators turned to Jaros, a 21-year-old who was a fifth-round pick in 2015. He had 13 points in 36 games for Lulea of the Swedish Hockey League last season and played just 6:22 in his NHL debut at Vancouver.
Scott Cullen can be reached at scott.cullen@bellmedia.ca