Statistically Speaking: Patriots' Brady struggling early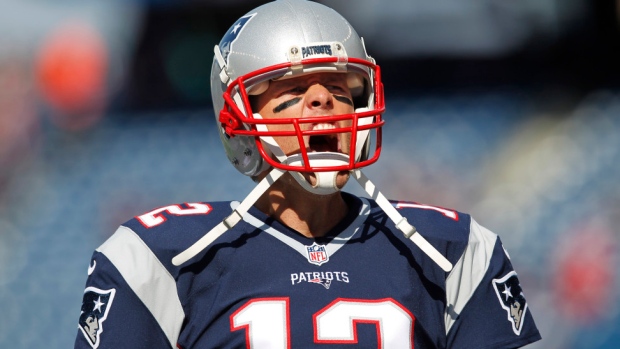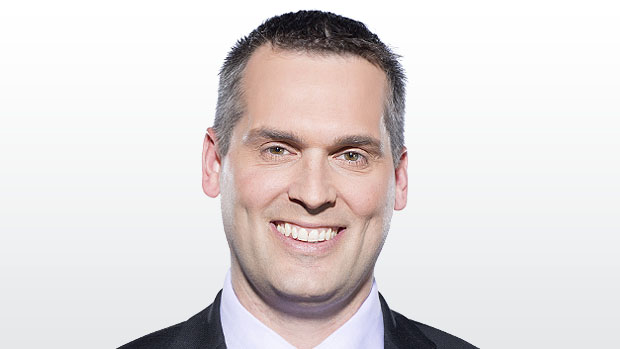 In a shocking early-season twist, the Patriots are struggling. Ryan, Ridley, Brees, Kamara, Mahomes, Peterson, Nelson and more in Scott Cullen's Statistically Speaking.
In Sunday night's 26-10 loss at Detroit, against former Patriots defensive co-ordinator Matt Patricia, who is the Lions' new head coach, Patriots quarterback Tom Brady was 14 of 26 for 133 yards with one touchdown and one interception, his lowest single-game yardage since 2013.
Through three weeks, Brady is averaging 214.7 passing yards per game, his lowest since 2001. He's averaging 6.4 yards per passing attempt, his lowest since 2002. We're only three weeks in to this season, but this is not what we've become accustomed to seeing from TB12.
A big part of Brady's inability to produce falls on his receivers. Tight end Rob Gronkowski had a great game against Houston in Week One, but he has six catches for 66 yards on nine targets over the past two weeks.
Brady's security blanket at wide receiver, Julian Edelman, was suspended for the first four games of the season, so that appeared to be an opportunity for someone like Chris Hogan but, through three weeks, Hogan has seven catches for 84 yards.
The one receiver who has taken advantage in New England is Phillip Dorsett, and yet he didn't have a catch against the Lions, so it says something about the state of the Patriots receiving corps that their top receiver through three weeks has been Dorsett.
They obviously still hope that this can turn around. The Patriots traded for Josh Gordon, a superstar talent who has barely been on the field since leading the league in receiving yards in 2013. Desperate times call for desperate measures, apparently.
When Julian Edelman returns to the Patriots lineup, after Week Four, maybe the Pats passing game can get back on track but it's fair to wonder if 41-year-old Brady can't make it work with what has been a pedestrian group of receivers.
HEROES
Matt Ryan, QB, Atlanta – In a losing effort, passed for 374 yards and a career-high five touchdowns in a 43-37 overtime loss against New Orleans.
Calvin Ridley, WR, Atlanta – The Falcons rookie wide receiver caught seven passes for 146 yards and three touchdowns on eight targets, a rather early breakthrough game for their first-round pick.
Drew Brees, QB, New Orleans – The 39-year-old passed for 396 yards and three touchdowns in a 43-37 overtime win at Atlanta. He's completed a league-leading 80.6% of his passes through the first three weeks.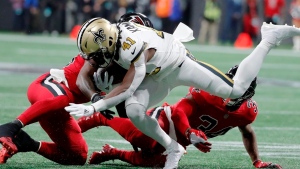 Alvin Kamara, RB, New Orleans – One of the reasons that Brees completes a high percentage is that Kamara has caught 30 passes in three weeks, and he produced 190 yards on 31 touches at Atlanta.
Patrick Mahomes, QB, Kansas City – Followed up his amazing first two weeks of the season, the Chiefs quarterback kept that train-a-rollin' against San Francisco, throwing for 314 yards and three touchdowns.
Jared Goff, QB, Los Angeles – For the second straight game, the third-year quarterback passed for 354 yards, adding three touchdowns with one interception in a 35-23 win over the Chargers.
Deshaun Watson, QB, Houston – It was in a losing effort, but the Texas quarterback put up big numbers (385 passing yards and two touchdowns with one interception) against the Giants.
Adrian Peterson, RB, Washington – After a strong opening week and a dud of a second week, the veteran rushed for 120 yards and two touchdowns in a 31-17 win against Green Bay.
Todd Gurley, RB, Los Angeles – The Rams like to give Gurley a heavy workload and he responded with 156 yards and a touchdown on 28 touches against the Chargers.
Jordy Nelson, WR, Oakland – It was a turn back the clock game for the veteran receiver, as he caught six passes for 173 yards and a touchdown on eight targets at Miami, the second-best single-game yardage total of his career.
Carlos Hyde, RB, Cleveland – With the Browns finally earning a win, Hyde gained 103 yards and two touchdowns on 25 touches in a 21-17 win against the Jets. He had three 100-yard games with the 49ers last season.
Tyler Boyd, WR, Cincinnati – Week Two brought on a bigger role for Boyd, and he was even better in Week Three, putting up six receptions for 132 yards and a touchdown on seven targets at Carolina.
Christian McCaffrey, RB, Carolina – One week after picking up 102 receiving yards, the Panthers' second-year running back was pounding on the ground against Cincinnati, rushing for 184 yards on 28 carries while adding a couple of catches for 10 yards.
Chris Carson, RB, Seattle – In his seventh career game, the second-year running back picked up 124 yards and a touchdown on 34 touches in a 24-13 win vs. Dallas. His previous high was 21 touches.
Saquon Barkley, RB, N.Y. Giants – The highly-touted Giants rookie running back gained 117 yards and a touchdown with 22 touches at Houston. He has averaged 117.7 yards per game in the first three games of his career.
Mike Williams, WR, L.A. Chargers – The Chargers' second-year wideout, who is taking a major step forward, put up four catches for 81 yards and two touchdowns on seven targets at the Rams. He has matched last year's season total of 11 catches, and already has three touchdowns this year, compared to zero as a rookie.
Michael Thomas, WR, New Orleans – For the third straight week, the Saints receiver had double-digit receptions, catching all 10 passes sent his way for 129 yards at Atlanta.
Will Fuller, WR, Houston – Houston's deep threat had five catches for 101 yards and a touchdown on 11 targets against the Giants. He has gone over 100 yards in both of his games this season.
Chris Ivory, RB, Buffalo – Filling in for an injured LeSean McCoy, Ivory piled up 126 yards on 23 touches at Minnesota, his best yardage in a game since 2015.
Travis Kelce, TE, Kansas City – With eight catches for 114 yards on 10 targets against San Francisco, the Chiefs tight end has surpassed 100 yards in back-to-back games.
ZEROES
Sam Darnold, QB, N.Y. Jets – After a couple of impressive games, the Jets rookie was brought down to earth in a Week Three loss to Cleveland, completing 15 of 31 passes for 169 yards with two interceptions.
Dak Prescott, QB, Dallas – The Cowboys quarterback was expected to struggle some this season, and he has. He was 19 of 34 for 168 yards, one touchdown and two interceptions at Seattle.
Latavius Murray, RB, Minnesota – Filling in for Dalvin Cook, the Vikings vet only had two carries for one yard in a 27-6 loss to the Bills.
Kenyan Drake, RB, Miami – In a 28-20 win against Oakland, the Dolphins running back struggled to just 10 yards on six touches.
Larry Fitzgerald, WR, Arizona – Batting a hamstring injury, the Cardinals veteran managed just two catches on two targets for nine yards against the Bears.
Keenan Allen, WR, L.A. Chargers – In a 35-23 loss to the Rams, the Chargers' top receiver finished with just three catches on seven targets for 44 yards.
INJURIES
Jimmy Garoppolo, QB, San Francisco – The 49ers quarterback suffered a knee injury, potentially a torn ACL, at Kansas City. C.J. Beathard will step in for the Niners and that's going to have an impact on the rest of the San Francisco offence.
Evan Engram, TE, N.Y. Giants – A sprained MCL will sideline the second-year tight end for at least a couple of weeks. Rhett Ellison is next man up at the position.
NOTES
Browns rookie QB Baker Mayfield, the first pick in the 2018 Draft, stepped into the lineup against the Jets on Thursday and that may be the last we see of Tyrod Taylor, who left with a concussion…Bills QB Josh Allen completed 15 of 22 passes for 196 yards and a touchdown, while adding 39 yards rushing and two touchdowns on the ground in a shocking 27-6 win at Minnesota…49ers RB Matt Breida put up 117 yards on 13 touches at Kansas City, his second straight 100-yard game…Lions rookie RB Kerryon Johnson gained 110 yards on 18 touches against New England…Vikings WR Adam Thielen caught 14 passes for 105 yards on 19 touches against Buffalo. He's been targeted a league-leading 44 times in three games…With Jay Ajayi out, Eagles running backs Corey Clement (75 yards on 19 touches) and Wendell Smallwood (91 yards on 13 touches) contributed in bigger roles against Indianapolis…Cardinals rookie WR Christian Kirk had seven catches for 90 yards on a team-high eight targets against Chicago…Eagles second-round pick TE Dallas Goedert caught all seven passes thrown to him for 73 yards and a touchdown against Indianapolis.
Scott Cullen can be reached at scott.cullen@bellmedia.ca