Statistically Speaking: Paxton performing for Mariners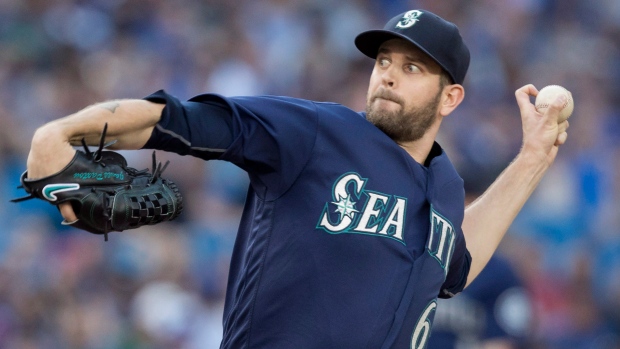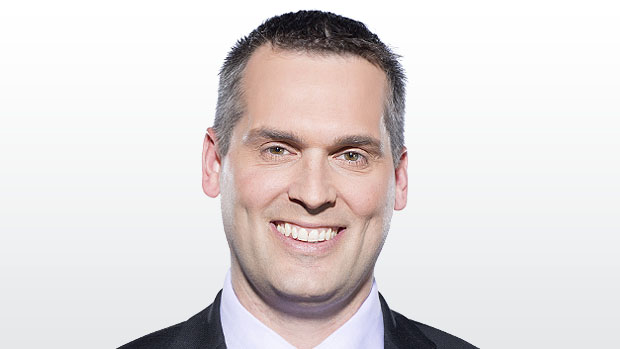 A Canadian lefty is off to a great start, the Blue Jays are reeling and now missing two of their most valuable players; Santana, Ozuna, Thames, Haniger, Britton and more in Scott Cullen's Statistically Speaking.
HEROES
James Paxton – The 28-year-old southpaw from B.C. has yet to start more than 20 games in a major league season, but he's tantalized with his talent and is off to a fantastic start for the Mariners this year, pitching 21 shutout inning in his first three starts, allowing just eight hits and four walks (0.57 WHIP), while striking out 22.
Ervin Santana – While the 34-year-old veteran starter has been solid, sometimes even very good, throughout his career, he's been untouchable for Minnesota early in 2017. In 22 innings over three starts, he's allowed one run (0.41 ERA) – a solo HR to Kansas City 3B Mike Moustakas – and just five hits and five walks (0.46 WHIP), striking out 15.
Marcell Ozuna – Miami's 26-year-old centre fielder is scorching hot to start the season, with five home runs and 18 RBI, with a .404 batting average and 1.198 OPS in a dozen games.
Eric Thames – A 30-year-old who couldn't hold down a regular major-league job before going to crush Korean pitching for three seasons, Thames has returned to the bigs, playing first base with the Milwaukee Brewers and has mashed six home runs in 38 at-bats. He's hitting .368 with a .1.376 OPS and 11 RBI in 11 games.
Mitch Haniger – Seattle's 26-year-old right fielder showed potential last season, and has taken another step forward early this season, hitting .294 with a .998 OPS in 13 games. He has four home runs, 11 RBI, 12 runs scored and a couple of stolen bases, filling out all categories.
ZEROES
Jose Reyes – The 34-year-old Mets third baseman has opened the season going 4-for-34 (.087 AVG, .285 OPS), with one extra-base hit and no stolen bases. His strikeout rate (25.5%) is way above his career norm (10.8%) so his bat may be slowing down.
Byron Buxton – The second overall pick in the 2012 Draft, the 23-year-old centre fielder is off to a miserable start. He's 4-for-43 (.093 AVG) with an astonishing 23 strikeouts in 46 plate appearances, good for a 50.0% strikeout rate. By way of comparison, the highest strikeout rate for a qualified hitter in any season was Chris Carter, then with the Houston Astros, who had a K-rate of 36.2%.
Jhonny Peralta – St. Louis' 34-year-old third baseman has scuffled early in the year, going 3-for-25 (.120 AVG, .305 OPS). His bat has been declining as he approaches his mid-30s, but he's whiffed nine times in 27 plate appearances and appears to be struggling to catch up.
Sam Dyson – The 28-year-old started the season as the Rangers' closer, but after three appearances, he has allowed 13 runs in 4 1/3 innings (27.00 ERA, 4.39 WHIP) to take three losses. With Matt Bush ailing too, Dyson has been replaced in the closer role by 23-year-old Jose LeClerc.
VITAL SIGNS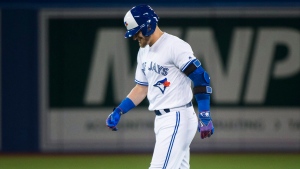 Josh Donaldson – Toronto's star third baseman has hit the 10-day DL with a strained right calf. The 31-year-old was off to a good start, hitting .310 with a 1.015 OPS in nine games, but he's going to take a seat while the Blue Jays are struggling to get out of an early hole created by their 2-10 record.
Aaron Sanchez – Last year's American League ERA leader, and Blue Jays staff ace, goes to the 10-day DL with right middle finger blister. He had a 4.38 ERA, with a 1.22 WHIP and nine strikeouts in 12 1/3 innings through his first two starts. With J.A. Happ leaving Sunday's start, Toronto could be forced to dip into Triple-A Buffalo for T.J. House and/or Mat Latos soon.
Zach Britton – One of the most dominant closers in baseball for the Orioles over the past three seasons is on the 10-day DL with a forearm strain. The worry, naturally, is that forearm strains to precede elbow problems. Brad Brach has moved to the closer's role in Britton's absence.
Trea Turner – Washington's 23-year-old game-breaker was a star in half a season last year, but he's going to be slowed down early this year, taking a trip to the 10-day DL with a strained hamstring. Wilmer Difo, who has a .626 OPS in 54 career games, takes over at short in Turner's absence.
Gary Sanchez – Last year's partial season superstar, who slugged 20 homers in 53 games for the Yankees, has been placed on the 10-day DL with a strained right biceps, though manager Joe Girardi has said that it will likely be a four-week absence. Austin Romine takes over behind the plate with Sanchez out and he is hitting .368 with a 1.066 OPS in six games this season, though he has a .613 OPS in 145 career games.
Jackie Bradley Jr. – Boston's centre fielder is on the 10-day DL with a sprained right knee, allowing the Red Sox to move Andrew Benintendi to centre and add veteran Chris Young into left field. Young is hitting .289 with a .714 OPS in 11 games.
Matt Kemp – Atlanta's 32-year-old left fielder, who had eight hits and two home runs in his first 16 at-bats, is on the 10-day DL with a strained hamstring, creating an opportunity for Jace Peterson, the former second baseman turned utility man. He has a .653 OPS in 303 career games.
Jean Segura – The Mariners shortstop was off to a good start, hitting .313 with three stolen bases in eight games, but is on the 10-day DL with a strained hamstring. Taylor Motter has taken over in Segura's absence and while he has a 1.079 OPS in nine games, the 27-year-old doesn't have a track record that suggests long-term offensive success in the bigs.
Marcus Semien – A right wrist contusion has landed the A's shortstop on the 10-day DL. Veteran utility man Adam Rosales will take short while Semien is out.
Jake Odorizzi – The Rays right-hander is on the 10-day DL with a strained hamstring. They have recalled Chase Whitley from Triple-A, so he could make starts in Odorizzi's absence.
Jon Gray – The promising 25-year-old Rockies right-hander has a broken bone in his foot that will likely keep him out for at least a month. 30-year-old lefty Chris Rusin, who has 49 career starts, could slide into the rotation if needed while Gray is out.
Brandon Finnegan – A strained left shoulder has left the Reds southpaw on the shelf for a while. He's not expected to throw for two-to-three weeks, so the Reds may need to dip into the minors for rotation help.
Garrett Richards – The Angels right-hander is on the 10-day DL with a right biceps strain. JC Ramirez could be an option to make spot starts for the Angels while Richards is out.
Adeiny Hechevarria – A strained oblique has knocked the Marlins shortstop out of the lineup. He had a .438 OPS in the first five games of the season and he'll be replaced by Miguel Rojas, a 28-year-old who has a .878 OPS in 11 games this season, but a .609 OPS in 279 career games.
Jarrett Parker – The Giants' rookie left fielder is on the 10-day DL with a broken collarbone, though he'll obviously be out for much longer than that. Chris Marrero, a 28-year-old who was a first-round pick in 2006 and hit 23 home runs with a .838 OPS in Triple-A last season, but has a .514 OPS in 50 career major-league games, gets first crack at left while Parker is out.
WAIVER WIRE
Players being added most, yet still available in more than half of TSN leagues: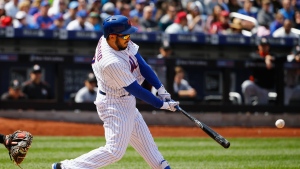 Travis d'Arnaud – The Mets catcher is mashing to start the year, hitting .323 with a 1.062 OPS, driving in nine runs in 10 games. He's also walked four times and struck out five, so the 28-year-old is controlling the plate as well as he ever has in the major leagues. Owned: 34.4%
Yunel Escobar – The 34-year-old journeyman is hitting .302 in 13 games while manning the hot corner for the Angels. He hasn't hit double-digit home runs in a season since 2011, but has hit over .300 in each of the past two seasons. Owned: 32.7%
Steven Souza Jr. – Tampa Bay's right fielder offers potential, and the 27-year-old has hit .304 with a .940 OPS in 13 games. He had 77 walks and 303 strikeouts in the past two seasons, but has walked nine times and struck out 12 so far this year. Owned: 36.8%
Avisail Garcia – Riding some good fortune, the White Sox right fielder is leading the league with a .465 batting average and 1.185 OPS, and has 10 RBI in 11 games. Owned: 30.0%
Jason Vargas – A 34-year-old lefty who has started 12 games over the past two seasons, Vargas has been impressive in a couple of starts for the Royals, allowing one run and, unexpectedly, striking out 14 in 13 2/3 innings. Owned: 39.5%
Amir Garrett – A 24-year-old who is a rising prospect for the Reds after he had a 2.55 ERA in 14 2/3 innings between Double and Triple-A last season, Garrett has impressed in his first two starts for Cicinnati, allowing two runs, seven hits and two walks in 12 2/3 innings. Owned: 45.9%
Much of the data included comes from Fan Graphs and Baseball Reference.
Scott Cullen can be reached at scott.cullen@bellmedia.ca