Statistically Speaking: Pens lineup goes deep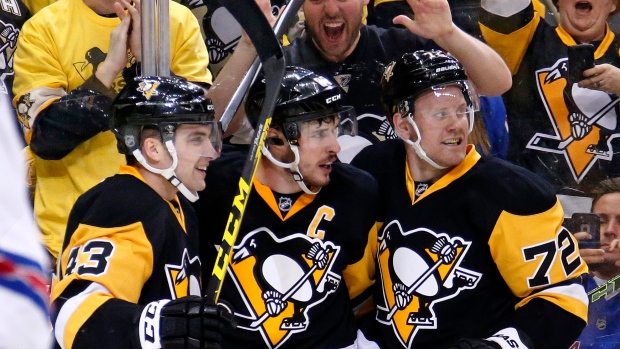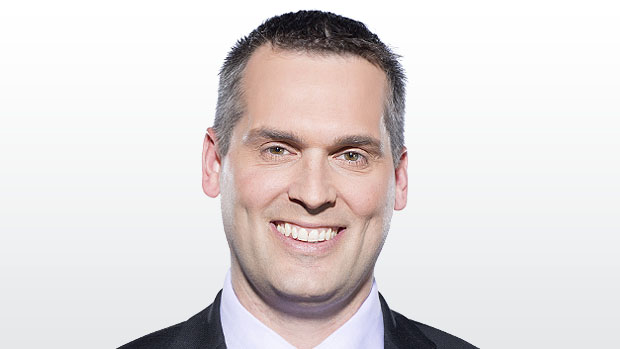 Pittsburgh's depth pays off as they eliminate the Rangers; Toews, Panarin, Andersen and more in Scott Cullen's Statistically Speaking.
The Pittsburgh Penguins were too much for the New York Rangers to handle in this first round series, and the Penguins finished it off with a 6-3 win at home in Game Five.
One of the great stories for the Penguins this season has been the contributions they've received from the bottom half of their forward depth chart and that continued in the series-deciding game.
Rookie winger Bryan Rust put up two goals and an assist, his first points of the series. Fellow rookie Conor Sheary sniped a goal, giving him three points (2 G, 1 A) in the series, and rookie Tom Kuhnhackl added an assist to give him three points (1 G, 2 A) against the Rangers. Veteran centre Matt Cullen added a goal and a helper, so he ended the series with three points as well; all valuable contributions from Pittsburgh's depth forwards.
While those contributions from the lower half of the depth chart have been important, the Penguins' big guns have been firing too. Sidney Crosby had a couple of assists in Game Five, finishing the first round with eight points (3 G, 5 A); Phil Kessel chipped in a goal and an assist to end up with six points (3 G, 3 A) and Evgeni Malkin's assist in Game Five left him with seven points (2 G, 5 A) in four games against the Blueshirts.
From top to bottom, the Penguins are looking pretty scary right about now.
With a goal in Game Five, Rangers left winger Rick Nash led the team with four points (2 G, 2 A) in Round One, and assist also gave Derick Brassard four points (1 G, 3 A). Nash, typically an elite shot generator, managed just 10 shots on goal in the series.
HEROES
Jonathan Toews - Captain Serious had a couple of assists in Chicago's 6-3 Game Six win over St. Louis. He has five assists in the series.
Artemi Panarin - The Blackhawks rookie also had a pair of assists, and has seven points (2 G, 5 A) in the series, tying Patrick Kane for the team lead. He also had team-best possession stats (13 for, 6 against, 68.4 SAT%) in Game Six.
Frederik Andersen - Anaheim's goaltender continued his strong play, stopping 27 of 29 shots in a 5-2 win against Nashville. He has a .966 save percentage in three games.
ZEROES
Kevin Shattenkirk - It was a rough night all around for the St. Louis blueliner. He had the worst possession stats (15 for, 20 against, 42.9 SAT%) among Blues defencemen, and was on for three even-strength goals against in a 6-3 loss at Chicago. He wasn't just on the ice for those goals, either; he was directly involved in the play each time.
Henrik Lundqvist - Surrendered six goals on 23 shots in a 6-3 Game Five loss at Pittsburgh. It was the second straight game in which King Henrik was pulled, and he finished the postseason with a .867 save percentage.
Eric Staal - The Rangers' big trade deadline addition fell flat. In the deciding game, he registered zero shot attemptsi n 16:57, ending the series without a point, an ignominious finish to the season after he mustered just six points (3 G, 3 A) in 20 regular-season games with the Rangers.
Roman Josi and Shea Weber - Nashville's top defence tandem was on the ice for one goal for and four against in a 5-2 Game Five loss at Anaheim.
STANLEY CUP HALF FULL/HALF EMPTY
Derick Brassard and Mats Zuccarello - Along with Rick Nash (for most of the game) the Rangers forward duo had team-best possession numbers (20 for, 7 against, 74.1 SAT%) and despite being on the ice for only five shots against at even strength, the Blueshirts pair was on the ice for three goals against.
VITAL SIGNS
Raphael Diaz - With the Rangers' season on the line, they dressed Diaz, a 30-year-old who spent the entire season in the AHL. He picked up an assist and played 13:56 - including a team-leading 3:47 on the power play - in the deciding game.
Dan Boyle - The veteran Rangers defenceman was a healthy scratch in what could be his final game. Second-year forward Kevin Hayes was another notable scratch by the Blueshirts.
Dale Weise - Returned to the Blackhawks lineup, after being a healthy scratch, and scored the game-winning goal against St. Louis in Game Six.
SHORT SHIFTS
Blackhawks RW Marian Hossa had a goal and an assist in a 6-3 win over St. Louis; he has four points (2 G, 2 A) in six games…Blackhawks LW Andrew Ladd notched his first points of the series, with a goal and an assist…Blues C David Backes failed to register a shot attempt in 19:47 of ice time against Chicago in Game Six…Ducks C Ryan Getzlaf picked up a pair of assists in a 5-2 Game Five win vs. Nashville, giving him five points (2 G, 3 A) in the series…Ducks D Sami Vatanen contributed a goal and an assist, and has four points (1 G, 3 A) in five games against Nashville…Ducks RW Jakob Silfverberg had a couple of assists, giving him four in the series…Ducks LW David Perron had a goal and a helper, and has three points (1 G, 2 A) against Nashville.
Much of the data included comes from www.war-on-ice.com, corsica.hockey, stats.hockeyanalysis.com www.hockey-reference.com and www.naturalstattrick.com
Scott Cullen can be reached at scott.cullen@bellmedia.ca