Statistically Speaking: Petry, Gardiner and questionable lineup decisions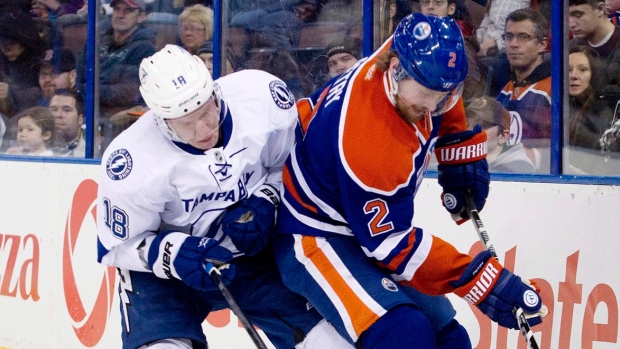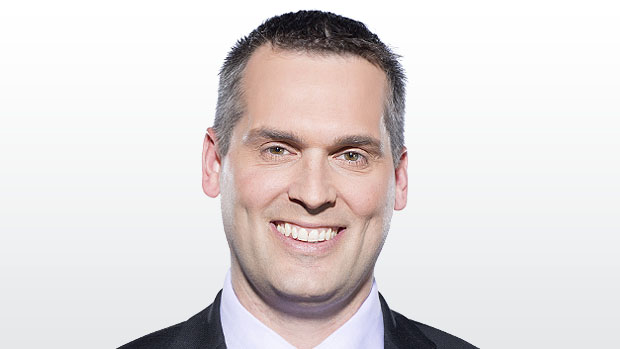 Some pretty good defencemen were healthy scratches this week. Scott Cullen looks at Jeff Petry and Jake Gardiner, an emotional win for Montreal, the Islanders remaining unbeaten, Colorado's goaltending woes and more in Statistically Speaking.
THE DEFENCE RESTS
Two of the teams that made high-profile analytics hires this summer, the Edmonton Oilers and Toronto Maple Leafs, have already made interesting roster decisions, placing analytically-valued defencemen in the press box.
In Edmonton, they made D Jeff Petry a healthy scratch for a game in Los Angeles. Last season, when the Oilers were crashing to the bottom of the standings again, it appeared that they had found a competent defensive pairing in Petry and Martin Marincin. (I recall Tyler Dellow, hired by the Oilers as an analytics consultant, writing in praise of that pairing.)
Oilers Defence 2013-14
| PLAYER | Corsi% | CorsiRel% |
| --- | --- | --- |
| Martin Marincin | 47.5% | +7.0% |
| Jeff Petry | 46.8% | +3.8% |
| Anton Belov | 46.3% | +2.6% |
| Andrew Ference | 42.9% | -3.1% |
| Justin Schultz | 42.9% | -2.6% |
| Nick Schultz | 41.9% | -4.7% |
The duo was competent and appeared to provide some stability at an otherwise problem area for the Oilers. So, what happens to start this season? Marincin is demoted to the AHL and Petry is a healthy scratch in the third game of the year and played 14:49 in his return to the lineup.
Petry will be an unrestricted free agent at season's end, and his name has been making the rounds in trade rumours, with Detroit seeming like a natural fit for a right-handed defenceman (the Red Wings have no right-handed shots on defence) that played at Michigan State and has a father that pitched for the Tigers.
Wherever he's playing, Petry can likely handle a top four role, which makes it all the more surprising that he isn't being given that opportunity with the Oilers. That Edmonton has recalled Marincin from the AHL does open up the possibility of that pairing being put back together.
In Toronto, Jake Gardiner was scratched for the team's third and fourth games of the season, with notions of accountability being given as the reason for Gardiner's exile, but this is an issue that has come up time and again during Gardiner's time with the Maple Leafs.
He gets demoted to the press box this year, one day after playing a team-high 23:04 against Pittsburgh, which seems incongruous, but not altogether different than spending a long time in the AHL in 2012-2013, even though he logged more than 21 minutes per game for 75 games with the Maple Leafs the year before.
Then, with the 2013 season on the line, Gardiner was a healthy scratch in the NHL down the stretch and for the first game of the Leafs' playoff series against Boston, only to get inserted into the lineup for the next six games, scoring five points and playing 23:01 per game, second only to Dion Phaneuf.
This back-and-forth with Gardiner's usage, from healthy scratch to 23 minutes a night and back again, doesn't seem to fit with a player who has been Toronto's best puck possession defenceman since he arrived in 2011-2012.
MAPLE LEAFS DEFENCE 2011-14
| PLAYER | Corsi% | CorsiRel% |
| --- | --- | --- |
| Jake Gardiner | 48.4% | +4.4% |
| John-Michael Liles | 48.1% | +0.7% |
| Luke Schenn | 47.0% | -3.0% |
| Cody Franson | 46.9% | +2.9% |
| Dion Phaneuf | 44.6% | -1.2% |
| Morgan Rielly | 44.5% | +2.8% |
| Carl Gunnarsson | 44.4% | -1.6% |
| Mark Fraser | 43.6% | -0.5% |
The popular notion this summer was that, with the Maple Leafs paying more attention to analytics, Gardiner would be a fixture on the Leafs' blueline, as opposed to showing up in endless trade rumours, and when Gardiner was given a five-year, $20.25-million deal, that appeared to support that expectation.
Gardiner wasn't great in the Leafs' first two losses and then the Leafs won their next two games, which makes it almost surprising that Toronto is prepared to insert him back into the lineup Friday night in place of struggling veteran Stephane Robidas.
That Gardiner and Petry, two relatively competent possession defencemen, are candidates to be healthy scratches on teams that have had woeful possession numbers, shows that while there has been progress when it comes to the use of modern analytics in hockey, that's not the entirety of the decision-making process.
From Thursday's action...
HABS GET BETTER OF BRUINS
Emotions were running high, but there were no real fireworks in a 6-4 Montreal Canadiens win over the Boston Bruins.
RW Brendan Gallagher, with two goals and one assist, and LW Max Pacioretty, with a goal and two assists, paced the Habs' attack.
He drew more attention in the build-up to the game, and in his eventual penalty box shenanigans late in the contest, but Bruins LW Milan Lucic had a couple of assists and Boston's best possession stats (17 shot attempts for, 9 against, 65.4%) in the loss.
Canadiens rookie RW Jiri Sekac scored his first NHL goal, and first point, in his fifth career game. If he is going to contribute offensively, Sekac will need to get more pucks on net. He has three shots on goal in five games. His other underlying numbers are okay, though. He's just above break-even in possession (50.4% of even-strength shot attempts) despite starting 35.7% of his shifts in the offensive zone.
More: Bruins G Tuukka Rask allowed five goals on 23 shots and has recorded 20 saves once in five starts this season…Canadiens C David Desharnais, D Alexei Emelin and RW P.A. Parenteau each had two assists for Montreal… Bruins LW Chris Kelly and C David Krejci each added a couple helpers for Boston… Bruins RW Loui Eriksson contributed a goal and an assist… Bruins D Torey Krug registered 10 shot attempts (4 SOG).
ISLANDERS UNBEATEN
Not only did the New York Islanders secure a 4-3 shootout win over the visiting San Jose Sharks, but they were full measure for it, outshooting San Jose 45-23.
Islanders D Nick Leddy had a goal and an assist and, along with fellow blueline newcomer Johnny Boychuk, had a strong possession game. Leddy (30 shot attempts for, 13 against, 69.8%) and Boychuk (29 for, 12 against, 70.7%) have been impact performers in short order.
Islanders RW Kyle Okposo notched a goal and an assist, as well as 13 shot attempts (7 SOG). His centre, John Tavares, added a pair of assists, giving him nine points in four games to start the year.
Sharks D Brent Burns had a goal and an assist, while C Joe Thornton had a couple of assists.
More: Sharks G Alex Stalock stopped 42 of 45 shots… Sharks D Marc-Edouard Vlasic had a team-leading eight shot attempts (4 SOG)… Sharks fourth-liners LW Tye McGinn (1 shot attempt for, 16 against, 5.9%) and C Chris Tierney (1 for, 15 against, 6.3%) were hemmed into their own end all night.
CAPITAL PUNISHMENT
A balanced attack, with six different goal-scorers, led Washington to a comfortable 6-2 win over New Jersey.
Devils rookie D Damon Severson scored both goals for New Jersey and was an all-around force, with nine shot attempts (8 SOG) as well as strong possession stats (28 for, 11 against, 71.8%) in a losing effort.
Capitals RW Troy Brouwer and defencemen Mike Green, Matt Niskanen and Brooks Orpik all had a couple of assists.
More: Devils G Cory Schneider was pulled after allowing five goals on 26 shots…Capitals rookie C Andre Burakovsky scored a goal, giving him two goals and three assists in the first four games of his NHL career.
SHOOTOUT IN MANHATTAN
The New York Rangers took a 2-1 shootout win against the visiting Carolina Hurricanes.
Hurricanes rookie LW Chris Terry scored his third goal in four games. Given that he has four shots on goal through four games, that pace may be difficult to maintain.
Rangers C Derick Brassard tied the game, scoring his third goal in five games.
Hurricanes D Ryan Murphy had 11 shot attempts (6 SOG). C Dominic Moore led the Rangers with eight shot attempts (5 SOG).
More: Hurricanes G Anton Khudobin stopped 33 of 34 shots; Henrik Lundqvist stopped 29 of 30
LATE HEROICS
After scoring a hat trick in the Dallas' last game, Stars C Tyler Seguin scored with three seconds remaining to give the Stars a 3-2 win in Pittsburgh.
Stars D Alex Goligoski recorded a team-high 8 shot attempts and C Jason Spezza added a couple of assists.
Penguins LW Chris Kunitz had a goal and an assist, with a game-high six shots on goal and seven hits.
More: Stars D Brenden Dillon had strong possession numbers (19 shot attempts for, 10 against, 65.5%), despite facing Pittsburgh's scoring lines, in part because he started 91.7% of his even-strength shifts in the offensive zone…Penguins D Kris Letang (32 for, 16 against, 66.7%) had Pittsburgh's best possession stats.
AVALANCHE FALLING
Senators C David Legwand had a goal and an assist as the Ottawa Senators took a 5-3 decision from the Colorado Avalanche.
With G Semyon Varlamov injured, the Avs also lost Reto Berra 2:46 into the game, forcing them to press Calvin Picard into action. Pickard, a second-round pick in 2010, was making his NHL debut after posting a 913 SV% in 94 career AHL games, and allowed four goals on 27 shots.
Senators D Erik Karlsson had an assist to go with a game-high 12 shot attempts (6 SOG).
Avalanche C Nathan MacKinnon had two assists and led the Avalanche with nine shot attempts (7 SOG).
More: Avalanche D Erik Johnson (6 shot attempts for, 21 against, 22.2%) had a rough night possession-wise, while Senators rookie RW Curtiz Lazar (one assist; 14 for, 3 against, 82.4%) responded well after a game in the press box.
QUICK SAVES KINGS
As the St. Louis Blues try to make the jump to elite status in the Western Conference, and therefore the NHL, one of the teams that serves as a measuring stick is the Los Angeles Kings.
So, the Blues went into Los Angeles Thursday night, outshot the Kings 43-18 and still ended up with just one point, losing 1-0 in a shootout.
Kings G Jonathan Quick stopped all 43 shots he faced, and Blues G Brian Elliott turned aside all 18 he faced, until Jeff Carter got one in the first round of the shootout.
The Blues, trying to generate offence, shifted RW Vladimir Tarasenko to a line with LW Alex Steen and C Paul Stastny, and that trio generated better than 80% of the even-strength shot attempts when they were on the ice; they just couldn't find the back of the net.
More: Blues D Kevin Shattenkirk had a game-high eight shot attempts (5 SOG) for the Blues.
Much of the data included comes from www.war-on-ice.com, www.puckalytics.com, www.hockeystats.ca and www.naturalstattrick.com
Scott Cullen can be reached at scott.cullen@bellmedia.ca