Statistically Speaking: Plekanec shores up middle for the Leafs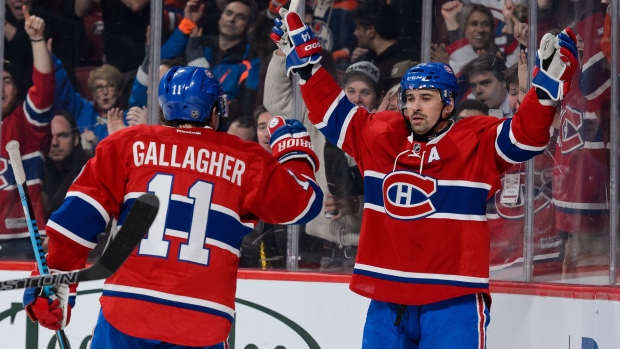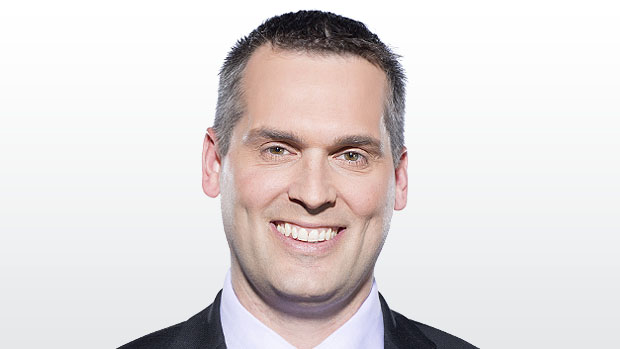 The Montreal Canadiens and Toronto Maple Leafs hooked up for a rare trade, with the Maple Leafs acquiring a veteran centre to improve their depth.
Statistically Speaking examines the deal sending Tomas Plekanec from the Habs to their divisional rival.
2017-2018 STATS
| PLAYER | TEAM | POS | GP | G | A | PTS | CF% | CF%Rel | PDO | OZS% | ATOI |
| --- | --- | --- | --- | --- | --- | --- | --- | --- | --- | --- | --- |
| Tomas Plekanec | Montreal | C | 60 | 6 | 18 | 24 | 51.9 | 0.7 | 98.6 | 41.6 | 16:18 |
2017-2018 AHL STATS
| PLAYER | TEAM | POS | GP | G | A | PTS | +/- |
| --- | --- | --- | --- | --- | --- | --- | --- |
| Kerby Rychel | Toronto (AHL) | LW | 55 | 10 | 20 | 30 | -4 |
| Rinat Valiev | Toronto (AHL) | D | 40 | 5 | 10 | 15 | +14 |
| Kyle Baun | Laval (AHL) | LW | 54 | 4 | 12 | 16 | +1 |
The Maple Leafs Get: C Tomas Plekanec and LW Kyle Baun
Plekanec, 35, has been a fixture on Montreal for a long time, playing all 981 of the games in his career with one franchise, and while he's always been a strong two-way player, his offensive production has dropped off significantly in the past couple of seasons.
Consider that the Canadiens are a franchise that has long lacked a high-end scoring centre, so a lot of offensive responsibility has fallen to Plekanec over the years . For example, from 2007-2008 through 2015-2016, there were a dozen individual seasons during which Canadiens centres recorded at least 50 points, and six of those seasons belonged to Plekanec. He's not that player anymore, however.
He's played more than 16 minutes per game in every season since 2007-2008, so he may be a tad over-qualified for the role that awaits him in Toronto, but adding Plekanec to play a fourth-line and penalty-killing role is the type of upgrade that a contending team should make. Plekanec is a strong option for the fourth line, but is capable of moving up the lineup if that's what the situation requires.
Dominic Moore does look like he's going to be on the outside looking in at the lineup now that Plekanec has arrived.
A pending unrestricted free agent, Plekanec is in the last year of a deal that comes with a $6-million cap hit, half of which the Canadiens will retain in order to facilitate this trade.
Baun, the 25-year-old grandson of Maple Leafs legend Bob Baun, is in his third pro season since finishing his college career at Colgate. He's seen action in five NHL games, but his contract expires at season's end and he isn't a prospect at this point.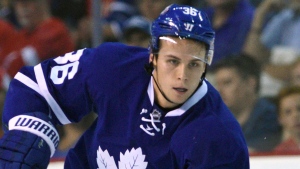 The Canadiens Get: LW Kerby Rychel, D Rinat Valiev and a second-round pick
Rychel, 23, was a first-round pick in 2013 and has managed to produce 12 points (2 G, 10 A) in 37 career NHL games, but he hasn't been able to stick regularly in the lineup, both in Columbus and Toronto. His production in the AHL has dropped a bit this season and Rychel may be reaching the point at which he's a fourth-liner or part-time player if he ever does make the NHL.
For Montreal, though, they might as well see whether or not he could provide a little feistiness and chip in a bit offensively.
Valiev is a 22-year-old who is in his third AHL season. He's been a solid enough prospect, but he's limited. He provides organizational depth in Montreal and, depending on other roster moves, he may be a fringe NHL prospect.
A late second-round pick tends to present a little better than 30% chance of finding an NHL player. The Canadiens now have four picks in the second round of the 2018 Draft, which is a solid approach to talent acquisition, provided they make some decent picks.
Verdict: It's an easy deal to like for both sides, considering their respective positions. Toronto is giving up some assets to get a player who will effectively be their fourth-line centre for a couple of months, but none of those assets are likely to bring on feelings of regret in the long run. There's a chance that Rychel or Valiev could still find their way to an NHL job, but they aren't going to be difference makers at the NHL level.
From the Habs' perspective, though, the pick is certainly worthwhile and if it turns out that Rychel and/or Valiev can fill a roster spot from time to time, then that's okay too. It makes all the sense in the world from a hockey perspective to get something in exchange for Plekanec, but it's a tad disappointing to move out a player who has been a significant contributor for such a long time.
Many of the advanced stats used here come from Natural Stat Trick, Corsica and Hockey Reference.
Scott Cullen can be reached at scott.cullen@bellmedia.ca